What I love about collecting points is using them to enjoy travel experiences that I wouldn't otherwise have. I recently spent 10 days in Hawaii, which I split over stays at the Grand Hyatt Kauai, Andaz Maui, and Hyatt Regency Maui thanks to the ability to use points. While earning points is a lot of fun in its own right, the real purpose of earning them is to be able to burn (use) them for travel experiences we enjoy. Hawaii is a bucket list travel destination for many of us, and with Southwest inching closer to starting service I'm sure there are some readers who are looking forward to the chance to spend some time in paradise. But are the Hyatt Hawaii properties worth their weight in points? After staying at those three properties, I can say without a doubt that the Grand Hyatt Kauai is a beautiful, awesome property and I would definitely use 25K points per night to stay there again the future. Here's why the Grand Hyatt Kauai is pretty awesome.
Grand Hyatt Kauai: By far my favorite of the three.
During my 10 days in paradise, I enjoyed Globalist Guest of Honor reservations at the Grand Hyatt Kauai, Andaz Maui, and Hyatt Regency Maui. We also traveled with another couple on a completely separate Guest of Honor reservation at the Grand Hyatt and Andaz, so we got a pretty good sense for the benefits afforded to Globalists at all three properties. While the Andaz Maui is a good destination for a romantic getaway and the Hyatt Regency has very warm service and is a great place for a family vacation, the Grand Hyatt Kauai would without a doubt be my pick for a return trip. It's not perfect for everyone, but I think most people would be pretty happy with a 25K per night redemption here.
One important thing to know: The Grand Hyatt Kauai is a huge property. If you haven't been, you probably aren't picturing it big enough. And it feels grand. I'm surprised that it's only 11 years younger than the Hyatt Regency Maui as it feels much fresher and more modern/elegant.
My room: a 1-bedroom oceanfront suite
At least slightly biasing my opinion here is the fact that I received an incredible room upgrade at this property. I made the rookie mistake of taking video profile instead of landscape, but here's a video of the room.
Or if you prefer, some pictures of the 1 bedroom oceanfront suite.

So yeah, that was pretty special. As if that wasn't enough, I was given a bottle of sparkling wine at check in and there were a couple of Grand Hyatt Kauai monk seal stuffed animals waiting for my son…as well as both a crib and pack and play. That turned out to be huge as he slept much better in the pack and play but the crib was a useful mobile space in which to put him down for a minute when necessary without worrying about what we was going to destroy. And the room gave us plenty of space to put our son to bed at ~7pm and still enjoy a relaxing evening in the room without disturbing him.
Of course, the chances of getting upgraded to that room probably aren't amazing. We were definitely very lucky. However, we were traveling with friends who were also on a Globalist Guest of Honor reservation (completely separate from ours). They were also upgraded to an ocean view room with a similarly grand view of the ocean. These friends are not miles and points people at all and were thrilled with their room and view.
The Grounds
However, it wasn't just the rooms that were great. The grounds were impressive and beautiful. I've actually only stayed at a few Grand Hyatt properties previously (San Francisco, Singapore, and Melbourne), but this felt like the "grandest". Check out some pictures of the landscaping and facilities.
Of course, the size was also a bit of a downside: the hotel is massive, so it literally took 15 minutes to get almost anywhere. I literally timed my walk to the car in the parking lot one night when we forgot something in the car and it was 18 minutes each way. The walk from our room to the club lounge was more than 4 tenths of a mile according to my smart watch. We ordered delivery one night and I had to meet the driver outside of the hotel's property (I'm not sure whether the hotel does not allow delivery drivers for security reasons or in order to keep you captive to their restaurants, but you can apparently meet a driver just off grounds). I think she thought I wasn't going to show up for a few minutes — it just took that long to get out there.
Adding to that, the layout was not intuitive. I've stayed at a lot of hotels / resorts over the years. Never have I constantly felt so lost. We had an oceanfront room on the second floor, but we didn't have a short path to get to the beach. There just didn't seem to be an easy way out that didn't require a very long walk to an elevator. If you're in decent shape, it's not a big deal at all, but it's notable how challenging it can be to get around if you're less mobile. Note that this also applies to getting anything delivered to your room. We called for 2 extra champagne flutes for our sparkling wine and it probably took 35 minutes for them to arrive. I wasn't surprised or upset as I'm sure it was a 15-20 minute walk from wherever they were picked up. Add in some time for finding an available staff member / other drop offs and it's just going to take a while to get anything.
Still, this felt like a great use of 25K Hyatt points per night. Since Hyatt does not charge resort fees on award stays and self parking is complementary for everyone at this property, there were no hidden fees. As Globalist Guests of Honor, we were given club lounge access. As noted, it was a bit of a hike from our room, but I'd take that walk for that room any day of the week.
The Club Lounge: quality over quantity
The club lounge food offerings felt a little sparse, but a later stay at the Hyatt Regency Maui made me appreciate the much higher quality of the food in hindsight. Breakfast consisted of pastries / muffins, bagels, oatmeal, fruit, and scrambled eggs.
On the other hand, the evening appetizer spread felt more substantial. A sample evening had spring rolls, salad with plenty of freshly sliced toppings, hummus and other dips and a tapenade that is not pictured but was excellent. While it still might look somewhat spartan here, I felt like the evening appetizers were pretty hearty when we stopped by.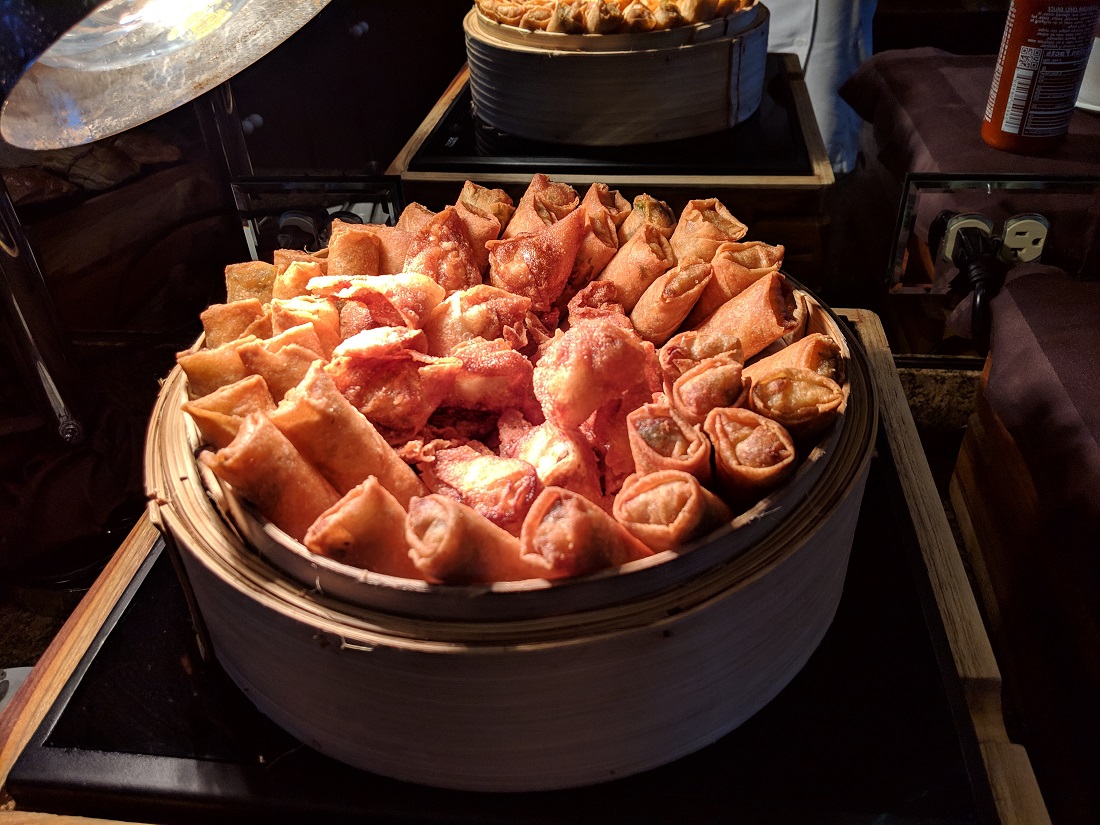 On a Globalist / Guest of Honor reservation, I'd say it would be possible to replace dinner with the evening spread if you had a relatively large lunch. Traveling with a 1 year old, we often find ourselves having a larger lunch and not going out to dinner much, so this was a good option to have.
Speaking of traveling with a family, one other thing that could really come in handy: the Grand Hyatt Kauai has free guest self-service laundry. We ended up holding off on doing ours until we got to the Andaz Maui partly because we didn't need the laundry sooner and partly because I'm not sure I could have found the guest laundry twice if I'd tried at the Grand Hyatt Kauai (I stumbled on it wandering my way back from the car and trying to find a shorter route to no avail).
Bottom line
I wasn't sure what to expect from the Grand Hyatt Kauai. I was really pleasantly surprised. Between gorgeous scenery, huge pools, a (small) lazy river, water slide, and a club lounge that saved us some money on food during our stay, it was a great use of 25K points in my opinion. That is of course enhanced by club lounge access. I am fortunate to have a few Globalist friends and I am very thankful for their help in putting together this trip. Remember that Hyatt will allow you to transfer points to any other member, though you can only make one transfer in or out every 30 days. Still, if you have a friend with Globalist status, you can enjoy his or her benefits — and in a destination like Hawaii, that can be a nice set of benefits.