The Curve card has several tricks up its sleeve, but the headliner is this: Use the Curve Mastercard for all of your credit and debit transactions, and behind the scenes it will pass that charge along to whichever credit card you want.  Curve has no foreign transaction fees (up to £500 per month with the free version of Curve), and it charges your underlying credit or debit card in its local currency so that no foreign transaction fees will be assessed by that card either.
Curve passes along the purchase MCC code to your underlying credit cards so that cards that earn bonus rewards for certain types of purchases will continue to do so.  Another amazing trick is Curve's "Go Back in Time" feature. If you change your mind about which underlying credit card you should have used for a purchase, you have 14 days to change to a different card as long as the purchase was under £1000.
Taken together, these features mean that Curve theoretically offers the following benefits:
Earn credit card rewards with no foreign transaction fees even if your rewards credit card normally charges foreign exchange fees.
Earn credit card rewards when paying with Curve as a debit card.  This is awesome because some billers only accept debit and/or charge lower fees for debit transactions.
Maximize reward earnings by retroactively switching each purchase to the optimal rewards credit card.
Bad news #1: Curve doesn't fully support Amex credit cards
Support for Amex is currently being beta tested and it works differently than with other cards. With Amex cards you must use them to "top up" your Curve "Amex wallet". This is fee free for up to £1000 a month, then they charge a 0.65% service fee.  Also, the "go back in time" feature is not available for purchases made with your Amex wallet.
Bad news #2: The Curve card is only available in Europe in the following countries (at the time of writing):
United Kingdom (this is Curve's home)
Austria
Bulgaria
Czech Republic
Denmark
Finland
Germany
Iceland
Ireland
Italy
Latvia
Lithuania
Netherlands
Norway
Poland
Sweden
And, Curve should soon be available in the following countries:
France
Greece
Portugal
Romania
Spain
Can non-European residents get the card anyway?
Short answer: No
Longer answer: Maybe if you're smarter than me, but I doubt you'd be able to scale up its use.
Longest answer: Here's my experience that you may be able to learn from…
My wife and I signed up for Curve cards using her cousin's address in England.  In order to complete the sign up process, we had to enter credit card information.  We used our own US-based credit cards and US-address to do so.  Curve issued a pending transaction with a code on it which we were able to find online through our bank log-in.  We then entered those codes into the Curve app to authorize our accounts.  Even though our credit card billing addresses are in the US, this step worked.  Cards were shipped to England and we got our hands on the cards when we visited in November.
It turned out there was another important step required to activate our new cards.  We had to load a UK-based credit card to each account.  A friend who lives in London graciously offered to let me use one of his cards.  This meant entering the new card info along with his billing address.  And he had to log onto his bank account to check the special verification code on a pending Curve transaction.  After all that, my Curve card appeared to be activated.  To fully activate it, though, it was necessary to make an initial chip & PIN purchase.  I tried to make a £5 purchase, but the purchase was denied.  It seems that Curve's fraud detection algorithms were on the job.  My guess is that having three separate addresses associated with my Curve account was a trigger.
Just in case the issue was tied to my account and not my wife's, I tried to activate her card with my friend's credit card.  That was a really bad idea.  This process failed because the card was already in use with another Curve card.  Worse, the process removed the card from my account so now both cards require activation.
At that point, I gave up and went back to enjoying my trip to England sans Curve.
The whole process probably would have worked if I had used a single UK-based credit card for all of the steps.  For example, I could have asked my UK-based friend to help me out from the beginning and used his spare credit card and his home address for each step along the way.
That said, he told me that Curve has been fickle about authorizing transactions even for him.  I'm pretty sure that if I had succeeded in getting Curve working in London, I would have hit a brick wall in the US once I tried to scale up my use of it.  And without scaling up to use it for all spend (including big debit transactions), it's hardly worth bothering with.
Summary
The Curve card seems like a great option for those who can get one legitimately.  I'm not sure it's worth moving to Europe to get one, but if you're already there, it's worth a look.
I learned about Curve from the UK-based blog, God Save the Points.  Check out his blog for more details about Curve, including a referral that will get you £5 off your first purchase made with the card: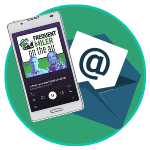 Want to learn more about miles and points?
Subscribe to email updates
 or check out 
our podcast
 on your favorite podcast platform.