UPDATES:
12/21/20: PayPal Key no longer works to pay federal taxes.
12/17/20: PayPal Key will no longer work with Amex cards after January 4, 2021.
11/27/20: PayPal Key no longer works with the Plastiq bill pay service.
Original post follows…
If you've previously turned your back on PayPal, it may be time to return.  Personally, I think that PayPal Key is worth it.  It's a single virtual credit card number that can be used for all online purchases.  On the back-end, the purchase can be paid from your PayPal account funds, your bank account, or better yet, any credit card you have linked to PayPal.  I assume that PayPal Key got its name because it is similar to a master key which can unlock any lock.  In this case, it's a master card which can "unlock" any purchase.  And it's therefore fitting that PayPal Key presents to the world as a Mastercard.
PayPal Key Basics
PayPal Key is a virtual credit card number which lets you use your PayPal account to pay any vendor that accepts credit cards.  Within your PayPal account you can setup PayPal Key to draw funds from your PayPal balance, bank account, debit card, or credit card.  I recommend linking it to a credit card, of course, so that you can earn rewards for your purchases.
When you sign up for PayPal Key, you are given a card number, expiration date, and security code.  You can use this number for any online card purchase.
Direct Link to PayPal Key: www.paypal.com/myaccount/debitcards/enroll/virtual-card
Features:

Link your PayPal Key to any payment source: any credit card (except Amex), debit card, bank account, or PayPal balance.
Change the payment source at any time (the change is instant) and as often as you'd like.
You may change the card's security code at any time without changing your PayPal Key card number.
You can change your PayPal Key card number by deleting your key and creating a new one.
PayPal's Purchase Protection Program applies to purchases made with PayPal Key.  PayPal Key's terms state: "If you have a dispute with a PayPal Key purchase that you cannot resolve with the merchant, you have 180 days from the date of the transaction to open a dispute in the Resolution Center."
Merchant code categories are passed through to your credit card.  For example, if you have a card that earns extra points for travel purchases, then you will still earn extra points even if the travel provider charged your card through PayPal Key.

Fees: You will incur a 1.1% foreign transaction fee if you make a purchase in a currency other than US Dollars, or from a merchant located outside the US.
Payment Network: Mastercard
Limitations

Amex cards will no longer work with PayPal Key after January 4, 2021.
Only one PayPal Key card number is available per PayPal account.
Transaction limit: $6,999.99
Daily purchase limit: $10,000.00 (this does not appear to be strictly enforced)
Google Pay works for online purchases only: You can add your PayPal Key card number as a payment card within Google Pay, but you won't be able to use it in-person for mobile wallet payments.
Apple Pay is not supported
Samsung Pay is not supported
PayPal Key supposedly cannot be used for merchant manual entry.  This is according to the terms & conditions.  In practice, though, it seems to work.  In other words, it should work with phone orders.
PayPal's Return Shipping on Us service is not available for PayPal Key transactions.

PayPal Key Terms & Conditions: Found here
Why PayPal Key is useful for earning rewards
Credit card bonus spend
With PayPal Key, you can setup a single credit card number with each payee and regularly change which actual card is charged.  Suppose that you spend a lot online and through repeated bill payments.  In that case, you can use your PayPal Key for all of these payments while always making sure that your most profitable card is being used on the back-end.  For example, if you regularly sign up for new cards in order to earn big welcome bonuses, you can link PayPal Key to your newest card, wait until you've met the signup bonus minimum spend criteria, and then link your next new card.
Use wherever Mastercards are accepted
Some vendors don't accept all types of credit cards, but with PayPal Key you can still use your Discover card (for example) to pay because PayPal Key presents as a Mastercard.  Similarly, some services put fewer restrictions on Mastercard payments and so PayPal Key increases your options.
Earn PayPal bonuses
Chase Freedom Flex, Freedom Visa, and Discover It cards often offer PayPal as a quarterly 5% category.  Discover offered PayPal in the third quarter of 2020 and Chase offered it in the fourth quarter.
When you link one of these cards to PayPal Key and pay online with PayPal Key, the purchase activates the card's 5% rewards!
Continue to earn card category bonuses
Even though charges are processed through PayPal, the original vendor's merchant category pushes through to your credit card.  This is great because many cards offer category bonuses where they offer extra rewards within certain categories of spend (see: Best Category Bonuses: Which card to use where?).
To give just one example that I've tried out, the Altitude Reserve card offers 3X for travel purchases.  It also lets you redeem points at 1.5 cents each to pay for travel purchases via a feature called Real Time Mobile Rewards.  So, as an experiment, I linked PayPal Key to my Altitude Reserve card and then used PayPal Key to load $25 into my Uber account.  This triggered Real Time Rewards and counted as travel for 3X rewards.
Continue to earn card-linked merchant offers
While this probably won't work in all cases, we have at least one datapoint indicating that a Chase Offer (5% back at Estee Lauder) worked even though the purchase was made with PayPal Key.  See details here.
Desired PayPal Key enhancements
While I'm a fan of what PayPal has done so far, I'd love for them to take it further.  Here are some enhancements I'd love to see:
Physical Card
It would be cool if they would make a physical version of the card so that it really could be used everywhere.  One challenge with this is that they allow users to change their security codes, so they wouldn't be able to keep the code written on the card (or they'd have to use something like e-ink technology which could be expensive).  That said, I can't remember when I've needed the security code for an in-person purchase.  In the rare event that it's needed, you can either remember it or find it in the PayPal app.
Apple Pay, Google Pay, and Samsung Pay
Next best after having a physical card would be the ability to load PayPal Key into mobile wallets so that you can pay in-person with your phone or smart watch.
Payment rules
This would be the killer feature that, combined with the ability to pay in person, would make PayPal Key completely awesome.  My idea is that PayPal would let us setup simple rules like these (the following are examples):
If merchant is classified as a restaurant then charge Citi Prestige Card (5X)
If merchant is classified as a grocery store then charge Citi Premier Card (3X)
If merchant is classified as a drug store then charge Freedom Unlimited Card (3X)
If merchant is Amazon.com then charge Discover It Card (5X when Amazon is a 5X category)
If merchant is Walmart.com then charge Freedom Flex Card (5X when Walmart.com is a 5X category)
Change payment card on the fly (or go back in time)
If for some reason PayPal can't pull off payment rules, then it would be cool if they offered the ability to select your card at the time of payment.  Anytime you use PayPal Key the PayPal app would pop up and say something like "Uber (travel provider) is requesting $25.00 to be paid through PayPal Key. Which linked card would you like to use for this purchase?"
Even better would be for PayPal Key to support something like Curve's "Go Back In Time" feature where you have 14 days to change your mind about which card is actually charged for any given purchase.
Multiple PayPal Keys
If PayPal can't provide payment rules or the ability to change the payment card then I'd like to see the option to have multiple PayPal Keys.  This way, for example, I could setup one PayPal Key for travel related purchases, one for food delivery, and one for everywhere else.
PayPal Key Questions & Answers
We know you have questions about this (for instance here in our Youtube Live). At this point I've only just scratched the surface of ways to use PayPal Key so I don't yet have a lot of answers, but here's what I have for you so far… (I'll update as more is learned).
Cash advance?
Most purchases made with PayPal Key do not show up as cash advances and do not incur cash advance fees.  Safe transactions (as far as I can tell) include things like: paying for products, paying taxes, and paying bills by debit card.  I haven't encountered any cash advance fees yet.  However, I have no doubt that some financial transactions will appear as a cash advance.  If you want to be safe, you can call your credit card issuer to ask them to reduce your cash advance limit to $0.  Some won't allow that, but you may at least be able to reduce it to a very low amount.
Card linked offers?
I don't know if credit card linked offers will work through PayPal Key.  This would include things like Chase Offers and Citi Merchant Offers, as well as card-linked apps like Drop and Dosh.  I'll update this section once we have test results.
Returns?
What happens when you return an item that you purchased through PayPal Key and you now have a different card linked to PayPal Key?  Does PayPal remember which card was linked and refund to there or does it post the refund to the currently linked card?  The PayPal Key Terms & Conditions do not answer this question.  One reader said that a return went to their PayPal balance. I haven't yet confirmed this.
Final Thoughts
PayPal key is already a very useful service.  For example, I love that I can setup repeated payments but change at any time which card is actually used for those payments.  If PayPal Key is enhanced to make possible in-person payments and payment rules (see my desired enhancements, above), I'd be thrilled.  That said, PayPal Key lost a lot of its luster when PayPal announced that Amex cards would no longer be supported.  Most of my previous use-cases for PayPal Key were with using PayPal Key as a way to pay with Amex at places that don't accept Amex cards.
Let's show PayPal some love and encourage proper use.  If you find ways to use this service that are not as intended, please do not share the details with others (if you find your comment deleted, this is why).  We do not want people abusing PayPal Key to the point where it will be shut down or rendered useless.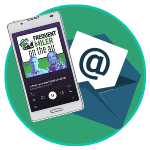 Want to learn more about miles and points?
Subscribe to email updates
 or check out 
our podcast
 on your favorite podcast platform.