Update: This post includes offers that were valid at the time of publication, but have since expired. Please click here to see the best offers currently available. This post references an American Express Business Platinum feature that has changed. As of June 1, 2017, the pay-with-points rebate has changed to 35% for your chosen airline or any airline in business or first class. Additionally, there is a cap of 500,000 rebated points annually.
I'm increasingly loving the Amex Enhanced Business Platinum's 50% pay with points rebate.  I originally called this benefit a minor game changer, but in practice, for me, it is major.
For review, on October 6 2016, Amex added an awesome feature to their Enhanced Business Platinum Card:  Cardholders earn 50% points back when paying with points through American Express Travel for a flight with their selected airline. Cardholders will also receive this benefit when booking a first or business class ticket with any airline.
As long as you have enough Membership Rewards points, this makes your points worth 2 cents each towards airfare.  For example, if you want to buy a $1000 flight with this feature, you'll pay 100,000 points, but you'll get back 50,000.  So, your final cost for that $1,000 ticket will be only 50,000 points.
Not long ago, I wrote about how Amex offers cardholders a 1 time exception to the rule that you must pay with points through Amex Travel to get this benefit.  In order to use a Delta companion certificate I had to buy the flight I wanted through Delta.com.  I then called Amex and was able to apply points to offset the charge.  So I ended up with both a free companion ticket (thanks to my Delta Reserve card) and half of my Membership Rewards points refunded.  That was an awesome deal.  And, being the way I am, next time I book a Delta companion ticket, you can bet that I'll call to see if they'll apply that one time exception again ;).  UPDATE 3/15/2017: I tried calling for a one time exception again and it worked again!
Everyday excellent value
When booking long distance premium cabin international flights, airline miles usually offer the best value.  There are exceptions, such as when airlines offer compelling business class sales, but I'll usually end up using miles for flights like these.  Of course, it is much more common for me to book domestic or short-range international flights.  In those cases, airline miles aren't always the best option…
Yesterday I searched for a flight from Detroit to LA.  Prices for the dates and times I wanted were much higher than usual for this route.  The specific flight that worked best for me cost $630 in coach.  I could have picked far worse times and included a layover in each direction in order to save about $150.  Not worth it to me.
I also could have spent 50,000 Delta Skymiles for the flight I wanted, or 32,500 miles for an inconvenient set of flights with layovers.
Instead, I booked the flight I wanted through Amex Travel.  I spent 63,240 Membership Rewards points and got back 31,620.  I spent fewer points through Amex Travel than I would have spent for a Delta mileage award and I got the exact flight I wanted.  Even better, since flights purchased with bank points are seen as paid flights to the airlines, I'll earn both redeemable miles and elite qualifying miles (or Medallion Qualifying Miles in Delta-speak), and I have a much better chance of an upgrade to first class.
Earn more miles
The base fare for my flight was $561.86.  And, since I have top tier Delta Diamond elite status, I'll earn 11 redeemable miles per dollar: 561.86 x 11 = 6,180.  If we forget for a moment that Membership Rewards points are more valuable than Delta miles, we can argue that my net total point cost, then, will be 31,620 – 6,180 = 25,440.  Considering that 25K miles is the usual saver level award price for domestic flights with most airline currencies, this is remarkable.  25K saver level awards were not available with any of the airlines* I checked: AA, Alaska, Delta, or United.  But, thanks to this Enhanced Business Platinum benefit, I was able to get exactly the flight I wanted for roughly that same 25K.
* For the record, Southwest had the best point price at 29,359 points, but the flight times were not great.
Better upgrades
Those with Delta elite status can qualify for free upgrades even on award tickets.  That said, those with the same status level on a paid fare get priority over those traveling on awards.  And when traveling with companions the difference between paid and award tickets is much greater.  When on paid tickets, upgrades are processed based on the highest level of status in the group.  When on award tickets, upgrades are based on the lowest level status.
Additionally, Delta Platinum and Diamond members can select upgrade certificates as Choice Benefits.  These can be applied to paid fares but not awards.  Since I paid with Amex points, I was able to apply regional upgrade certificates to this trip.  In this case the upgrades couldn't be processed right away, but (as is usual) my upgrades were waitlisted.  If upgrade space opens up before the day of my flight, I'll move up to first class.  Otherwise, I'll at least hop to the front of the upgrade queue for at-the-gate upgrades.  While this doesn't guarantee that I'll fly in first class, it is very likely.  If I had booked an award ticket instead, I would still have a chance of an upgrade, but I certainly wouldn't expect it on this competitive route.
Better chance of same day changes
Delta elites with Gold or higher status can make "same day" (24 hours in advance) confirmed flight changes, for free.  However, to do so when booked into economy, your original fare class must be available on the flight you want to change to.  When booking an expensive fare class, like I did, the chance of being able to secure a same day change is better.
No free advanced changes
For me, one disadvantage of booking Delta flights with Membership Rewards points instead of with Delta SkyMiles is that I don't get free changes in advance.  Delta Platinum and Diamond elites can cancel award tickets 72 hours or more in advance and get all of their miles and paid fees returned, or change to another flight without penalty.  I love that feature.  Whenever I have unsure plans, there's a big advantage to me to book an award rather than a paid flight. The middle-ground is to book awards while plans are uncertain.  Then, when plans firm up, check flight prices to see if it makes sense to cancel the award and book the flight with points instead.
Wrap Up
I originally described the Amex Enhanced Business Platinum's Pay with Points 50% rebate as "a minor game changer".  It turns out that, for me, it's major.  Since the feature was introduced, I've found that paying with Amex points is usually the best way to go when booking airfare.  The result is that I spend fewer points and miles and I book the flights I want rather than the ones that are available for cheap awards.  To me, that's a huge win.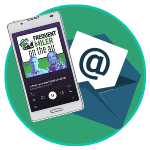 Want to learn more about miles and points?
Subscribe to email updates
 or check out 
our podcast
 on your favorite podcast platform.