Last weekend, my wife was in Montana on business.  She was scheduled to return home late Sunday evening on Delta after a layover in Minneapolis.  Sunday morning, though, Delta announced a delay for the Minneapolis to Detroit flight.
The first announced delay was only 15 minutes, but a later announcement showed the flight to be several hours late.  Instead of arriving home near midnight, she would arrive around 3am.  Given that she had early Monday morning meetings to attend, that was not going to work.
United last seat availability
I did a quick Google Flights search and found that Delta had no other options.  I broadened the search beyond Delta and found only a single useful option: United had a one-stop flight that actually had better timing than the Delta pre-delay schedule.  She would arrive home closer to 10pm. The flight cost nearly $800 so I checked to see if awards were available instead.  While logged into my wife's United account, the answer was no.  But, when I logged into my own account, the answer was yes.  The website showed that I could book a standard award for 25,000 miles + a $56 ($50 close-in ticketing fee + $5.60 TSA fee).
One reason I could see the standard award from my account was that I have the United MileagePlus credit card.  Some readers will remember that I recently took advantage of a widely targeted 70,000 mile offer for the card.  Another reason that I could see the award from my account was that I have United Silver elite status thanks to my Marriott Platinum status.
Both United elite members (referred to as "MileagePlus Premier" members) and MileagePlus cardmembers have access to an unusual perk: Last seat availability for standard awards.
United describes the last seat availability perk as follows:
MileagePlus Premier® members and eligible United MileagePlus Chase cardmembers have the benefit of booking Standard Awards without capacity controls on flights operated by United and United Express. If there is a seat available, these members have unrestricted access to book a Standard Award, even if it's the last seat on the plane.
What would Delta do?
Since my wife was busy at meetings, I called Delta on her behalf and asked about alternatives.  Maybe they would be able to find something that I could not.  They couldn't.  I pointed out that United had a good flight, could they put her on that?  Yes, they could.  Or, rather, they would have done so if the flight was bookable.  It wasn't.
Confused, I clicked through from Google Flights to United and found that the Delta agent was correct.  United was no longer selling the flight.  I quickly re-ran the award search, though, and found that the award was still available.  I asked the Delta agent what would happen if we found an alternative on our own.  She said that Delta would refund the amount we paid for the return portion of the trip.
Booking the last seat award
I considered doing a little trick I've read about to avoid the $50 close-in ticketing fee, but decided not to bother.  Since the flight was no longer available to purchase with cash, I was worried that I might not have long to book it with miles.
I clicked through and easily booked the award.
Delta Refund
I called Delta back and asked them to refund the return portion of my wife's trip.  They quickly transferred me to the refund desk, and within a few minutes I was told that we would get $392 back.  Sweet.
I had just exchanged 25,000 United miles and $56.50 for $392 and a much happier wife.  I consider that a great deal.
United Delays
It turned out that my wife's second leg home was delayed too.  Unlike Delta, United did not announce the delays in advance.  On the plus side, my wife was happy with the flights themselves.  In the end, rather than get home hours earlier than originally scheduled with Delta, she arrived home near midnight.  In other words, despite big delays, the switch to United got her home at around the same time she originally planned to be home with Delta.
I call it a win.
Wrap up
Delta deserves respect for announcing the delay so far in advance of the flight that we had time to make alternate plans.  Plus, the refund request process was surprisingly easy.
The hero of the day, though, was United's standard award last seat availability benefit for elites and United cardmembers.  Without that benefit, we couldn't even buy the ticket with cash since United was no longer selling the flight.
I realize that the last seat availability perk has limited uses. Standard awards are much more expensive than saver awards. And, usually, buying a flight is an option.  But for those times when you really need a particular flight and the flight is either unavailable to purchase or outrageously expensive, the last seat availability perk is awesome.
See also: 9 awesome credit card perks you might not know about.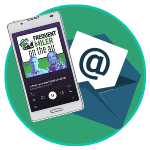 Want to learn more about miles and points?
Subscribe to email updates
 or check out 
our podcast
 on your favorite podcast platform.