Update 3/22/23: When this Delta/Instacart partnership launched in 2022, Instacart+ (formerly Instacart Express) members earned 1.5x SkyMiles per dollar spent. From April 1, 2023 that rate will decrease to 1x – the same earning rate as non-Instacart+ members. Thanks to Susan in the comments for the heads up about this change.
~
Delta has a number of partners through which you can earn bonus SkyMiles such as Airbnb, Ticketmaster and Lyft. A new partner has now been added to the mix – Instacart.
That means you can now earn bonus SkyMiles on all your Instacart orders, as well as getting a free trial of Instacart+.
The Deals
Delta's partnership with Instacart provides two deals:
Earn bonus Delta SkyMiles on all your Instacart orders:

Instacart+ members – 1x per dollar (was 1.5x through March 31, 2023)
Non-Instacart+ members – 1x per dollar

Delta SkyMiles members get a free trial of Instacart+:

SkyMiles members – 3 month free trial
Platinum & Diamond Medallion members – 12 month free trial
Key Terms
Trial renews into annual paid membership.
Quick Thoughts
This is a useful new partnership if you ever shop with Instacart seeing as you'll now earn SkyMiles which you weren't earning before once you've linked your account.
We ordered from Instacart for the first time a couple of months ago to have a birthday present sent to my father-in-law. Ordering was a breeze and his gift arrived on time the day after we ordered it.
We received free delivery for our first order, but if we order from Instacart again it'll be useful to have access to a 3 month free trial of Instacart+ (we don't have Platinum or Diamond status with Delta). Instacart+ provides free delivery on orders over $35, gives you 5% back if you order for pickup yourself and also offers lower services fees.
If you were to pay for Instacart+ ordinarily, it'd cost you $99 for the year, so Platinum and Diamond members getting a 12 month free trial is a decent offer. Having said that, you can buy Instacart+ annual memberships for $78.99 from Costco, so that's a great option if you'd like to maintain an Instacart+ membership once your free trial is over. Costco is no longer selling Instacart+ gift cards.
If you've never shopped with Instacart before and this new Delta partnership has you interested in checking it out, before placing your first order be sure to click through from a shopping portal to earn a little extra cashback.
In terms of paying for Instacart, if you have the Cash app debit card check to see if you have a Boost giving an instant 20% off on up to $100 of spend. This is targeted, so there's no guarantee you'll have it on your account.
An alternative payment option would be to buy an exact-amount gift card for your order using the Slide app. At the time of publishing this you can earn up to 6% cashback from Slide. Instacart gift cards sometimes go on sale elsewhere for 15-20% off, but those deals have been few and far between since the holidays.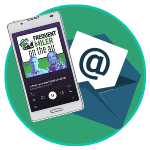 Want to learn more about miles and points?
Subscribe to email updates
 or check out 
our podcast
 on your favorite podcast platform.