A new Visa gift card has appeared in many Office Depot stores: the Dining Everywhere Visa.  On the surface this card appears to be limited to use in restaurants and bars, but Travelling Well for Less has found that it seems to work pretty much anywhere.  And, the card's cardholder agreement does not say that the card is limited to restaurants and bars, so I think that it's safe to assume that the card's use at restaurants & bars is merely a suggestion.
UPDATE 8/8/2016: Since writing this post, I've learned that the Dining Everywhere Visa is restricted to places where people may dine and that apparently includes Walmart.  I should have more specific information soon.
The card is interesting because it can be bought with a credit card at Office Depot, and therefore qualifies for 5X office supply category bonuses from cards such as Chase Ink and Amex SimplyCash.  And, importantly, the gift card fee for this card is lower than other Visa gift cards available for credit card purchase through office supply stores.
Dining Everywhere Visa basic information
Available from many Office Depot stores
Maximum value: $200
Fee: $4.95
PIN for debit purchases: Last 4 digits of card number (or can be changed online)
More details can be found on the card's website.
Using Dining Everywhere Visa for everyday spend
Other authors have focused on the option of buying and liquidating this card in order to generate points cheaply (here, here, and here) so I won't dwell on that excellent option in this post.  Instead, let's consider using these cards sort-of as intended: for everyday spend.
If you buy these gift cards with a card that earns 5X at office supply stores, and if you value the rewards earned at just a penny each, you will effectively earn 2.65 points per dollar, in advance of your everyday purchases.  One way of dealing with the card's purchase fee is to use a portion of your earned rewards to pay yourself back for that fee.  Here's how it works:
Buy $200 Visa gift cards at Office Depot for $204.95.
Pay with a credit card that earns 5X rewards for office supplies. You'll earn 1025 points ($10.25 at a penny per point).
If you use your rewards to pay yourself back for the gift card fees, you'll keep 530 points ($5.30).  530 points divided by $200 = 2.65 points per dollar.
Use gift cards everywhere you regularly shop.  You won't earn additional rewards from the gift cards – you already pre-earned 2.65X.
Living with gift cards
The biggest problem with this approach is that dealing with gift cards can be a pain in the ass, for a variety of reasons:
It's easy to forget the current value of a gift card
It's easy to misplace gift cards
It's easy to mix-up an empty gift card and a fully loaded one
You may have charges denied if your gift card has insufficient funds.  This is particularly common at restaurants, hotels, and gas stations where large holds are typically put on your card in advance.
Large purchases are difficult or impossible.  Some merchants are unable to split transactions across multiple cards.
While you can register gift cards for online use, you may not be able to use the card successfully at all online merchants.
Many online merchants put a $1 hold on a card the first time it is used.  This can make it difficult or impossible to make a $200 purchase.
Product returns or order cancellations often return money to the original form of payment.  Do you think you can find that old spent gift card?
Fortunately there are ways to deal with a number of these issues:
Keep a sharpie pen handy and update the current value of each card at the time of purchase.
Keep your gift cards in a gift card wallet.  Assign a slot in the wallet for fully spent gift cards to be dealt with when at home.
File away spent gift cards with some organization – perhaps, a file for each month.  The goal is to have some hope of finding the gift card in the future, if needed.
Use the Visa gift cards to buy merchant gift cards in $200 increments.  For merchants or restaurants that you shop at frequently, you may find it easier to deal with their own gift cards than your Visa gift cards.  Some merchants such as Target and Starbucks, for example, let you keep track of your full gift card balance within their smart phone apps, and let you pay from those apps.  Other merchants sometimes run promotions in which they'll give you bonus gift cards for buying their store gift cards.
Merchant gift cards can be a way to make large purchases possible.  Often merchants will accept many store gift cards for a purchase while only accepting one or two credit cards.
To make large online purchases, you may have to go in-store (to a drug store, for example) to buy the online retailer's gift cards.  Make sure you know the online merchant's gift card limits before you do so.  Some do have strict limits to the number of gift cards allowed per order.
For very large transactions, I know one reader who regularly places a bunch of gift cards on a scanner and faxes the image to a biller.  Of course, that approach won't work everywhere — he had worked out this system in advance with a particular organization that was open to it.
No credit card protections
Most credit cards offer various forms of purchase protections: extended warranties, price protection, return protection, etc.  If you buy items with gift cards, you won't get those protections.  When buying expensive items, especially appliances or electronics, it may be worth forgoing the extra gift card points for the extra piece of mind that a good consumer credit card offers.
Better rewards possible
It is often possible to earn 5X rewards, or more, when buying merchant gift cards.  Some of the strategies for dealing with Visa gift cards, shown above, involve buying merchant gift cards.  If you're considering that approach, you should look first to see if you can do better buying the merchant gift cards another way.  Please see: Best options for buying merchant gift cards.
Also, many credit cards offer great rewards directly without having to buy gift cards at all.  Consider loading up your wallet with a few cards that offer great category bonuses and at least one that offers great rewards for everyday spend.  Please see:
My Take
I don't like dealing with gift cards if I can help it.  I prefer to keep a few credit cards in my wallet that offer great category bonuses and/or great rewards for everyday spend.  For example, I use my Citi Premier card to earn 3X for all travel and gas purchases, my Ink card for 5X office supply and telecom purchases, and my first year Discover It Miles card for 3% cash back everywhere else.  Of course, I'm simplifying things here quite a bit.  In real life, I actually juggle a fairly large number of cards, and the actual contents of my wallet change regularly depending upon changing factors such as quarterly category bonuses, retention offers, etc.  Still, I find that much easier to manage than dealing with piles of gift cards.
There are plenty of people, though, who don't mind dealing with gift cards in order to earn excellent rewards.  I framed this as a way to get 2.65X everywhere, but that's if you value points at only 1 cent each.  If you use an Ink card and value Ultimate Rewards points much higher than 1 cent each, then the effective earnings after fees is much higher than 2.65X.
How about you?  Is it worth dealing with gift cards to increase rewards for everyday spend?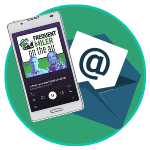 Want to learn more about miles and points?
Subscribe to email updates
 or check out 
our podcast
 on your favorite podcast platform.