Chase has announced that they'll be continuing to give Sapphire cardholders a free DoorDash DashPass membership, while also adding a $5 monthly credit for DoorDash on Sapphire Reserve cards.
Free DashPass Benefit
The free DashPass membership will be valid through December 31, 2024, so that's almost three free years of the benefit if you keep your Sapphire Reserve or Sapphire Preferred card open that long and used as the payment option on your DoorDash account.
If you'd previously cancelled your DashPass membership due to the previous benefit  seemingly expiring, you can re-enroll and continue receiving the benefit. Chase has advised that the minimum length of time you're eligible for the DashPass benefit is 12 months, so if you happen to come across this post in 2024 and haven't already enrolled, you can still get DashPass for another year by enrolling your eligible Sapphire card, even though that'll take you beyond the official December 31, 2024 end date.
Doctor of Credit notes that cardholders of the no annual fee Chase Sapphire card are also eligible for this benefit. The press release we received about this only mentioned the Sapphire Reserve and Sapphire Preferred card, but that might be simply because the no annual fee Sapphire card isn't available for new applications.
DashPass can be a useful benefit for DoorDash users because it offers a $0 delivery fee when spending $12+ on food deliveries or $25+ on grocery deliveries. Even if you prefer to pick up your food rather than have it delivered to save on driver tips, DashPass can be beneficial because you get 5% back in DoorDash credit on eligible orders.
$5 Monthly Benefit
In addition to the free DashPass benefit, Chase Sapphire Reserve (but not Sapphire Preferred) cardholders will receive a $5 monthly in-app credit for DoorDash. You'll be able to accumulate credits for three months before they expire which makes it a little more useful if you're not a regular DoorDash user. That's because you can therefore place one $15+ order every three months to take advantage of the credits rather than it being use-it-or-lose-it each month.
This new $5 monthly DoorDash credit will start in April 2022 and will run through December 2024.
Quick Tip
I'm not 100% sure that this still works, but it hopefully does. In order to take advantage of your free DashPass benefit, you have to pay for your order with your Chase Sapphire card rather than a different credit card that earns more on dining purchases.
However, paying with DoorDash gift cards bypasses that requirement but still allows you to receive DashPass benefits. That can be particularly useful seeing as DoorDash gift cards frequently go on sale for 10-20% off (e.g. from Meijer online even if you don't live in an area with Meijer stores), so you can save on your orders while also taking advantage of DashPass. Sort of like having your cake delivered and eating it too.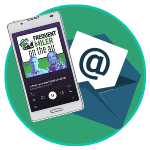 Want to learn more about miles and points?
Subscribe to email updates
 or check out 
our podcast
 on your favorite podcast platform.