Update 10/16/21: These offers have been extended through October 20, 2021.
~
The Drop app has launched another round of premium card-linked offers which are even better deals than the first round of them last week as it now includes retailers like CVS, Walmart and Target on top of retailers they started with last week like Kroger, Amazon and Starbucks.
The Deal
Earn points in the Drop app when paying with linked cards at the following retailers:

Amazon – 15x (1.5%)
Walmart – 15x (1.5%)
Kroger – 15x (1.5%)
Target – 15x (1.5%)
CVS – 40x (4%)
7-Eleven – 40x (4%)
McDonald's – 40x (4%)
Trader Joe's – 15x (1.5%)
Starbucks – 15x (1.5%)
Dunkin' Donuts – 15x (1.5%)
Adidas – 75x (7.5%)
Maurices – 30x (3%)
Chevron – 10x (1%)
Exxon Mobil – 10x (1%)
Aeropostale – 30x (3%)
Nautica – 60x (6%)
Verb – 80x (8%)
TIDY app – 70x (7%)
Aeropostale – 30x (3%)

Stephen's referral link (invite code: tmtf2)
Greg's referral link (invite code: aj0l8)
Nick's referral link (invite code: vxjnp)
Key Terms
Expires October 13 20, 2021.
Quick Thoughts
Drop launched this new Premium Offers card-linked program last week and it is indeed living up to its Premium name and has gotten even better since it started.
In the first round of card-linked offers, they were offering 0.5% back at Kroger and Trader Joe's, 1.5% back at Amazon along with a few other retailers and restaurants. For this second week, they've not only added even more retailers (who are very useful), but they've increased the return for some of the retailers too.
For example, Kroger and Trader Joe's have been increased from 0.5% to 1.5% this week, while Adidas has been increased from 3% to 15%. In terms of additional retailers, they've added Walmart and Target at 1.5%, CVS and 7-Eleven at 4% and more.
There are a couple of reasons why these Premium Offers in the Drop app are so notable. For starters, these offers are all available for in-store purchases other than when a retailer only has an online presence (or mainly an online presence like Amazon). That can be helpful if you spend a lot in-store at places like Kroger, Walmart, Target, CVS, 7-Eleven, etc. Many of these offers are available for online purchases too, so offers for Walmart, Target, etc. are valid for both in-store and online purchases.
Another reason these offers are notable is because they're card-linked offers. That means they'll stack with other deals such as Amex Offers, bonused spend categories, shopping portals, etc. For example, the Discover It card is offering 5% back for online purchases from Amazon, Target and Walmart this quarter, all of which Drop is offering 1.5% for. Some cards offer bonused spend at drugstores like CVS, 7-Eleven stores sometimes code as gas purchases on cards that offer bonused spend in that category, etc.
Some of these card-linked offers have an exclusion for gift card purchases, but it wouldn't surprise me if that's not actually enforced. However, that's something to be aware of if you were planning on trying to maximize the earning opportunities available here.
The Drop app can be painfully slow at times, but offers like this make it worth keeping around.
Update: It looks like these offers are only available to Premium members. As best as I can tell, you become a Premium member when linking a card and one of the benefits is 1,000 points per month (worth $1) which you have to actively claim.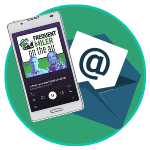 Want to learn more about miles and points?
Subscribe to email updates
 or check out 
our podcast
 on your favorite podcast platform.