This week, we wrote about how to automate your spend to make sure you max out your returns. Next, you'll want to know how to use those points, and we've got some new resources to help you do just that. Of course, you don't want to spend more points than you need to — so beware of Hilton's wacky award pricing. All of those easy wins and more in this week in review at Frequent Miler. Read on for the recap.
If you like to spend towards Big Spend Bonuses, automating some spend can be very useful. There are a couple of payments I make through Plastiq just for the sake of automation — they are small bills, and after accounting for the cost of a postage stamp, the two bucks or so it costs me to automate is worthwhile — earning the right rewards just adds icing on the cake. I hadn't realized that Amazon reloads could be automated — several techniques in this post could be very useful for automating either a quantity of spend or quantity of transactions depending on your goal.
---
With the sheer number of transfer partners available across transferable currencies, it can be hard to keep track of your options. When you add in transfer bonuses, it only gets more complex to keep track of which points will give you the most bang for your buck. However, thanks to some new resources Greg has developed, it doesn't have to be hard at all. Not only do we now have resource pages for transfer partners of Citi Thank You points, Amex Membership Rewards points, Chase Ultimate Rewards points, and SPG points, you can now easily access info on all of the current transfer bonuses. Read on for how and where.
Banks want your business. That's the reason this hobby exists: banks are willing to pay you to get your business (in the form of signup bonuses) and they are willing to rebate you something on your spend to keep your business. They hope that'll be enough — but if it isn't, they still know it's cheaper long-term to keep a good customer than seek out a new one. It never hurts to call and see what your continuing business is worth to the bank. You might get an offer than not only encourages you to stay on as a customer, but also makes it easy to choose which card to use. Greg got a couple of great offers on his latest retention call, reminding us that it's both a good idea to call and to be prepared with a pen so you can write down and quickly analyze the offers. Find out what offers he got and let us know if you get something different.
Wyndham Rewards drew a lot of attention when they made the change to charge 15,000 points per night at all hotels in their program. Then, a couple of the more "aspiraitonal" properties pulled out of the program and the credit card earning structure became less favorable. As a result, chatter about Wyndham died down. This year, they have made several plays to draw attention and business to their hotels. While my offer was not as good as Greg's, I certainly intend to make a mattress run of my own. If you have the same offer he does, I think there's no doubt that this mattress run is worthwhile if you have a cheap Wyndham property nearby — and outside of New York City, that should be the case for most people.
My experience with small claims court consists of more hours than I care to admit watching The People's Court as a kid and Judge Judy when I visit my parents (though Dad would make a point to say that he doesn't watch it every day!). Alexander Bachuwa gives us a taste of the real thing, and it sounds a lot less fun than the Hollywood version. Of course, your experience may vary depending on where you file. If you were the litigant suing in this situation, what would you do?
There have been rumors since late 2016 that Bank of America was going to make its play to take down the Sapphire Reserve as the ultimate premium rewards card. And like the US Bank Altitude Reserve and re-vamped Amex Platinum card, the new BankAmericard offering looks as though it will fall short of that goal. It may appeal to a very specific set of customers, but I'm not excited at all about it. Read on to decide for yourself whether or not this card is a keeper.
In the blogosphere, I am probably the closest thing to a Hilton fanboy. I've had consistently good experiences with Hilton over the past couple of years that have actively made me want to come back and fewer customer service missteps than I've experienced with other chains. But this week, I discovered some serious flaws in how Hilton is figuring the cost of award nights on multi-night stays that has really soured me on the program. If you plan to make a multi-night Hilton award stay, you should take a look at this so you can double-check Hilton's funny math and compare correctly between properties.
---
That's it for this week in review — check back soon for week in review around the web and this week's last chance deals!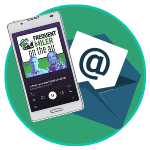 Want to learn more about miles and points?
Subscribe to email updates
 or check out 
our podcast
 on your favorite podcast platform.