Welcome to this week's Frequent Miler week in review around the web, where we pass along some of the interesting finds this week from around the 'net. This week, everything from what you need to know to be ready to book a mistake fare to a fantastic idea about what to do with those hoarded hotel toiletries and more.
---
Travis over at One Mile at a Time has been knocking it out of the park lately with some great tips. Last week, posted an incredible airfare — business class from Vancouver to Sydney, Australia for less than $600 round trip. When I see an incredible deal like that come through on my phone, I try to post it as quickly as I can….even when I'm at the aquarium….for my mother-in-law's 60th birthday (for real)…so that at least some readers get the chance to take advantage of it. But fast as I tried, it still only lasted for a couple more hours after I posted it at most. When opportunity knocks, you have to be ready. In this post, Travis gives you 5 great tips to get on board the next time that kind of opportunity presents itself. After you're done reading that, check out his post on another great Wyndham redemption for another reason supporting the theory of hoarding and cherry-picking.
---
I was at a wedding tonight ( DJing a wedding, actually….What can I say? I'm a Renaissance man), and a guest came up to talk to me who had heard from someone in the family that I know something about getting a good deal on flights. I explained to her the basic idea of credit card points and that sometimes you can earn enough miles from a sign up bonus alone to fly international business class (or very nearly enough miles). And here, Sarah Page Maxwell at Mile Value writes about just such an opportunity to utilize a foreign program to fly a flat-bed United Polaris business class flight to Argentina for just 35K one-way. It'll take just an additional $2K in spend after meeting the sign up bonus on the associated card, and that's not a bad deal! Read on for the details.
Ugh, Hilton is really disappointing me lately. First, it was their shifty mathematics on multi-night award stays….and now it's showing points as instantly transferred, yet not instantly redeemable….reminding us yet again that you have to look closely at Hilton award reservations. While I wouldn't typically consider transferring Thank You points or Membership Rewards to Hilton, there could be times when you just need a couple thousand points to top off a reward and avoid a resort fee. It's good to know that you have to wait to redeem….but how long? Your guess is as good as mine.
I've long tried not to put much stock in hotel star-ratings, but I can also admit to times when I've been faced with a similar price for two independent hotels and I've chosen the "3" over the "2.5". I'm of two minds on what the OTA is doing here: half of me thinks it seems dishonest and half of me is really intrigued to see the data. However, at the end of the day, I think it's within their rights to do so. Getting involved with reselling taught me long ago that most of us reselling something would like to sell the product for as much as someone is willing to pay, so I'm not sure I can blame them for trying to figure out how to do that. What do you think?
True confession: I'm a bit of a hoarder when it comes to free hotel toiletries. My wife used to think I was crazy back when we first met more than a decade ago. And truth be told, those bottles of shampoo from the Motel 6 and Days Inn often went unused….for years. These days, we stay at some nicer places on points — and I find that she's the one hoarding the Aromatherapy Associates, Asprey, and June Jacobs bottles (I'll admit, she has better taste). Johnny Jet highlights a great idea about what to do with those toiletries after your trips, and on my upcoming trip to Europe I absolutely plan to hoard my share and follow his lead. Thanks for a great idea!
---
That's it for this week in review around the web! Check back soon for last chance deals.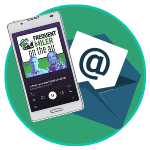 Want to learn more about miles and points?
Subscribe to email updates
 or check out 
our podcast
 on your favorite podcast platform.