Late last night I was in my eBay account and saw a great targeted promo to pay a max final value fee of $10 on up to 10 sales. My promo was expiring last night, but the wording on the landing page indicates that this is targeted and may have different dates for different people. If you're an eBay seller with some expensive merchandise to move, this could potentially save you hundreds of dollars (though note the exceptions). I doubt this one will be widely available, but it could be quite valuable for those who can take advantage.
The Deal
eBay is offering a targeted promotion to pay no more than $10 in final value feels on up to 10 sales of $100 or more
Direct link to this promotion (again, this is targeted and likely only available for select accounts)
Key Details
Invited sellers must activate the Promotion by selecting "Activate offer" in the invitation email or on the Promotion landing page. The Promotional discount applies to final value fees only; Insertion fees, optional listing upgrade fees, and payments processing fees may apply.
Invited sellers ("Sellers") who activate the offer and then list during the Promotion Period, pursuant to the terms and conditions set forth herein, will pay maximum final value fees of $10 per item for the first ten (10) items that sell for $100 or more ("Promotion"). To Qualify for the discount, items must be (i) listed during the Promotion Period (the "Promotion") and (ii) sold before the listing is automatically renewed for Fixed Price and Buy It Now listings or during the first listing period for auction-style listings.
Discounted final value fees will be applied to the total amount of the sale. The total amount of the sale is the amount the buyer pays, including any shipping and handling charges. Sales tax is not included in the calculation. All existing selling limits on your account (as well as category and item limits) still apply, and may prevent you from creating the maximum number of listings in this Promotion. View the everyday rate plan for full details.
The following categories are excluded from the Promotion: Guitars and Basses; Cars & Trucks; Motorcycles; Boats; Powersports; Other Vehicles & Trailers; Real Estate; Classified Ad listings; Heavy Equipment; Food Trucks, Trailers & Carts; Commercial Printing Presses; Coins & Paper Money; and Gift Cards & Coupons.
The Promotion excludes listings created prior to activating the offer and listings with a start date prior to, or after, the Promotion Period.
Auction-style listings created during the Promotion Period must sell within the first listing period to be eligible for the Promotion; Fixed Price and Buy It Now listings must sell before the listing is automatically renewed.
Relists or renewals that occur outside of the Promotion Period will not qualify for the Promotion.
All listings must comply with all applicable eBay policies, including eBay's Duplicate Listing policy that allows for the removal of duplicate fixed price listings.
This Promotion is only valid for listings on the US site at www.ebay.com.
Fees for optional listing upgrades (such as reserve price, subtitle, Gallery Plus, listing in two categories, etc.) and any applicable PayPal fees and payments processing fees will still apply. Please note: Not all features are available in all listing flows.
See promotion page for full details.
Quick Thoughts
This is targeted and likely won't be widely available, but it certainly could be useful for those who are targeted and can take advantage. Keep in mind that there are a number of category exclusions, including Coins & Paper Money (which is surely a disappointment to those with uncommitted Mint coins from last week). Still, this promo could easily save a seller with high-priced inventory hundreds of dollars. Final value fees range based on category, but can often cost around 10% of the item's price. For example, if you sell a $500 item in a category with a 10% final value fee, you would ordinarily pay eBay a final value fee of $50 (on top of PayPal fees for receiving the payment). With this promotion, if you are targeted and your listing meets the criteria, you would pay just $10 in final value fees on the same item. That could add up to a significant savings for someone with expensive items to list.
Note that if you do have the promotion, it will only apply to items listed during the promotion period and after activation of the promo. If you list auction-style, your auction must end during the promotional period. If you listed fixed-price, it must sell before the listing automatically renews.
On that note, for those who haven't sold via eBay in a while, there are no longer time limits for fixed-price items. If you list items with a fixed price (i.e. just Buy It Now or Best Offer pricing), they are now "Good 'till cancelled" and will automatically renew every 30 days. If you opt for an add-on like a subtitle that costs an additional fee, keep in mind that you'll continue to be charged that fee every 30 days until the item sells or you cancel the listing — so set yourself reminders to cancel or be aware of the fees you may incur.
Unfortunately, when I saw this promotion in my account last night, the listing period for my offer only had a few hours left, so I didn't have as much time as I'd have liked to create listings. While I got into credit card rewards as a reseller, I don't do very much reselling anymore and mostly have a handful of leftover inventory items that need to go. Still, this is the time of year when even folks who aren't big time resellers can easily get drawn in to flipping items for a quick profit, and having this promotion available could certainly make it easier to earn a profit. On the other hand, I caution those folks new to reselling not to get in over their heads — as eBay's policies tend to be very customer-focused, I don't recommend playing with more than you can stand to lose on eBay if you're not an experienced seller. Of course, this is why I've written in the past that I'm selective about the types of items I'll resell, preferring to focus on items with a low likelihood of customer returns and low competition in both sourcing and selling. This eBay promotion is obviously centered on creating the opposite environment (more competition), but the savings could be worth it.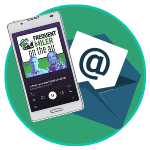 Want to learn more about miles and points?
Subscribe to email updates
 or check out 
our podcast
 on your favorite podcast platform.