Doctor of Credit reported today that eBay gift card purchases in the Slide app are currently earning 5% on Chase Freedom and Freedom Flex cards.
That initially sounded exciting and, to a certain extent, it is. However, it doesn't seem like the implications of this will prove to be too lucrative.
The person providing the data point stated that they purchased a $10 eBay gift card in the Slide app and paid for it with a Freedom Flex card. The transaction showed up on their statement as "Slide eBay" and earned 50 Ultimate Rewards points which is a 5%/5x return on the purchase.
The reason for that is that along with grocery stores, eBay is a 5% category on Freedom and Freedom Flex cards this quarter (January 1 to March 31, 2022). What's unexpected is that the gift card purchase triggered the 5% earnings rather than a purchase directly on eBay's website or app.
However, another data point beneath that eBay DP states that when buying a Hulu gift card in the Slide app and paying with a Chase Ink Cash card, they only earned 1% rather than 5%. Paying for a Hulu subscription normally earns 5% on the Ink Cash card, so it doesn't seem like Slide is passing on coding for all gift card brands in the app.
I'm not even sure if Slide is passing on any kind of coding at all. The way that 5% bonus categories normally work is that Chase will offer the additional 4% based on the merchant category code. eBay doesn't have an MCC of its own, so I'm guessing that Chase is awarding the bonus for eBay purchases based on eBay showing up in the transaction list, hence why "Slide eBay" earned 5%.
It that is indeed the case, it means that there likely won't be many practical uses for this in the future. Most 5% categories on the Freedom and Freedom Flex cards are for general categories rather than specific merchants (gas stations, grocery stores, restaurants, etc.). For the last few years they've offered 5% on Walmart purchases during Q4, but Walmart gift cards aren't available in the Slide app.
With this particular eBay opportunity, paying for eBay gift cards in Slide with a credit card means you're forgoing the 1-2% you can earn by preloading your account. It would still make sense to pay for the eBay gift cards directly rather than preloading if you have a Freedom or Freedom Flex card where you've not maxed out its 5% earnings this quarter, but it means you don't get the full benefit of the cashback you can earn from Slide.
If you were to preload your Slide account using PayPal Key using a Chase Freedom or Freedom Flex card as the backing card, you'd earn 2% from Slide for preloading and 1% on the Freedom/Freedom Flex. That's 3% total rather than 5%, so effectively only 2% better. Having said that, at least if you're earning 5% on those Freedom cards by paying for eBay gift cards directly in the app you're earning 5x Ultimate Rewards which can be transferred to travel partners if you also have a premium Ultimate Rewards-earning card.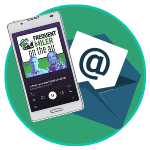 Want to learn more about miles and points?
Subscribe to email updates
 or check out 
our podcast
 on your favorite podcast platform.