I can't believe I'm writing this, but at the moment I'm enjoying my Discover Cashback more than any other rewards currency — more than airline miles, more than hotel points, and more than transferable points like Chase Ultimate Rewards or Amex Membership Rewards.
I earned a boatload of Discover Cashback a while ago when they ran a few outrageously generous promotions.  For example, when they first offered to double all cash back for a year (which they still do for new customers), the Discover Deals portal was (at the time) often offering terrific rates such as 20% cash back at 1-800-Flowers.  And it used to be possible to double-dip: go through the Discover portal to buy a 1-800-Flowers gift card to get 20% cash back, and then again to use the gift card to buy gifts.  That way, the 20% double-dipped to 40%, and the cash back match doubled it again to 80% cash back!  It was even possible to pay for the gift cards with Amex cards enrolled in a 1-800-Flowers Amex Offer for the equivalent of 30% additional cash back.  In total, it paid to buy stuff from 1-800-Flowers.  I'm not kidding.
So, what am I doing with all that cash back?  Enjoying it!  Ironically, more valuable rewards, such as Chase Ultimate Rewards, can be less fun to use because there are so many good uses for those points.  Consider Nick's situation to get an idea of why flexibility can lead to angst: A miles vs points dilemma: Redeem an award or "pay" with points?  When there are many good uses for points, it can be emotionally more difficult to part with those points at all.
With Discover Cashback, there are fewer valuable redemption options than with programs like Ultimate Rewards, and so there's less of a feeling of loss when spending the rewards.  The best options with Discover Cashback are to redeem for cash, or to redeem for gift cards at a discount.  The latter is where things get interesting.  With most rewards programs, the only way to get outsize value from your points is to redeem those points for travel in one form or another.  Redeeming points for stuff (gifts, toasters, etc.) is usually a waste.  With Discover, though, the value of "points" (cash back pennies) ranges from 1 cent per point when you redeem for cash to 1.5 cents per point for certain gift cards (which can then be used to buy stuff, or travel, or experiences).
Discover Penny Point Values
If you think of each cent of Discover Cashback as a "point" then we can calculate the value of each point when used to buy discounted gift cards, as follows:
1.07X (6.7% discount): $70 gets you $75
1.11X (10% discount): $45 gets you $50; $90 gets you $100

Examples: airbnb, Crate & Barrel, Gamestop, Groupon, Hotels.com, iTunes, Lowe's, Macy's, TJ Max, many restaurants

1.2X (16.7% discount): $25 gets you $30
1.25X (20% discount): $20 gets you $25; $40 gets you $50; $80 gets you $100

Examples: Gap, Lands End, LL Bean, Pier 1, SpaFinder, Talbots, The Container Store

1.5X (33.3% discount): $20 gets you $30; $40 gets you $60, $80 gets you $120

1-800-Flowers (can also be used at associated brands such as 1-800-Baskets, Harry & David, Stockyards, Wolferman's, etc.)
Maximizing Value
When shopping online it is often possible to maximize rewards and discounts as follows:
Find the best merchant coupon codes
Buy merchant gift cards at a discount
Find the best portal to shop through
Make sure you are enrolled in the merchant's rewards program
With Discover Cashback, the second step involves redeeming your cash back for gift cards rather than searching for discount gift cards.
For a in-depth look at this process, please see my post "Real World Instant Extreme Stacking."
One big negative
Gift cards are available from Discover as either eCertificates and/or physical Gift Cards.  The latter can take quite a while to arrive by mail.  And, unfortunately, eCertificates aren't always an option.  In those cases, you need to plan ahead for your purchases.  Spa Finder is an example of one that's available only by mail.
Gift cards available as of April 26 2018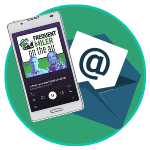 Want to learn more about miles and points?
Subscribe to email updates
 or check out 
our podcast
 on your favorite podcast platform.