This morning Nick posted "Searching for deals through Fine Hotels & Resorts."  In that post he listed a number of Fine Hotel & Resort (FHR) properties around the world that were at least sometimes available for less than $250 per night.  The reason he picked that price point is that consumer Amex Platinum cards now include a $200 rebate for prepaid Fine Hotel & Resort (or The Hotel Collection) bookings.  If you can find a hotel cheap enough, you could use this credit to get a nearly free one-night stay at a top notch hotel and get FHR benefits such as $100 hotel credit, upgraded room and noon check-in when available, free breakfast for 2, and guaranteed 4pm late check out.  For those lucky enough to live near one of these properties, it can make an awesome and inexpensive staycation.  Alternatively, a stay at one of these hotels could be a part of a larger vacation where you complete your stay by booking elsewhere or by booking the same hotel with points, to keep costs down.
At the time I'm writing this, Nick hasn't yet listed any sub $250 FHR hotels in the U.S. other than a few in Vegas (I'm not sure why he didn't list these under the heading "Sub-$250 hotels by region… North America" but maybe geography isn't his strong suit… I jest).  In Nick's defense, the U.S. is experiencing a huge boom in domestic tourism and so it doesn't surprise me at all that it's harder than usual to find deals at high-end properties.  But it's not impossible.  I was able to find several deals in the U.S. pretty easily as long as I made the assumption that we have completely flexible timing.  For example, you might have to book a Monday night in the off-season.  Yes, you'll be too hot or too cold and you'll miss work or school but at least you'll get a deal :).
Here's how I found FHR deals…
Step 1: Find FHR properties of interest
This site lists all Fine Hotel & Resort (FHR) and The Hotel Collection (THC) properties in the United States.  To change to another country or continent, click "Update Filters". If you'd prefer to search within a narrower region (such as a single state within the U.S.), start here and select the region of interest.
To narrow the search just to FHR properties, click the Fine Hotels + Resorts checkbox.  The reason we don't want to look at THC properties is that you have to book 2 nights with those in order to get extra perks.  That said, you should still be able to get your $200 Platinum rebate if you book just one night.  So that's something to keep in mind for future planning.  Amex does its best to prevent people from booking a THC property for only 1 night, but if you manage to book one anyway it's been confirmed that you won't get the credit.
You can toggle the view between "View List" and "View Map"
The map view is great for finding where the properties are, but the list view has the advantage of letting me use my browser's search function to find things like properties with "Hyatt" or "Hilton" in their name.
It's always hard to find deals in Hawaii or California, and with the travel boom going on these days, its impossible.  So skip hotels in those areas.  [Update: Reader Jess found a deal at Lake Tahoe, so don't rule that out!]  Better bets are places like Arizona or Louisiana in the summer.  Or try cities like Atlanta, Chicago, Denver, and Washington DC where prices fluctuate widely.  Once you've found a handful of hotels you're interested in, proceed to the next step…
Step 2: Find Low Prices on Hotels.Google.com
One of the first hotels I looked for was the Art Hotel Denver, Curio Collection by Hilton.  The reason I looked first at some Hilton hotels is that this year within the U.S., Hilton is offering Gold and Diamond elites food & beverage credits instead of free breakfast.  By booking Hilton hotels through FHR, you can get both free breakfast (from FHR) and food & beverage credit from your elite status (assuming you have Gold or Diamond status with Hilton).
Start at hotels.google.com and enter your hotel of interest.  Don't worry about which date you put in initially.  Google will then show you a price for this hotel with whatever date range it defaulted to, like this: 
Important: Click "View prices".  The next step won't work unless you click that button.  I made that mistake myself several times.
After clicking "View prices" next to your hotel of interest, click into the calendar box for the check-in date (e.g. click the date on the left) in order to bring up a price calendar like this:
Google Hotels will now show you the price each night, before taxes, for the best prepaid non-refundable rate that Google can find.  Click the arrows on either side of the calendar to search a month at a time.  You won't usually find the same prices on FHR, but this is a good way of finding dates where FHR prices are likely to be low.  Using the calendar above, I found a few $160 rates.  Those are the dates to try on the FHR website.
Repeat the process shown above for each hotel of interest in order to find low cost dates.  If you can't find any, go back to step 1 to find different hotels.
Step 3: Find the FHR Price
Go to Amex's FHR booking screen, log in with an account that has a Platinum card, and search for the hotel and date combination you found above.  With the Art Hotel Denver, the FHR price, before taxes, was $209.  That sounds like a steep premium over the $160 price found by Google Hotels, but this one was fully refundable whereas the Google Hotels price was not.
After taxes, the prepaid portion came to $241.92.  And we are warned that there is also a $20 property fee due at the hotel (this is a destination or resort fee):
The nonrefundable rate found by Google was bookable through Priceline for $205.64 after taxes (and with the same $20 due at the hotel):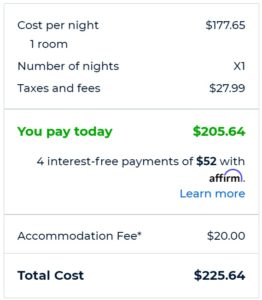 So, all-in, you can get the same room through Priceline for $36.28 less than through FHR, but with FHR you'll get free breakfast, a room upgrade, a $100 property credit, and more.  Plus, by booking through FHR and putting your Hilton number on the reservation, you'll also earn Hilton points and get elite benefits during your stay!  Through Priceline, you won't earn Hilton points or elite benefits.  Even without the Platinum card's $200 FHR rebate, booking through FHR in this case is a no-brainer.
Other Deals I Found
I didn't spend much time looking so this is far from a comprehensive list, but I figured that it might be useful to show the interesting deals I found while puttering around with the process outlined above:
Park Hyatt Washington D.C. for $279, before tax, on several Thursdays in April 2022.  See Nick's review here.
Ritz Carlton Dove Mountain for $228, before tax, on Monday August 2nd, 2021.  See my review here.
The Ritz-Carlton, New Orleans for $229, before tax, on several different nights at the end of August, 2021.
Hotel Ivy, a Luxury Collection Hotel, Minneapolis for $287, before tax, pretty much any weeknight January through March 2022.
The Joule, Dallas, TX for $232, before tax, on January 2, 2022.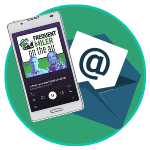 Want to learn more about miles and points?
Subscribe to email updates
 or check out 
our podcast
 on your favorite podcast platform.