Last month we reported an exciting offer for Google Express that was targeted to some Amex cardholders.  Those with the offer would get either $20 back or 2,000 Membership Rewards points when they spend $50 or more with Google Express.
The deal is pretty awesome for a number of reasons.  If you have Google Express in your area, you an use it to buy items from a large number of stores, and most stores offer free shipping with purchases of $25 or more.  So, if you manage to spend exactly $50 with one or more orders, this means getting either 40% off ($20 back with $50 purchase) or 40 Membership Rewards points per dollar ideally for things you would have bought anyway.  And if you can't find things you really need, you may be able to find a useful gift card instead.
7 out of 30
Between my wife's cards, my cards, and our myriad authorized user cards, we currently have 30 Amex cards that are eligible for Amex Offers (See: Awesome Amex Offers and how to get them).  Out of those 30 cards, 7 had the Google Express offer.  5 were cash back offers and 2 were Membership Rewards offers.  All 7 were personal cards, not business cards.  I used the multi-tab trick and the old Amex interface to enroll all 7 cards with this offer (see: Complete guide to Amex Offers).  And my plan was simply to make 7 separate $50 orders, ideally for things we really need.  And if I find myself running out of time (the offer expires 12/28), I'll buy some gift cards (if any are still in stock).
My Epic Fail
My first Google Express order was for things we actually needed: cat litter, shampoo, and more.  I adjusted the quantity of each item in order to get the total to just over $50.  In fact, Google Express estimated that the total after sales tax would be $50.56.  Perfect.
Unfortunately, I didn't notice that Google Express is shockingly bad at estimating totals.  When the items shipped, Google sent a new receipt where the total came short of $50.  $49.30 would not be enough to trigger the Amex Offer.  Oops!
Recovery Mode
Fortunately the Amex Offer allows you to reach $50 in "one or more transactions".  So, I started wondering…  Can I buy something for 70 cents to complete the Amex Offer?  Most stores require $25 or more for free shipping.  Are there any stores within Google Express that have no minimum for free shipping?
One by one I check every Google Express store available to me…
Yes!  I did find a few stores that had no minimum price for free shipping!  The first I found was a store called JustBallGloves.  After sorting by price, I saw that I could buy Glove Conditioner for $5.99 with free shipping.  Did I need Glove Conditioner?  Nope, but it would be enough to get me over the hump for the Google Express offer.
I was encouraged by the JustBallGloves find, but I kept looking to see if I could get something cheap that I would actually use.  My next find was JustBats.  Their cheapest option was a youth baseball bat for $19.95.  No thanks.
Moving on…
Next I found The Mine.  This one was very promising!  They carry little household doodads like a door stop spring for $1.36, or a doorknob for $1.41.  I don't really need either, but that's a tiny price to pay to trigger the $20 Amex Offer credit.  Still, I kept looking just in case I could find something that I actually wanted…
My final find was a store called VMInnovations.  I found that they carry a number of items for less than $10.  They had a t-shirt on sale (now out of stock) that listed for only $3.50.  I bought it.  T-shirts always come in handy.  Other cheap items to consider from VMInnovations include assorted pool floats starting at $3.99 (including a fun looking Lobster Pool Raft for $9.95), gardening supplies, waterproof playing cards, and many other miscellaneous weird or useful things.
Wrap Up
As shown above, I found a few Google Express stores that offer cheap items with no shipping charges.  If you find yourself short of spending the $50 required to trigger the Amex Offer, consider shopping at one of these stores.  Google Express lets you sort by price, but note that I've found cheaper items at times by clicking through to different categories within a store.
Savings at Google Express for First Time Shoppers
If this is your first time shopping at Google Express, you can get either $10 off your first order of $10 or more, or 20% off, with a max savings of $30.  The second is better if you spend over $50.  Neither works with gift card orders.
$10 off your first order
You can get $10 off your first order simply by using a friend's referral code when you check-out.  Your friend will then get a $10 Google Express credit.  My referral code is GWL2LU2DN.  Or, simply click through this referral link and start shopping. Thank you!
20% off your first order, up to $30 in savings
If you spend more than $50 on your first order, you can save more than $10 by using code LETSBUY20.  Maximum savings with this code = $30.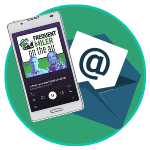 Want to learn more about miles and points?
Subscribe to email updates
 or check out 
our podcast
 on your favorite podcast platform.