This morning I woke up to the news that United had overhauled their award chart. Beginning February 2014, the value of United MileagePlus miles for international travel will drop to turd-like levels. For example, round-trip Star Alliance awards to Europe in business class can currently be booked for as low as 100,000 miles. Beginning in February, the same awards will cost 140,000 miles when partner airlines are included in the itinerary. It's even worse for First Class awards which go from 135,000 miles round-trip today to 220,000 miles round-trip in February. That's a 63% increase!
I was lucky enough to be able to get a top United executive on the phone this morning to answer questions about their award chart devaluation. Here is the enlightening transcript of the interview:
Frequent Miler: Thank you for taking the time to answer questions this morning! I'm not surprised to see higher prices in United's award chart, but I'm shocked by how extreme the changes are. Why did United decide to go from near best-in-class awards to bottom of the dung pile?
Top United Exec: It's all about pleasing our customers.
Frequent Miler: What?! How can higher award prices please customers?
Top United Exec: Customers regularly complain about having trouble finding saver level partner awards, especially for international business class and first class trips. With our new award chart, we expect that customers will no longer look for these awards since they're so expensive. That way, they won't complain about them.
Frequent Miler: MileagePlus awards on United flights will now be less expensive than awards on partner flights. Won't that increase competition for United-metal awards and make it harder than ever for customers to find those awards?
Top United Exec: Yes, at first that will be a problem. Soon, though, most of our loyal customers will defect to other airlines. That will result in two positive changes: there will be less competition for awards, and there will be far fewer customers complaining.
Frequent Miler: Surely you could have come up with a better plan for pleasing your customers?
Top United Exec: Of course we've tried! Last year we briefly offered awards to Hong Kong for only 4 miles. And, recently, we offered flights for free – no miles required at all! Both of these were hugely popular promotions, but our accountants claim that they didn't help our business. There's no pleasing accountants!
Frequent Miler: Aren't you worried about the negative publicity that will ensue with these changes?
Top United Exec: Not at all. I remember in Marketing 101 class that we were taught that all publicity is good publicity! Or, something like that. Anyway, we're going to get lots of publicity for free!
Frequent Miler: I still don't understand why you're willing to risk losing your loyal customer base. There must be some other reason for this?
Top United Exec: A big motivator was Delta-envy. Ever since Gary Leff coined the term Sky Pesos to represent Delta Sky Miles, we've been jealous about not having a similar "in the know" name for our miles. Personally, I'm hoping that Gary will pick up the term "Stardust" when talking about our miles.
Frequent Miler: Stardust?
Top United Exec: Yes, we are part of the Star Alliance and dust isn't worth much, so Stardust would be an appropriate name. Catchy too.
Frequent Miler: Oh, OK… Thank you for your time with this interview. I need to go now and book awards to use up all of my United miles.
Top United Exec: Too late. All saver level awards have already been booked by others trying to dump their United miles. But, thank you for this chance show the world the value in our new award chart, and to underscore how we always put customers first!
Note about this interview: This interview was entirely made-up with the intention of bringing some humor to today's award chart tragedy. This is intended to be comedy and therefore, hopefully, exempt from any adverse actions that might be taken by United's legal teams.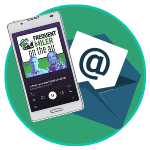 Want to learn more about miles and points?
Subscribe to email updates
 or check out 
our podcast
 on your favorite podcast platform.