The first frequent traveler event I ever attended was the Chicago Seminars in October 2011.  In the months beforehand, I had been reading miles & points blogs and forums voraciously and I thought I knew it all.  I didn't.  Not even close.  I learned something new in almost every session I attended.  It was great.  Plus, I made new friends that I keep up with even today.  Six months later, I attended the similar Frequent Traveler University (FTU) which was held in New Jersey that time.  Again, I had a great time, but for a different reason.  I still learned a bit, but this time I did more networking than learning.  In the long run, it is the personal networks that make events like these so valuable.
Each year, there tend to be quite a few frequent traveler events worth considering.  FTU itself usually appears multiple times: twice in a large session format, and a number of additional times as "FTU Advanced" which is a much smaller event.  Then there's the Chicago Seminars every October which is somewhere in-between.  Last year, we also had TravelCon, but that now has been rolled into FTU as a "Manufactured Spending Full Day Add-On."
To be completely honest, the big sessions are good, but the small ones are better.  Smaller sessions usually provide more opportunity for networking, more advanced topics, and more secret sharing.
Why consider big sessions like FTU Vegas?
There are several reasons to go to FTU Vegas, even though I just told you that smaller sessions are better…
You're new to "the game".  If you're pretty new to topics like credit card churning, booking awards, etc., then the big events like FTU Vegas are a great way to learn more.  Smaller events are usually geared towards more advanced attendees.
Your first event should be a big session event.  If you've never been in person to a frequent flyer event before, there's an advantage to starting with a less advanced format – even if you regularly read the blogs.  In-person sessions have a way of conveying information that is less obvious on-screen.  And, you (hopefully) won't feel like an outsider who has just crashed a party where everyone knows each other.  At big sessions like these, most people are new and eager to meet others with similar interests.
Big session events are easier to get tickets to.  Small events tend to sell out quickly.  At the time of this writing, there are still some tickets available for FTU Vegas (found here).
Meet your favorite bloggers.  There are a number of well known bloggers that you're more likely to find at the big events than the smaller ones.  If you care about that sort of thing then this may be important to you.
Regardless of the format, frequent traveler events offer an opportunity to make friends with people who have similar interests as you.
Maybe you love Vegas?
Why not go?
There are several reasons to stay away:
Cost: FTU Advanced costs $199.  Plus you have to get there, pay for lodging, etc.  It can add up.
You've been there, done that.  If you've already been to FTU in the past, and you're not interested in going to all of the events, then you may be better off waiting for the next small event.
You may have heard that these events tend to filled with credit card sales pitches.  That has not been my experience at all.  I'm sure there have been some sessions in the past that have sounded sales pitchy, but maybe I've just been lucky enough to avoid them.  I don't know.  In my experience, sessions that cover travel destinations, award booking, manufactured spending, etc. rarely if ever talk up specific credit card deals unless credit cards are in fact the best way to achieve a goal (which they often are).
Getting there
Miles to Memories has a great post detailing a number of great options for getting to Vegas cheaply.  Please see: 6 Awesome & Creative Ways to Get to Vegas with Miles & Points.
More about FTU Signature Event Vegas
Official information about FTU Signature Event Vegas can be found here: ftuniversity.com/events/ftu-signature-las-vegas/.  Click the red REGISTER button on the site to register.
Sign up for emails: If you're interested in getting emails when new events come out, you can sign up for the FTU email list.  At the bottom of the ftuniversity website, you'll see the words "DON'T MISS OUT! JOIN OUR EMAIL LIST!".  Enter your email address there and click "Sign up".
See you there?
I'll be speaking at both the FTU main session and the (now sold out) manufactured spend breakout.  For the main session, I expect to speak about manufacturing spend for miles and status; and about Extreme Stacking.  For the latter, I'm working on a really cool deal that I'm looking forward to sharing… in person.  If you see me there, please introduce yourself.  I always enjoy meeting readers!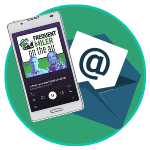 Want to learn more about miles and points?
Subscribe to email updates
 or check out 
our podcast
 on your favorite podcast platform.