PayPal is offering a referral credit of sorts: send $0.01 to a new PayPal user and each side will get a $10 PayPal credit. You can refer up to 5 friends and get up to $50 with this promotion.
The Deal
PayPal is offering a $10 credit for both sides when you refer a friend or family member who does not have a PayPal account after you send them $0.01 and they set up their account with bank / debit card information and spend or send at least $5 with their account
Key Terms
To be eligible to earn rewards through the Program, each referrer and referee must have a U.S. personal (including PayPal, PayPal Cash and PayPal Cash Plus) or premier PayPal account in good standing ("Valid Account") at the time of participation through when his/her reward(s) are issued.
A referrer may refer a referee by sending $0.01 to the referee via "Send Money" payment in the app or web by providing the referee's phone number or email address. The referrer can claim a reward for a maximum of 5 referees per calendar year that satisfy the following "Reward Criteria": (i) access and complete the PayPal sign up process to claim the referrer's $0.01; (ii) link his/her bank, credit card or debit card to their PayPal account; (iii) verify their cell number linked to their PayPal account; and (iv) complete an Eligible Transaction (defined below). An "Eligible Transaction" means: (a) an online PayPal checkout payment of $5.00 USD or more using the referee's new PayPal account that is marked as "complete" in the referee's account; or (b) a person-to-person payment of $5.00 USD or more using the "Send Money" feature within PayPal (sent to anyone other than the referrer) using the referee's new PayPal account that is marked as 'received' by the recipient.
Transactions that have been cancelled, refunded, or reversed by either the referee, referrer, or the seller do not count as Eligible Transactions.
You may only refer family and personal friends and acquaintances. Additionally, you must not publish or distribute the invitation to participate that you received from PayPal in public locations (online or otherwise) where the audience is likely to include people who are not your family or personal friends/acquaintances. If you do so, PayPal may disqualify you from participation in the Program and any successful referrals will be void, in PayPal's sole discretion.
Quick Thoughts
While it certainly feels like most people have a PayPal account at this stage of the game, I definitely have a few friends and family members who do not (though I'm not sure that $10 will be enough incentive to change their mind on that). I could see this possibly being an easy fifty bucks for a student whose friends may not yet have PayPal accounts, though keep in mind that the person you refer will need to set up their PayPal account, verify their cell number, and spend or send $5. Maybe that will all make sense if you're referring someone to the 100K + 10x Platinum card offer who doesn't yet have a PayPal account (since they will want to set one up to take advantage of the $30 in monthly PayPal credits on the consumer Platinum card for the next few months).
They have offered this incentive in the past, though it appears that it expired and came back. This was the first time I had seen it advertised when logging into my account. Keep in mind that the terms clearly state that you shouldn't post your referral information publicly or refer people you don't know and there is a cap of $50 per year in referral bonuses.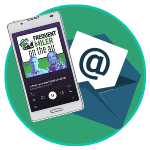 Want to learn more about miles and points?
Subscribe to email updates
 or check out 
our podcast
 on your favorite podcast platform.