This morning, I wrote about the new Amex Offer for InKind, but within that post I had information about a separate targeted offer. A reader pointed out that I had a key detail wrong and I wanted to publish a separate post to alert people to the separate deal to buy $350 worth of dining credit for a net $100. Note that purchased credit doesn't stack with the Amex Offer, but this is obviously still a great deal.
The Deal
A targeted Chase Offer is out that's good for $150 back on $250 or more at InKind
Stack that deal with the chance to buy $350 worth of InKind credit for $250 at this link (net cost will be $100 after the Chase Offer if you have that)
After doing the above, it might make sense to sign up for the subscription using the Amex Offer if you also have that. See the sign-up flow below.
Key Terms
Chase offer expires 9/27/23
Expiration unknown for the deal to buy $350 for $250
Quick Thoughts
First thing's first, there is a targeted Chase Offer good for $150 back on $250 or more with InKind. We've only seen this appear on Sapphire Reserve cards. I hadn't realized that we hadn't posted about this until I saw the new Amex Offer this morning, so I included a section in the Amex Offer post about this, but this deal alone really deserved its own separate post. But it gets better.
Doctor of Credit had posted last week about this deal to pre-purchase $350 worth of credit in the InKind app for $250. I had seen that post before I signed up for InKind. However, I somehow misread their post and I thought that it was just a link to purchase $300 for $250, same as the offer I saw in the app when signing up.
However, a reader pointed out to me this morning that the Doctor of Credit link is to purchase $350 worth of dining credit for $250. After the Chase Offer, you can therefore buy $350 worth of dining credit for just $100. That should work for new or existing users and is entirely separate from the Amex Offer.
The sign-up flow for new customers
Given the Chase Offer, the Amex Offer, and the offer to buy $350 for $250, I think the sign up flow has been confusing for some readers.
First, it is worth checking to make sure that there are restaurants in your city or the cities you intend to visit (you can search on their home page). I noted in the morning post that I was happy to find a couple of available options in a city so small as the Albany, NY area, but a reader commented to highlight that there are several large cities with very few options (in some cases only one) or other medium-sized cities where there was nothing at all. New York, Chicago, Washington, DC, Los Angeles, and Miami all seem to have decent coverage, but it really varies in other cities.
Purchased dining credit doesn't expire, but I think that the bonus credit (i.e. the extra $200 in this case) expires after 3 years (and you never know whether an app like this will last forever).
Once you've decided that you want to sign up, here's what you should do:
Check to make sure that this link still shows the ability to buy $350 in dining credit for $250 (I expect that this will die at some point).
Sign up for InKind through a referral link. You don't have to sign up through a referral, but if you do, you'll get a $25 reward to use on a dine of $50 or more (and so will we). Feel free to use one of our links with our thanks:Stephen's referral link
Nick's referral link
During the account opening process, you will be prompted to buy $300 worth of dining credit for $250. Do not do this. Instead, skip that step assuming that the $350 offer you checked in Step 1 is still valid.
Go to this link to purchase $350 in credit for $250. Use your card linked with the Chase Offer for $150 back. If this deal was dead when you checked in step 1, then it probably makes sense to buy $300 for $250 in the app during the sign up process.
After you've done all of the above, you can click here to purchase the $100 subscription to get 20% back on dining for a year. Use an Amex card where you've synced the Amex Offer (read more about that deal here) to get that $100 back. Note that this 20% back will not stack with pre-purchased credit. In other words, when using the $350 in pre-purchased credit to pay, you will not earn 20% back (You'll only earn 20% back on food & beverage charged to your credit card, not on the part of your purchase covered by pre-purchased credit nor on gratuities or service charges. Note that the 20% back will accumulate as a single running balance).
Dine out and enjoy some free food!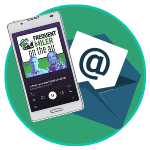 Want to learn more about miles and points?
Subscribe to email updates
 or check out 
our podcast
 on your favorite podcast platform.