There is a new Amex Offer out today for InKind, an app that allows you to pay your restaurant tab without handing over your credit card to your server. Stephen has covered previous InKind offers. I finally signed up the other day (to take advantage of a different offer that gave me $300 in credit for a net $100, though I could have gotten $350 for $100 as you'll see in the post). Today's new Amex Offer is good for $100 back on $100 when you subscribe to their InKind Pass (making it free for a year), and the subscription offers 20% back when you dine out at InKind restaurants for the first year. This is less generous up-front that previous deals, but it might work out well for some. Enrollment in the offer is required in order to take advantage of it.
The Deal
A new Amex Offer is out that is good for $100 back on $100 when you subscribe to InKind Pass. That subscription costs $100 per year and offers 20% back when you dine out (read the whole post for details on inclusions / exclusions on that)
Direct link to the InKind subscription deal (note that you must load the Amex Offer first)
Note that there is a separate Chase Offer out that's good for $150 back on $250 or more that can be used to pre-purchase dining credit. See the section of this post about the Chase Offer for more details.
The sign-up flow for new customers to maximize deals
Given the Chase Offer, the Amex Offer, and the offer to buy $350 for $250, the sign up flow has can be confusing.
First, it is worth checking to make sure that there are restaurants in your city or the cities you intend to visit (you can search on their home page). There are several large cities with very few options (in some cases only one) or other medium-sized cities where there was nothing at all. New York, Chicago, Washington, DC, Los Angeles, and Miami all seem to have decent coverage, but it really varies in other cities.
Purchased dining credit doesn't expire, but I think that the bonus credit (i.e. the extra $200 in this case) expires after 3 years (and you never know whether an app like this will last forever).
Once you've decided that you want to sign up, here's what you should do:
Check to make sure that this link still shows the ability to buy $350 in dining credit for $250 (I expect that this will die at some point).
Check to see if you have the targeted Chase Offer for $150 back on $250 or more and check to see whether you have the targeted Amex Offer for $100 back on a $100 subscription.
Sign up for InKind through a referral link. You don't have to sign up through a referral, but if you do, you'll get a $25 reward to use on a dine of $50 or more (and so will we). Feel free to use one of our links with our thanks:
Stephen's referral link
Nick's referral link
During the account opening process, you will be prompted to buy $300 worth of dining credit for $250. If you have the Chase Offer, not do this. Instead, skip that step assuming that the $350 offer you checked in Step 1 is still valid.
Go to this link to purchase $350 in credit for $250. Use your card linked with the Chase Offer for $150 back. If this deal was dead when you checked in step 1, then it probably makes sense to buy $300 for $250 in the app during the sign up process.
After you've done all of the above, you can click here to purchase the $100 subscription to get 20% back on dining for a year. Use an Amex card where you've synced the Amex Offer (read more about that deal here) to get that $100 back. Note that this 20% back will not stack with pre-purchased credit. In other words, when using the $350 in pre-purchased credit to pay, you will not earn 20% back (You'll only earn 20% back on food & beverage charged to your credit card, not on the part of your purchase covered by pre-purchased credit or rewards nor on gratuities or service charges. Note that the 20% back will accumulate as a single running balance).
Dine out and enjoy some free food!
More details
For the unfamiliar, InKind is an app that allows you to settle your bill at "1,000+" restaurants, bars, and cafes across the US. While they certainly aren't everywhere, I was recently surprised to learn from Stephen that there are a couple of options in the greater Capital Region of Albany, NY, which is a fairly small metropolitan area. Options seem to abound in some major cities, yet there are very few options in others. You'll want to check to see what's available in your area or the areas you intend to visit.
Put simply, you can pay your restaurant bill in the app using the credit card of your choice at the restaurants that participate. InKind claims to serve more than 1,000 restaurants, bars, and cafes. You can find a searchable map on the subscription deal landing page linked under "The Deal" above.
Stephen reported in a previous deal that he found InKind very easy to use. Note that if you prepay for a balance with InKind, that prepaid balance can be used for the restaurant bill, but any gratuities or service charges get charged to the credit card of your choosing.
Separate Chase Offer for $150 back on $250 (buy $350 for $100)
I signed up for InKind (just the app, not the subscription) last week because there is a current Chase offer on some Sapphire Reserve cards that is good for $150 back on $250 or more at InKind. Upon singing up, there was an offer in the app to prepay for $300 worth of dining credit for $250.
However, you can do even better. Doctor of Credit recently reported a link for existing users to buy $350 worth of credit for $250 (click here for that offer), which does stack with the Chase Offer. I'm not sure it would work with this new Amex Offer. You should be able to sign up via referral and then go to that link and buy $350 worth of credit for $250 and trigger the Chase Offer to pay $100 net for $350 in dining credit.
After the Chase Offer, I'm paying a net $100 for $300 in credit to use when I pay my tab through InKind. When signing up through someone's referral link, you additionally get $25 off of $50 or more on your first dine. That combined with the knowledge that there are more InKind restaurants than I had anticipated was enough to get me to try it out. There are not any participating restaurants or cafes in my immediate vicinity as I live in a rural area, but I there were plenty of restaurants in cities we visit that it seemed like an easy win for me.
New Amex Offer is for a "free" subscription that yields 20% back for a year
This new Amex Offer is significantly different from the Chase Offer or previous Amex Offers in that the terms indicate that it is only good for $100 back on a subscription to InKind Pass, which costs $100 per year. On a positive note, it seems like the subscription can be cancelled and you'll still get to use it for the rest of the subscription term — so I think it is possible that you could subscribe and then cancel soon after and keep it for a year without accidentally being charged for a renewal.
It is disappointing that it isn't a general credit that can be used to buy dining credit in the app like we've seen with the Chase Offer above or previous Amex Offers. I suppose it is possible that any purchase within the app codes the same and so maybe one could use the offer on a dining credit, but I haven't tried. That said, 20% back for a year certainly might work out really well for people who enjoy using the app (Stephen reports positive experience using it).
When I started writing this paragraph, I was going to say that I might sign up for this subscription since I imagine that I could likely get $100 or more back even if I only used InKind a few times over the course of the year. Then I dug into the terms a bit and I'm at least a bit less sold. Unfortunately, you can not stack 20% back with the discounted pre-purchased balance. So if you already have a balance (like I do since I loaded with the Chase Offer the other day) and you use that balance to pay, you will not earn 20% back (the rationale is that they already provided the reward on the front end when they sold $300 in credit for $250 and I paid a net $100). That's fair enough, but it means that I won't earn 20% back while I'm using my initial $300 balance.
Update: We've been able to confirm that the 20% back when paying with your credit card will accumulate as a lump sum balance if you choose not to use it to pay. In other words, if you spend $100 this week, you'll get $20 back. If you spend $150 next week and opt not to use your $20 in rewards, you'll earn another $30 and then have $50 in rewards that could be applied to a single dine. That's great as it means you could stack up rewards from normal dining to use on a special occasion.
Then there is this paragraph about how to use your 20% back:
How do I use my 20% back?

You can use your 20% Credit Back Reward at all of the same places that you can use your subscription. When you pay your bill using the inKind mobile app, your best available Reward will be automatically selected during checkout. It just works! If you'd prefer to use a different Reward, or save your Reward for later use, you can use the "Edit Payments" button on the review screen to make changes to your payment source(s).
As I've not yet subscribed, I can't say for sure how this works, so I may be misinterpreting that part. However, the way that reads to me, it sounds like maybe each 20% back will be earned as a separate "reward" rather than a running balance of 20% back being combined into one pot. It sounds like the app will automatically apply your highest reward to the bill. In other words, if you dine tonight and spend $100 and tomorrow night and spend $150, your total cash back earned thus far would be $50 — but as I read it, I believe that will be earned as a separate $20 reward and $30 reward that can not be combined. That is a smart way to get you to keep using the app, but it is less useful to me than a running balance of cash back. I'm basing my interpretation of this based on the wording above and the way my app shows the initial $25 off when spending $50 or more (from signing up through Stephen's referral) as a "Dining Reward".
Terms clearly indicate that you will earn 20% back on all food and beverage charged to your credit card in the app, but you do not earn 20% back on tips, gratuities, delivery or service fees, or any part of the bill covered by discounts, bonuses, previously earned credit back, or pre-paid InKind balance.
This still could be a decent deal if you find the InKind app useful. Existing users don't get the same offer for buying pre-purchased credit — my app currently shows offers whereby I'd need to spend $500 to get 20% more credit ($600 in credit). At $100 off of $600, that's really a 16.67% discount, so the 20% cash back that doesn't require loading $500 to the app would be a preferable deal to me.
However, see the Chase Offer section above for info about a link for existing customers to buy $300 in credit for $250, which saves you $9 over what you'd pay directly in the app.
Overall, I think this new Amex Offer could be interesting if the initial deals for InKind have proved useful for you. Getting 20% back for a year could certainly work out well, especially since it would stack with credit card rewards. That said, it isn't as good as previous offers we've seen for InKind and won't be very useful for those who do not frequent participating restaurants. Even though I don't have restaurants nearby where this would be useful, I might still give it a go on the subscription just in case I end up spending more time than planned in a participating city.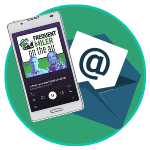 Want to learn more about miles and points?
Subscribe to email updates
 or check out 
our podcast
 on your favorite podcast platform.