I've been an AT&T mobile customer for many years and, I've been happy with the service.  But as I've traveled more often outside the country, I haven't been happy with AT&T's international pricing.  $9.95 for their International Day Pass doesn't sound expensive until you go on a two week trip with multiple family members using the service.  Even if not everyone uses the service every day, the charges add up quickly.
In a previous post, I covered many options available to international travelers, along with my thoughts about how well each option fits my own circumstances.  If you have questions about why I didn't buy an international hotspot device or why I don't just pick up a sim each time I travel, please see this post:  International Roaming: AT&T / Verizon vs. Project Fi vs. T-Mobile vs. Sprint vs. SIMS vs. Hotspots.
To meet my needs, the best alternatives to AT&T seem to be T-Mobile or Google's Project Fi.  T-Mobile includes free low-speed international data with most of their plans and charges only $5 per day for high speed roaming.  Project Fi includes high speed roaming with their one and only plan.  Partly for the allure of high speed roaming everywhere, and partly to appease the tech geek in me, I decided to try Project Fi.  See: International Roaming Next Steps (I'll try Project Fi).
I initially tried Fi only within the US and I was happy with the service.  See: My Google Fi Experience So Far.
Now, I've had the opportunity to try Fi outside of the US (that was the whole point of it after all), and the verdict is in…
Fi Background
Project Fi is Google's phone service.  Fi service must be activated with a Fi-compatible phone.  After activation, Fi is meant to be used only with compatible phones, but in practice it works with other phones, including iPhones (with some minor gotchas).
In the US, Fi primarily uses the T-Mobile network, but with a Fi compatible phone it is capable of actively switching among  3 networks to the one with the best service and speed in your current location.  With non-compatible phones (such as iPhones), you're stuck with T-Mobile only.
With Fi, there is no additional charge for high speed international roaming.  You pay the same price regardless of whether you use the service within the US or abroad.
With Fi, there is no additional charge for additional data-only sims.  This is an awesome feature!  These can be placed into any unlocked phone or device that accepts sim cards and it enables high speed international roaming at no additional cost. Data used with data-only sims adds to your monthly data usage (and so can indirectly add cost if you wouldn't reach your maximum otherwise).
Single person Fi pricing is as follows:
Calls & Texts: $20 (there is an extra fee to make calls internationally – 20 cents per minute – but this is easily circumvented by placing calls through Google Hangouts)
Data: $10 per GB (max $60 per billing cycle)
Per month total: $20 to $80 (Depending upon how much data is used)
My Fi Background
In order to activate Fi service, I bought a Moto G6 phone for only $199 and it came with $75 in Fi service at that time (that's no longer available, but hopefully the $99 deal is still going on when you read this).
I ported my number from AT&T.  This means that the primary Fi sim is registered with my cellphone number.  One awesome side-effect of this is that Google Hangouts can use this number for calls and texts.  This means that I can make and accept calls and texts over the internet, for free, using my usual cellphone number.
I've been using the primary sim in my iPhone 7 Plus even though Google doesn't support iPhone use.  Mostly this works very well.  The one issue I've had is that it has some limitations when texting with non iPhone users.  It turns out that the Google Hangouts app can be setup to handle all SMS and MMS messages, and it does so very well.  In other words, it's hardly an inconvenience.
I keep an extra Fi data-only sim in the Moto G6, but I rarely use it at home.
International Use
My first chance to use Project Fi outside of the US was during a week long trip to London.  If I had stayed with AT&T, I could have used AT&T's International Day Pass for $9.95 per day to use my phone service uninterrupted.  On this trip, that would have meant up to $80 (plus taxes and fees) in addition to the usual monthly AT&T plan charges.  Plus, my wife would have activated the International Day Pass for at least 3 of those days for another $30 in charges (plus taxes and fees).
If we assume that, on average, the Fi monthly cost is about the same as I previously payed AT&T monthly without international roaming, then I can say that Google Fi saved me over $110 on this one trip.
An astute reader may notice that I included my wife's data roaming in the $110 in savings.  I wrote that she would have activated the International Day Pass for at least 3 of those days (if I was still on AT&T).  She is still on AT&T, but on this trip she didn't activate the AT&T International Day Pass because she was able to use my Moto G6 phone as a very effective hotspot.  More on that below.
My Fi Experience: Surprises good and bad
Good: My iPhone connected immediately upon landing in London
Some readers had mentioned that it can take quite a while to find service when roaming.  That wasn't the case in London… Not initially, anyway (see my Tube experience, below).
Bad: My iPhone didn't work as a hotspot
This was a surprise because it works fine at home as a hotspot.  And, initially, it was a major blow to my plans.  I though I would have to switch the sim cards between my iPhone and Moto G6 in order to get hotspot use with the G6.  But then…
Good (very good): The Moto G6 worked as a hotspot with the data-only sim
This was a surprise because Google explicitly states that tethering from a data-only sim isn't supported (found here).  The ability to use it as a hotspot was great because my wife was then able to carry around the Moto G6 whenever we went our own ways and she still had high speed data connectivity from her iPhone and laptop.  And I still had high speed data with my phone, I just couldn't use it as a hotspot.
This solution worked great for us, but it would have been a problem if I had needed to connect my laptop to the internet through Fi service while my wife was out.  In this case, though, the hotel where I worked had excellent wifi.
In the future, it would be useful to have a second Fi compatible phone, or a laptop that accepts sim cards.  The latter would be ideal since I could then slip another Fi data-only sim into the laptop and forget about it.
Bad: My iPhone often had trouble reconnecting to service after riding the subway (aka: the Tube or the Underground)
On several occasions, I exited the Tube and couldn't get data on my phone for a couple of minutes.  This wasn't a big deal, but it was mildly frustrating.  I didn't know whether the problem was with Project Fi or with my iPhone so I took the Moto G6 with me on a few Tube rides to see if the G6 acquired data faster than the iPhone.  As luck would have it, though, both phones re-acquired data instantly on those particular trips.
Good: Roaming data was fast
I'll admit that I didn't have much need for high speed data very often on this particular trip, but it was nice to have.  My phone showed LTE service most of the time (which is not surprising in a major city like London).  During the trip I received a call over WhatsApp (which uses the internet for calls), and it worked perfectly.  General browsing and maps were snappy too.  Truthfully, I probably would have been fine with T-Mobile's much slower free roaming on this trip, but it was nice to know that high speed was available if I needed it.
Bad: The Moto G6 stopped hot-spotting one time
Mostly the G6 worked flawlessly as a hotspot.  One time, though, my wife tried to use her phone's data while walking back to our hotel and she found that it wasn't connected to the hotspot.  When she arrived back at the hotel I looked at the G6 and found that the hotspot was turned off.  Did it turn itself off somehow?  I don't know.  The fix was simple: turn it back on.
Overall Impressions
While I've run into a few minor inconveniences, I'm still satisfied with the move to Project Fi even though I continue to use a non-supported iPhone as my primary phone.
That said, the truth is that most people would be better off with T-Mobile.  This is especially true for iPhone users. With T-Mobile, there's no need to have a special phone, and there's no need to specially configure the phone for everything to work correctly.  And, most of the time, T-Mobile's low speed free data roaming is probably good enough for your needs.  When it's not enough, simply fork over $5 to enable high speed roaming for 24 hours.
So, who is Fi good for?
Pixel Phone users: Anyone with a Fi compatible phone should consider the service.  Why not?
AT&T and Verizon customers: Ironically, I think it is also good for those who don't want to switch to T-Mobile from AT&T or Verizon or whatever.  The reason: once you've activated service, you can pause it at any time.  So, if you buy a cheap Fi-compatible phone, you can use it as a very effective hotspot when traveling outside the country.  If you need data for more than 3 or 4 days, you'll save money by resuming Fi service only when traveling vs. using AT&T's or Verizon's $10 day passes.  I think that this may be a cheaper and better roaming solution than buying a dedicated hotspot, but it will require carrying around a bigger device (the phone).
Those who spend lots of time outside of the US: T-Mobile's free roaming isn't intended to be used full time.  If you use their roaming feature continuously for about 2 months, you're likely to get a message threatening to cut off your roaming altogether.  If there's any similar limitation to Project Fi, I'm not aware of it.  UPDATE 1/25/2020: There have been many recent reports of Google Fi (previously named Project Fi) cutting people off for using the service for long periods of time outside of the US.
Techies who want the ultimate cheap family plan: I haven't tried this, but it should work.  Setup just one family member with Project Fi and order a bunch of free data-only sims (you can order up to 9 of them).  Then, make sure everyone else's phone is unlocked. Then, port each person's primary phone number to Google Voice (except the person with Project Fi).  Then hand out the data-only sims and have each family member install Google Hangouts to use with their Google Voice phone number.  With Hangouts, they should be able to call and text just fine.  There are definitely some limitations to this plan (so I wouldn't recommend this for most families), but it should effectively get everyone on a single phone plan with a maximum monthly cost of $80.  Note that Google says that it may cap data speeds once you exceed 6GB on a single person plan.  It's unclear to what extent they do this in practice.
If you do decide to get Fi (despite my stating that most people would probably be better off with T-Mobile), use a friend referral.  After 30 days of service both you and your friend will get $20 Fi credit.  Here's our referral link.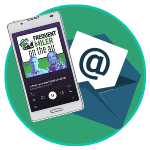 Want to learn more about miles and points?
Subscribe to email updates
 or check out 
our podcast
 on your favorite podcast platform.