Pondering international roaming options…
My family has been with AT&T wireless for years.  Service has been good, and we locked in an old mobile share plan (a type of family plan) that makes the service relatively cheap for unlimited talk & text, and more than enough high-speed data for the 5 of us on this plan (30 GB per month, plus rollover of unused data from previous month).
The problem is that we've been traveling internationally more and more.  AT&T used to charge just $30 for 30 days of their international Passport service, which offers unlimited texts, inexpensive calls, and a small amount of data.  We would sign up for this before traveling and turn off our data roaming except when in a pinch.  Now, though, the cheapest Passport option is $60 for 30 days.  When 3 or 4 of us travel together, it adds up fast.
The International Day Pass Option: $10 Per Day
Meanwhile, AT&T has another option: International Day Pass for $10 per device per 24 hours (Verizon has a similar option).  This option includes unlimited talk and text, and uses data from your regular plan.
For travel to Japan, Germany, and the UK this past summer, we used the International Day Pass.  I turned on my phone's hotspot, and my family turned off data roaming and connected to my phone for internet.  This approach worked well most of the time, but when we were apart, family members either had to go without internet or activate their own $10 day.  Somehow my son activated his quite often.
Advantages:
Keep your own number for talking & texting
Plenty of high speed data available (just like at home)
Can share data with travel companions
Disadvantages:
Phone battery drained more quickly than usual when used as a hotspot
$10 per day adds up, especially when travel companions decide to use their own day passes 🙂
It's difficult to keep track of when the 24 hours starts and ends so it's easy to accidentally trigger another $10 at an inopportune time (such as when boarding the plane to fly home).
Swap your SIM
A tried and true approach to saving money when traveling internationally is to buy a prepaid SIM at your destination.  Often these are cheap and include plenty of data.  I've done this before, but I find it inconvenient.  I don't want the headache of trying to find a cheap SIM after a long flight.  Plus I'd rather not mess with popping tiny SIM cards in and out of my phone.  And, of course, I want to keep my usual phone number for texts and calls.
Advantages:
Cheap
Pay only for what you need
Disadvantages:
New phone number for talking & texting
Must ensure that your phone is unlocked first
Requires some work: finding a good SIM deal, and swapping SIMs (the latter isn't hard though)
International SIMs offer a middle ground: You can buy one before you travel and use the same SIM in many places around the world.  While I haven't looked into this option in-depth, I believe that you'll pay a lot more than a SIM bought locally.  You can find a round-up of international SIM options here.
International Hotspot Device
A while ago, SkyRoam sent me a free SkyRoam Solis device, presumably with the hope that I'd write a positive review.  The idea is that this device is a portable hotspot that works almost anywhere in the world.  The usual cost for service is $9 per 24 hours.
I used the device a bit in Italy last year and again in Quebec City last weekend.  Overall, it worked very well.  In Quebec, I tried making a call over Skype while connected to SkyRoam and the call quality was great.  The downside?  I hate, hate, hate how big the thing is.  While it can be crammed into your pocket, it's not at all comfortable.
The usual price for the device, $9 per day, doesn't make much sense to me since it's only $1 cheaper than using my own phone.  That said, SkyRoam has a new Go Data plan that costs only $9 per month.  With this plan you get 1 GB of data per month and can buy more data as needed.  That's pretty appealing.
If SkyRoam was about 1/4th it's current size (but still with good battery life), I'd go with the Go Data plan and I'd be done.  But it's not.
Google's Project Fi
Google's phone service, called Project Fi, offers compelling prices for those who often travel internationally.  You pay just $20 per month for basic phone service, plus $10 per Gig of data.  That pricing works in all 170+ supported countries.  And if you use a lot of data, it's still not bad since data pricing is capped at $60 for a one person plan.
This sounds great except for one big gotcha: Project Fi officially supports a very limited set of phones.  Everyone in my family currently has iPhones, and I'm not eager to switch.
T-Mobile
T-Mobile offers free international low-speed data.  I thought about switching to T-Mobile for this feature, but then talked to a friend who lives in my neighborhood.  He uses T-Mobile and reports that local coverage is awful.  That simply won't work for me.  Whenever we have trouble with our Comcast internet, I use my phone's LTE data as a backup.  I wouldn't want to lose that option.
Sprint
Like T-Mobile, Sprint's low-speed international data is included for free with many of their plans.  Unfortunately, their US-based coverage is usually rated worst of the big 4 (Verizon, AT&T, T-Mobile, Sprint).
Sprint 1 Year Free
Sprint is currently offering 1 year of free service for those with eligible phones who port over.  You must sign up through the link: www.sprint.com/1yearfree.  This service includes includes Sprint Global Roaming, with "data up to 2G speeds and text messaging in any of our 185+ international destinations at no charge, plus calling for just $0.20 a minute."
A long list of phones are eligible for this deal, including these iPhones:
Apple iPhone 5c (Verizon only)
Apple iPhone 5s (Verizon only)
Apple iPhone 6
Apple iPhone 6 Plus
Apple iPhone 6s
Apple iPhone 6s Plus
Apple iPhone 7 (Verizon only)
Apple iPhone 7 Plus (Verizon only)
Apple iPhone 8 (Verizon only)
Apple iPhone 8 Plus (Verizon only)
Apple iPhone SE
Apple iPhone X (Verizon only)
My plan is to try this out for a year without giving up my current phone or service.  I setup a prepaid T-Mobile plan for $3 so that I can port that new number over to Sprint.  And I dug out an old iPhone 6 (which I meant to sell, but never got around to it) to use for the conversion.  I'm now waiting for AT&T to unlock the old iPhone.  My thinking is that I can carry around the iPhone 6 as a hotspot when traveling internationally.  Plus, I can test Sprint service locally for free.
Bottom Line
If I can get the free year of Sprint service working, then I can try it out for a year risk-free.  I'll use Sprint on a backup phone so that I don't have to give up anything in the meantime.  If I have trouble with Sprint's data when traveling, or if I need faster data, I can always enable my AT&T International Day Pass.
If I ever escape the Apple ecosystem, I'd be interested in trying out Project Fi.  Unfortunately, they don't yet officially support Samsung phones.  If I was going to leave Apple, I'd want to go to Samsung so that I can use Samsung Pay with my Altitude Reserve card (3X rewards on mobile payments).
For those who travel often but want to stick with their current devices and phone plans (like me), the best option is arguably SkyRoam's Go Data plan for $9 per month (plus $9 per additional Gigabyte), with no contract required.  I just wish their device wasn't so darn big!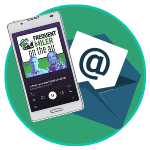 Want to learn more about miles and points?
Subscribe to email updates
 or check out 
our podcast
 on your favorite podcast platform.