At conferences like Frequent Traveler University, I have often heard rumblings about Upside, but until today I had never given it much of a look. Then, I saw a promotion this morning at Doctor of Credit: if you sign up through someone's referral link (more on this below), you can get a $250 gift card for making a package booking of $400 or more. What makes this deal great is that the "package" can include Flight + Uber credit or Hotel + Uber credit (or obviously Fight + Hotel) and the gift card can be to Amazon, Whole Foods, Target, Ebay, and a bunch of other stores — you get your choice of tons of useful places. In other words, that gift card is very nearly the same as cash to me. With the average domestic flight itinerary pricing in at around $352 round trip this year, I imagine a lot of people could take advantage of this deal.
As it turned out, I had a flight I needed to book that was in the right range to make this a good savings. By packaging my Uber to and from the airport, I'm going to nab a $250 gift card on a reservation I was already planning to make. Here's the deal..
The Deal
Using a referral promo code provides the best deal: Book a package that costs $400 or more and you will get a $250 gift card (without a referral, you could get a $200 Netflix gift card with code NETFLIXNOW (H/T: Extreme Hotel Deals)
See the refer-a-friend chain in our Frequent Miler Insiders Facebook group.to use and post referrals (if you're a new member requesting to join, don't forget to answer the question prompted, this helps us keep spammers out)
Key Terms
Valid for new travelers only for bookings through 8/19/17
One promo code per transaction
Gift card can't exceed the cost of your trip
My Experience
This is my first experience with Upside, but I'm pretty excited about this particular deal since it gives me a nice rebate on a trip I needed to book anyway. I went with Flight + Uber credit because there are many ways to find discounts on hotels — between coupon codes, Hotels.com gift card deals, and just plain old sales, I'm not one to lock in a hotel far in advance. However, many flights cost about the same no matter where you book them — and I was surprised to find that to be true with Upside as well. The place where I'm getting ripped off is on the Uber credit — but the $250 gift card will more than make up for it.
Rather than posting referrals here (our spam filter will block them from posting), head over to our Frequent Miler Insiders group to find and share referral links. Note that the $250 referrals were targeted for existing users. After signing up, the referral code in my account was only good for $125 back in gift cards. I inquired with a "navigator" (customer service rep) who reached out after my booking about the $250 referrals and she told me the following:
The best way to get promo codes is to "Like" us on Facebook (https://www.facebook.com/UpsideTravel), or to listen to the radio. There are many programs and stations we advertise on, and often the promo codes are for $100, $200, and sometimes more (like the one you used!). The marketing team is always cooking something up, so be sure to check your emails as well; you never know what you might get!
When you click on someone's referral link, you will be taken to the home page and see this (with their promo code in the space that says promo code below) — check to make sure that the referral you click is offering the promo shown below for $250 in gift cards:
You will then choose two of the three options for a package (options are flight, hotel, and Uber credit). As you can see here, I've chosen Flight + Uber credit.
I then put in my airports and dates. I was pleasantly surprised when the flight prices came back the same price as I had found through Google flights. I thought for sure that Upside would have an upcharge on the flights, but they didn't. YMMV — perhaps I just lucked out, but I searched several sets of dates and cities and found that Upside matched the prices I saw elsewhere for the same flights.
My itinerary is a less-than-perfect example because I picked something I really needed rather than cherry-picking just the right flight/package. In this case, the cheapest itinerary that worked for my needs was $336. The next step was to bundle Uber credit — and this is definitely where you get the short end of the stick. You can choose to bundle $50, $100, $200, or $300 in Uber credit. The catch, however, is that each of those Uber credit amounts are separated into codes worth "Up to $25" and the credits are only valid during your trip (in my case it shows they are valid from the day before until the day after my trip). So unless you have multiple trips that will cost $25 or more, you're not going to get that full value out of these credits (and even then, we often see discounts on Uber gift cards that mean you could do better than full price). Still, in order for me to hit the threshold to get the $250 in gift cards, I needed to both book a package deal and hit $400 or more.
In my case, I went with the $100 Uber credit to get myself over $400. I won't really use $100 in Uber credit. In reality, I'll use Uber for round trip transportation from the airport and I'm probably going to need exactly one more Uber trip that weekend, so this works out for me. I might end up having one long round trip in there, but to be conservative, let's value the Uber trips at $7.50 each for a total of $30 in real-world value. I feel like that is more than fair and I may get a good bit more value out of at least a couple of the four trips. At this point, I've got my $336 flight (same price as Google flights) and at least $30 in value out of the "hundred-dollar" Uber credit — or $366 in value to me.  The total cost with the Uber credit came out $65 more than that at $431.50 — but I'm also getting a $250 gift card. I don't know about you, but I'll make that trade all day long. Heck, even if I valued the Uber credit at $0, I'm still only paying about $95 for $250 in credit to Amazon, Target, Ebay, etc. That's a nice score in my book.
At the end of the checkout process, if has a button for "redeem gift cards" (after you have purchased).
However, when I clicked there, it told me that I wouldn't be able to redeem them until 72 hours after my trip:
It does let you see the gift card options, which are plentiful.
And it looks like you don't even have to redeem for a single $250 gift card. I can't tell for sure since my credit won't "unlock" until after my trip, but it seems that you can choose the value that you would like to redeem on many of these gift cards:
I received my American Airlines confirmation number moments after booking and the e-ticket came through within a couple of minutes. I pulled up my itinerary on AA.com right away and added my Alaska Airlines Mileage Plan number. Thanks to my Alaska Airlines MVP Gold status, I was able to choose Main Cabin Extra seats for free (I'm bummed to see this benefit and the ability to earn Alaska miles on these flights going away next year!).
Bottom line
This looks like a solid deal if you are already in need of a flight or hotel that costs anything north of $300 as even if you don't get much value out of the Uber credit, it's still a nice discount on the gift cards. Getting the round trip flight plus $250 in gift cards plus a few Uber rides plus a couple thousand Alaska Airlines miles on my itinerary for a total of $431.50 was a downright no-brainer in my book. With the Chicago Seminars and the FTU Signature & Expo coming up this fall (See: Meet the FM Team in Chicago and/or Ann Arbor), I have some travel plans that fit into the price point and this just worked out to be a much better deal than my alternatives.
H/T: Doctor of Credit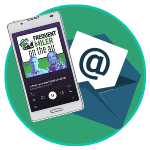 Want to learn more about miles and points?
Subscribe to email updates
 or check out 
our podcast
 on your favorite podcast platform.