A couple of new offers appeared in the last week or so for Exxon Mobil which means there are currently at least six ways to save more and earn more when filling your tank at Exxon Mobil gas stations.
Here's how this potential sextuple stack works. (Update: Some reader suggestions in the comments could make this a decuple stack).
1) Exxon Mobil Rewards+ App
The first step of this stackage is to download the Exxon Mobil Rewards+ app and register for their loyalty program if you haven't already. Their Rewards+ program gives 3c per gallon back when filling with gas and 2c per dollar spent in-store.
If you don't have their app on your phone already, you can download it here:
Update: If you have an AARP membership (more about that in a section below), sign up for Rewards+ via AARP as you'll earn an additional 500 Rewards+ points worth $5.
2) Citi Offer
There's currently a targeted Citi Offer giving 5% back when spending $30+ with the Exxon Mobil Rewards+ app. Note that app requirement – simply paying with your enrolled Citi card at the pump won't be sufficient. You can use this Citi Offer up to two times per enrolled card.
You can check all your Citi Offers here. Note that it defaults to showing offers available on one of your Citi cards. If you have more than one Citi card, you should see a dropdown letting to switch between cards to see offers on each one. Unlike Amex Offers where you can only load an offer to one card, if you're targeted for the same Citi Offer on 2+ cards, you can redeem the offer on each one.
3) SimplyMiles
As is often the case, when there's a Citi Offer there's a corresponding offer for the same retailer on SimplyMiles and Exxon Mobil is no exception. The SimplyMiles offer gives 2 American Airlines AAdvantage miles per dollar when spending $30+ using the Rewards+ app to fill your tank. As with the Citi Offer, you can use this SimplyMiles offer twice.
What makes this SimplyMiles offer even better is that it'll also earn you 2 Loyalty Points per dollar. While that isn't going to go a long way towards earning you status with American Airlines, every little helps.
To use this SimplyMiles offer, you need to link your payment card(s) on the SimplyMiles website and then activate the Exxon Mobil offer. Note that you can only register Mastercards with SimplyMiles – Visa, Amex and Discover aren't eligible.
4) Upside
Upside – formerly GetUpside – is an app that can save you money when filling up with gas. The amounts and gas stations you can earn at vary, but at least some Exxon Mobil stations around the country are eligible. I'm assuming that using the Rewards+ app to pay for your gas will count as an eligible transaction, but I've not had a chance to test this out myself.
If you're not currently an Upside user, here's my referral link. You'll get 15c back per gallon on your first fill-up in addition to any other savings offered in the app, while I'll also get 15c back per gallon on a future fill-up.
Update: Swagbucks is currently offering 1,500 Swagbucks (worth $15) when joining Upside for the first time, plus 25c off your first fill-up when adding promo code PRODEGE25.
5) Drop
The Drop app has a card-linked feature with new offers you need to activate each week. At the time of publishing this you can earn 1 Drop point per dollar spent at Exxon Mobil gas stations. That's worth 0.1% back which is the least exciting part of this stack, but I wanted to highlight it anyway seeing as there are many other more interesting Drop card-linked offers including Amazon, CVS, Lyft, Dell, Uber, Target, McDonald's, GoPuff and more.
6) Bonused Spend
Depending on which card(s) you're paying with in the Exxon Mobil Rewards+ app, there's the potential to also earn bonus points on your credit card. For example, if you have a Citi Premier card, you'll earn 3x ThankYou points per dollar.
Paying with a card that earns more at gas stations might mean having to forgo some of the other elements of this stack though. For example, the Wyndham Rewards Earner Business card earns 8x points at gas stations, but that's issued by Barclays which means you won't be able to use the Citi Offer at the same time, nor will you be able to stack with the SimplyMiles offer as the Wyndham card is a Visa card rather than a Mastercard.
Reader Suggestions
There have been the following suggestions for additional stacking elements from readers in the comments below.
7) AARP Partnership
I'd written about this in a separate post about 10 AARP Member Benefits You Might Not Know About, but forgot to mention it in this post. If you're an AARP member, you can link your AARP account with your Exxon Mobil Reward+ account to earn 1 extra point per gallon on fill-ups and 1 extra point per dollar spent in-store. If you're new to Rewards+, signing up via AARP will also earn you 500 bonus points which are worth $5.
8) Checkout 51
Nadine has given the following tip in the comments:
Checkout 51 (app) has money back on gas – depends on the station, but the EM near me is always on the list. You can stack this with a bunch of these other items.
I'd never heard of Checkout 51, so I don't know how it works, but I'll be checking it out.
9) Walmart+
Walmart+ – which you can get for free via a benefit on the Amex Platinum card – gives a 10c per gallon discount at Exxon Mobil among other gas stations. You can read more about that benefit here.
10) Just For U Rewards
Depending on your region, some stores owned by Albertsons that use the Just For U program (e.g. Safeway and Acme) let you redeem Rewards for saving son gas at Exxon Mobil.
This won't be stackable with all these elements. For starters, when redeeming Just For U Rewards you can't also earn with Exxon Mobil's Rewards+ program. I think it would also affect earnings with Upside too.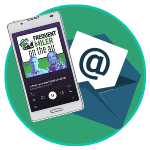 Want to learn more about miles and points?
Subscribe to email updates
 or check out 
our podcast
 on your favorite podcast platform.