Business travel booking site Upside.com sent out an email today announcing that they are going out of business. This won't affect many readers (and don't confuse this with GetUpside, which is an entirely different entity), but some may still have gift card rewards from a lucrative promo a few years ago. If you're in that boat, log in and redeem them: after 9/24/21, you won't be able to redeem. Also, if you have booked with Upside for travel beyond that date, it looks like your reservations may be cancelled.
What is Upside?
If you're asking what Upside is, this closure probably doesn't affect you. Upside is a business travel booking website. Long-time readers might remember when they ran two incredible deals back in 2017:
It was essentially possible to make a $400 flight (or later just a hotel booking) and add on a cheap Uber credit and get $200 or $250 in gift cards to places like Amazon, eBay, etc. Then it was possible to refer someone else to do the same and you would get $200 in gift cards and so would they — meaning that referring your Player 2 meant they would make a $400 booking and you'd get $400 back in gift cards. It was easily the deal of the year in 2017.
Unfortunately, Upside may have already closed your account
Unfortunately, back in July, Upside sent an email to customers whose accounts had been dormant asking if they wanted to keep their accounts or have the accounts closed. If you didn't respond by August 1st, it looks like Upside may have proactively closed your account and forfeited your rewards.
I could have sworn that I had written a post when that email came out, but apparently I didn't (my apologies to any readers who missed it in their inbox!). I had responded to that email to keep my account open and as such I am still able to log in. On the other hand, Greg did not respond to that email and has been unable to log in or reset his password (he's pretty sure he redeemed his rewards but tried logging in just to see). I'm afraid that those who forgot to respond may be out of luck if they had unredeemed rewards.
In my case, I did respond to that email and I do still have a small amount of rewards left that can be redeemed (and as you can see below, they will automatically become Amazon gift cards if I don't choose).
Upside closure key dates and details
Upside has a blog post up with more details about the closure, but here are the key dates to keep in mind from the blog post:
Bookings made on or after August 20, 2021 will be voided regardless of travel date and will need to be rebooked either directly with the supplier or another travel service.
Bookings that do not complete travel on or before September 24, 2021 will be canceled, refunded and clients will need to rebook directly with the supplier or through another travel service. Airline tickets that are non-refundable will be changed to tickets on file (TOF), any difference in value will be refunded and a list of TOF will be shared with your primary account administrator.

As of September 24, 2021 clients will no longer have access to itineraries or receipts.
As of September 24, 2021 clients will no longer be able to convert gift card balances to gift cards. Any remaining balance will be converted on behalf of users into Amazon gift cards that will be emailed to the user email on file for each account.
On the one hand, it's pretty disappointing that bookings after September 24th are being cancelled. That seems particularly frustrating for those with nonrefundable airline travel. As I understand it (and somebody correct me if I'm wrong), changing those reservations to a "ticket on file" will essentially give you a travel credit to use with the airline, but not your original itinerary. If fares have changed for your trip, you'd be on the hook for any difference in fare. If fares have dropped I guess you might make out a bit better, but either way it isn't as convenient as keeping your reservation.
On the other hand, it is good news that not only are they honoring rewards that people have earned, but they will automatically convert unused reward balances to Amazon gift cards on September 24th and email them to the user email on file. That is more generous than I would expect in a situation where the business has decided that it needs to close. Of course, if they closed accounts that didn't respond to the July email, perhaps they already wiped a chunk of liabilities off the books.
Bottom line
It is always sad to see a business shut down and know that it means people losing jobs and disrupting careers. I think Upside had a hard time getting much traction given that they had a pretty niche appeal outside of the big promos of 2017. If you took part in those promos and still have an open account with rewards, be sure to redeem them soon. If you don't, Upside will automatically send you Amazon gift cards, so you may as well choose what now rather than wait.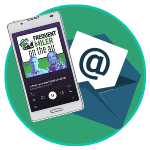 Want to learn more about miles and points?
Subscribe to email updates
 or check out 
our podcast
 on your favorite podcast platform.