Update 8/27/17: I have received my Movie Pass, activated it, and bought a ticket. Everything went smoothly and easily and nearly every theater within a 40 mile radius came up in the app. Note that you can also view theaters on the MoviePass.com home page now (scroll to the bottom). I pulled up the app on my phone, checked in for the movie, and then bought my ticket at the window. The cost of the movie was $13.50, meaning that I'm already $3.50 ahead for the month. Note that Movie Pass has reached out to say that they are behind on printing cards and that they are currently projecting deliveries between September 6th-10th, with people who signed up on August 15th or 16th possibly receiving them sooner.
MoviePass is an interesting service that offers "unlimited" movie theater movies each month for one price. My wife and I subscribed in the past and loved it, but stopped when the price went up to $40 a month. Today, it caught my eye when I saw that they are running a deal for just $9.95 per month per person for unlimited movies in the movie theater. There are a few catches — but this is a great deal if you enjoy going to the theater. This isn't a travel-related deal, but it's a money-saving deal if you enjoy the movies and could be a big win if you go often. It works nationwide, meaning you can see movies at home or when you roam. See your movie Saturday and his/her movie Sunday. Never compromise again.
Update: There is a new link that looks like it provides a free one-month trial. There are also some media outlets claiming that AMC is trying to block Movie Pass from working (despite their former partnership and the fact that Movie Pass has worked at AMC since 2011). Read media reports at Variety and the Los Angeles Times for more info. As someone who subscribed for about 20 months from 2012-2014, I'm not too concerned about those reports — read on for my experience and see those articles for more info.
The Deal
See one movie per calendar day in certain theaters (very widely available, but not quite all theaters) for $9.95 per month
Month-to-month subscription, cancel anytime
Direct link to a 1-month trial, then $9.95 per month (H/T: Reader Rye) (Note that some users at Slickdeals have reported being charged after signing up through this link, but I would expect it is an authorization rather than a charge. YMMV)
Update 8/16 9:54am: The links above no longer appear to provide a free trial. I think they have killed the free trial and are now charging immediately and starting your service the day you activate your card (I suggest waiting to activate it until you're going to go to the movies). This link will bring you to MoviePass.com to sign up, but there is no trial. The links above redirect to that same page. (Thanks Brendan)
Key things to know
Doesn't work on IMAX, 3D, etc.
1 pass per person — it's nontransferable (you'll need one Movie Pass account for each member of your family)
My experience and how it works
My wife and I joined movie pass back in late 2012 and had it into 2014. As early adopters, we locked in a rate of $19.99 per month (each) with a one-year commitment. We cancelled in 2014 when the rate went up to $39.99. At $9.95 per month with cancellation possible at any time, I think it's a no-brainer for movie lovers. I have chatted with support to verify as much as I can about how the service today compares to several years ago, and I believe it is basically the same service with a couple of improvements and a few losses from my experience. Here's how it worked/works.
When you sign up, Movie Pass will mail you a plastic card in the mail that looks like a debit card (though it's not exactly a debit card and isn't a credit card — there is no personal information required apart from your billing information so you can pay the $10 a month subscription fee). This was my last one back in 2014:
You would then need to download the Movie Pass app on your smart phone. You must have a smartphone for this to work. You would then need to physically go the movie theater to "check in" and choose a movie (the app needs to use your GPS to verify that you are at the theater). Once you do that, it automatically loads your card with the money to buy the ticket. You can then just swipe it like a credit card at the theater. Back in the day, I got a lot of suspicious looks from cashiers, but I would point out to them that there was a Discover logo on the back (at the time, Movie Pass worked on Discover's payment network).
Today, they also have e-ticketing at some theaters where you can get your e-ticket right in the app and show a code at the movie theater to receive your ticket. This option didn't exist when I had Movie Pass, so I don't yet have personal experience with it.
What theaters does it work with?
This is the tricky part. Back in the day, it used to work nearly anywhere that took Discover. Today, it seems they have partnerships with some theaters/chains. Chat support tells me that they are working on a theater locator / map, but for now your only way to find theaters that work is to chat with support or open the app and search once you have the service. The good news is that the link above gives you a free 2-week trial to check it out and see what works.
Chat support was slow in responding to me earlier and for a couple of hours afterward, I was refreshing the site and it kept saying they were "away". The site also crashed a few times, so be patient if it doesn't work right away. However, what I determined is that most AMC, Regal and Cinemark theaters should work and there are likely several other chains. I had the chat agent report back theaters based on several zip codes and here I'm providing a few examples: Albany, NY; Ann Arbor, Michigan; Myrtle Beach, SC; and a Manhattan zip code (10010). I chose Albany and Myrtle Beach zip codes specifically because I had used Movie Pass in those cities before, so I could compare against the theaters that were available then and now, and the list was mostly identical, with one indie theater in Albany now gone from the list (the Spectrum 8, a theater that plays indies — sad to see it gone from the list!). Here were the results they gave me for those cities:
Albany, NY area
Regal Crossgates Stadium 18
Regal East Greenbush 8
Madison Theater
Bowtie Movieland
Regal Colonie Center Stadium 13
Rotterdam Square Cinema
Ann Arbor, MI Area
Ann Arbor 20
Michigan Theater
State Theater
Goodrich Quality 16 Ann Arbor
Myrtle Beach, SC
Carmike Broadway 17
Cinemark at Myrle Beach
Carmilke Colonial Twelve
Rivertown Stadium 12
Grand 14 at Market Commons
Manhattan (zip code 10010)
I'm going to paste a screen shot here as I don't know the theater names and can't easily tell where one name ends and the next begins from the chat transcript. If you live in Manhattan, you know better than I:
As you can see, Movie Pass works at a good range of theaters. Excluded theaters are usually places that serve dinner with the movie or are otherwise branded as "luxury" theaters. That said, one theater I used with MoviePass has power recliner seats and is still on the list, so I don't know what defines a theater as "luxury".
Can you…….?
I'm sure some readers will have questions about what you can do. The short version of the story is that most ways to game the system are explicitly against the terms. You might get away with some temporarily, but you risk getting your account banned. For example, you aren't supposed to buy a ticket for a movie other than the one for which you checked in, you aren't supposed to use your card to buy candy/soda/snacks/etc, it's non-transferable. If you come up with a way to "beat the system" on this, I suggest keeping it to yourself lest it die a quick death and get your account shut down.
Drawbacks
The key drawbacks for Movie Pass from my perspective are:
A) You can't see 3D/IMAX movies
This never bothered me, but it might bother you.
B) The GPS could be glitchy at times
At roll-out, the GPS was very glitchy. At first, the app didn't have our local theater in the right place, so the app wouldn't recognize us at the theater. After about six months, things became smooth and we were using it twice a week, often in different locations, without much of a problem (the occasional GPS hangup on our phone might require a reboot at worst). I would imagine this has been worked out over the past 3 years to the point where the experience is smooth, but if you happen to live in an area where there haven't been many members, it may require some chatting with support. At the time, when the GPS wasn't working, chat support would sometimes manually load my card without a check in. They were always very helpful.
The other two drawbacks were fixed. They used to limit you to seeing one movie per rolling 24-hour period. They removed that restriction — you can now see 1 movie every calendar day (this is the way it worked at launch, just including this information for those who may have been familiar with Movie Pass over the years since). The other drawback was that you used to only be able to see each movie 1 time. Now you can see each movie as many times as you want, but only 1 movie per calendar day.
Stack it
I'm not sure how this works with the new in-app e-ticketing, but with theaters where they load the card and you pay at the theater, this always stacked with theater loyalty programs. My wife and I racked up free snacks and sodas and movie tickets and sometimes brought along friends or gave  away those free tickets earned from the theater loyalty program.
Bottom line
At $9.95 per month (less than twenty bucks for a couple), this is pretty cheap entertainment. If you go to the movies just twice a month, you're ahead of the game. If you go more often, you can get a nice value out of this.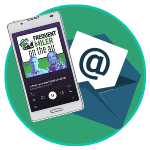 Want to learn more about miles and points?
Subscribe to email updates
 or check out 
our podcast
 on your favorite podcast platform.