If you've been following along, you know that Greg, Stephen, and I are all on different continents at this point and adventuring our ways around. It's interesting writing these summaries because I'm honestly not even sure what day number we're on at this point: as I type this, it's Saturday afternoon where I am. I think that means it's Saturday morning where you are. What day is it where Greg is? And Stephen? I'm lost. Here's what I know about the last 24hrs:
Greg ended up in Africa
After taking a plane to West Virginia and back and then a Megabus to New York on Day 1, Greg flew to Madrid, Spain. He couch surfed (both literally and figuratively) in Madrid. But then he continued on to a very large continent with a Star Alliance presence when he flew to Dakar, Senegal. He also couch surfed there and it looks like he ate something better than what I just had at the Priority Pass lounge from which I write this summary.
Greg then found some time for sightseeing in Dakar, which is going to make me go back and Google more about these sights since I knew less about Dakar than I do about astrophysics.
As I write this now, I think he is airborne — likely taking the first of his two excursionist perk flights thanks to everything he learned previously. From a Facebook story he posted, it looks like he's on Ethiopian Airlines, which means his next destination…..could be like, anywhere in Africa. Since it's an excursionist perk, it has to be central and South Africa. I actually just came up with a monster idea as I typed this of what I think he could possibly be doing. Where do you think he's headed next?
Is Stephen planning a diamond heist?
It looks like Stephen mastered Madrid, walking ten miles and exploring the city on his long layover, taking some magnificent photos of this beautiful city.
His next stop is Belgium, but he left a cryptic clue as to his true destination (it isn't Brussels).
Here's the full hint for those without Facebook:
Stephen is taking a bus north
To a town that sounds like it's loud
He's seen sculptures like these before
And hopes these too will leave him wowed
I was going to tell you that I think he's in the province of Antwerp and the only thing I know about Antwerp is that it's where they steal the diamonds in almost every heist movie I've ever seen. However, I searched GoFundMe for a bail money fund for Stephen and came up empty. After a bit more sluething, I think he's likely to avoid prison. He's not out of the woods yet, and I don't think he will be until the end of the day today at least. Keep your eye on Instagram / Facebook / Twitter for updates, as I imagine the pictures will be worth a few thousand words.
Nick's dead….tired.
I spent last night at the morgue.
Kidding, of course. I was in Tokyo and spent the night at a capsule hotel at Narita airport called Nine Hours Narita. I've described it like this: imagine laying in a plastic bathtub. Picture a nice memory foam pad under you and a soft duvet cover over that. Now take away the memory foam and cover yourself with the duvet and you have my night.
In all seriousness, it wasn't much less comfortable than most Japanese beds on which I've slept — I love Japan, but find the beds hard for my liking at most hotels there. I actually really enjoyed the capsule hotel experience. It was something I've always wanted to try but I knew it would never fly on a family trip; I'm pretty sure my wife is excited that I've gotten that out of my system. What I found fascinating about it was the sense of isolation within a crowd. When you check in, they let you know that once you enter the locker room, there is no loud talking or cell phone use. Since everyone is there alone, nobody talks. The place was fairly busy, but yet it felt like a sanctuary of sorts. Everything was very clean and people were as respectful as you'd imagine Japan to be, so there was almost no noise in the sleeping area — which is good, because you were moving around on plastic bathtubs without much noise insulation.
One problem: it was hot. And I felt like this had to be a fire hazard in my plastic coffin.
Overall, it was a night of sleep that I desperately needed — by the time I laid down, I was deliriously tired from my night of little sleep in Honolulu (which had followed a night of not-much-sleep in DC before the start of the challenge).
But before I went to bed, I did venture out to explore. Naritasan Park is just one train stop plus about a 15-minute walk away from the airport. It's a beautiful, tranquil park with a massive temple. In fact, it's like a temple complex consisting of many buildings and many of them are gorgeous. I honestly left feeling amazed that it isn't included in Tokyo must-do lists. The complex seemed so big in fact that when it started getting dark and I tried to find my way out, I began to wonder if the temples had me surrounded for good. Eventually, Google maps got me out — but had the sun not set, I would have gladly explored longer. I was there for a couple of hours and probably could have done with a couple more. Here are some pics.
I did make a rookie mistake. Do yourself a favor and make sure there is a memory card in your camera before you leave your computer bag back at the capsule hotel. I missed out on some great DSLR shots thanks to that mistake. Also: make sure your GoPro is charged. Bummer x 2.
I then decided it was time to eat, and I'm on a budget, so….
Kidding. Come on now — have a little faith. I mean, if they took a Priority Pass card….
As I returned to the train station to head back to the airport for the night, I pulled up Google to look at restaurants around me. I generally won't eat at something with less than 4 stars on Google unless it's just a time / budget situation. In this case, I felt confident I should be able to find something on-budget with decent reviews.
Ramen Bayashi seemed to fit the bill: greater than 4 stars on Google and the first review or two I read indicated that prices were decent and the ramen was quite good. On my way to the restaurant, I passed one little joint after another full of Japenese men in suits at individual place settings and nearly stopped off to try one for the adventure of it. At some point, I pulled up Google and saw poor reviews for the one at which I was standing, so I resolved to continue on to Ramen Bayakshi. However, when I got to the ramen shop, I stopped in my tracks: as I looked through the window, I saw that nearly everyone inside was a westerner. That immediately turned me off. I didn't want to be surrounded by little local restaurants only to dine in the one tourist trap. I stood outside Googling around to see what else there was. Unfortunately, at that point, my mind was sold on ramen. I hadn't slept much and was getting tired and sore from ~5 miles of walking (I know Stephen Pepper is giving me no sympathy there). I eventually gave in and figured that I could at least report about it to save you the mistake of going there.
It turns out the place is a hangout for airline crews (I'd have known that if I'd read farther in the Google reviews). It's such an airline crew hangout that there are airplanes hanging from the ceiling and decorating shelves all round, many autographed by crewmembers, and airline stickers adorn all the walls. There was a crew at the next table over — from the conversation, it sounded like one was a pilot and the others were flight attendants (they spoke American English). At the table to my right were two younger women speaking German, but I got the sense that they were likely also flight attendants. If you're an aviation person, you might find this place interesting for the ability to meet folks in the business.
The good news is that the ramen was very good. It wasn't amazing, but I'd give the spicy pork ramen a solid "very good". I didn't walk away disappointed and the meal cost me about $9.25.
Afterwards it was back to my pod for a restful night's sleep before heading to the airport Saturday morning to catch a flight to Bangkok, Thailand. There I would hit my first major snafu of the trip — but more on that in the next update.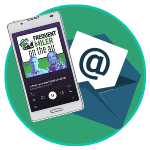 Want to learn more about miles and points?
Subscribe to email updates
 or check out 
our podcast
 on your favorite podcast platform.