Who won the 40K to Far Away challenge?  You'll find the results of the voting poll at the bottom of this post.  Voting was open until Sunday October 20th at 10pm ET.
Greg

Nick

Stephen

Distance Traveled (click here for details)

>18,000 miles
~16,061 miles
~13,394 miles

Spend

40,000 points
$397.08
Details here
23,500 points


$398.70


Details here

40,000 points
$382.44
Details here
Notable Accomplishments


Crossed African continent twice

27-hour sleeper car train journey across South Africa

Way under budget on points (when considering the trip as outlined here and in the link above)

Farthest geographical point from starting location (Brisbane)

Round trip itinerary

Two weeks travel

Visited 6 countries & 9 cities

Destinations

Washington DC, Madrid,Senegal, Johannesburg, Cape Town, Seychelles
Hawaii, Tokyo-Narita, Brisbane
Madrid, Boom, Paris, London, Guildford UK, Copenhagen, Atlantic City, Washington DC, Richmond VA
Major Activities


2 self-walk tours

African artisan market

Wine tasting

Penguins!

Lanikai Pillboxes hike

Strolling Naritasan Park

Japanese capsule hotel experience

Brisbane Eat Street Northshore

2 troll hunts

Segway tour

4 self-walk tours

Modes of Transport

Plane, city bus, coach, subway, light rail, walk, boat, taxi, car, sleeper train
Plane, city bus, train, walk, Uber
Coach, city bus, plane, walk, car, scooter, ferry, tram, Uber, subway, light rail, Segway, shuttle bus, paddleboat ferry
Sleep Summary

3 nights in beds, 1 night on comfy couch, 3 nights on flights
1 night in capsule hotel, 2 nights on planes (one with entire plane row to himself), 1 night at the airport
6 nights in beds, 4 nights in airport, 3 nights on flights/buses
Food Highlights

Spanish dinner in Madrid, Senegalese lunch in Dakar, Chef prepared breakfast in Jo'burg, Wine tasting in Cape Town
Shave ice in Hawaii, Ramen in Tokyo, Chocolate fondue-covered brownies and strawberries while listening to jazz in Brisbane
Empanadas in Madrid, Curryworst in Boom, Ham baguette in Paris, Sausage roll in London, Scones & clotted cream in UK, Kylling frikadeller & Danish pastries in Copenhagen, Casino buffet in Atlantic City
Why Greg should win…

Why Nick should win…

Why Stephen should win…

I used my points creatively and pushed them to their limits. Within the budget I traversed the African continent twice and was the only one to travel long distance by a mode of transport other than plane. I had amazing experiences and made new friends. I ate well and slept well. I truly enjoyed touring Madrid and Africa, and ending up in the Seychelles was awesome. For more, see: 10 reasons to vote for Greg.
I went over budget. It's true.  But if you look at the trip prior to my going over budget, you'll see that my trip rocked. I visited Hawaii, Tokyo, and Brisbane for only 23,500 points! For details, see: How Nick can steal your vote for #40KFaraway champ.
I traveled for twice as long as Greg & Nick, visited 9 cities in 6 countries, made it back home within my budget, went troll hunting twice and tried food from every place I visited, all while spending the least amount of money and hopefully putting together a trip that you yourself might want to take. See also: 15 Reasons Stephen Should Win
Reminder of the Rules
The goal was to use the budget (40K points + $400) to go as far as possible.  How do we measure success?  We don't know.  Do we win by ending up the farthest from the starting location?  Do we win by traveling the farthest distances when adding up every segment?  Do we win by experiencing the most things?  Do we win by having the most desirable trip?  The answer is up to our readers.  The winner will be picked by vote.
But we did need some rules, so here they were:
Beginning with the first mode of transportation, we must account for all costs within the 40K + $400 budget.  This means that we needed to track payments for food, airport transfers (not counting the original transfer to get to the starting location), lodging, visas, etc.
This was a one-way challenge.  We did not need to return to the starting location.
We could not accept transit/lodging/food help from readers.  In other words, we could accept help in terms of advice, but we can't accept a ride to the airport, lodging, food, or other types of material assistance from readers.  Note that accepting help from friends or relatives along the way was fine as long as it was the type of thing that would normally happen when traveling.
Vote Now Results
Now that you've reviewed each of our trips and read our posts, please pick a winner below.  The poll will remain open until Sunday October 20th at 10pm ET.
Who do you think won the 40K to Far Away challenge?
Greg (51%, 567 Votes)
Stephen (31%, 345 Votes)
Nick (19%, 210 Votes)
Total Voters: 1,122

Loading ...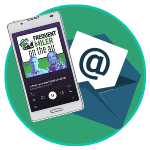 Want to learn more about miles and points?
Subscribe to email updates
 or check out 
our podcast
 on your favorite podcast platform.