Near the end of the first day of the 40K to Far Away adventure, I was mentally worn out by the time my Megabus ride arrived in Manhattan. Honestly, I was already wondering why I was doing this. Other than visiting the Library of Congress my trip so far hadn't been fun. Not at all. Why didn't I try harder to make my cruise idea work?  I could have been sipping margarita's on a pool-side lounger. Instead, I was sitting on a cramped bus sweating details of the upcoming trip that I had yet to solve.
Despite the Megabus taking an hour longer than planned to reach the city, I was only mildly worried about making my flight in time. I was pretty sure I'd make it. My main worry was that all of my plans for sleeping somewhere in Madrid the next day had fallen through. I had made countless requests for lodging via CouchSurfing, but no hosts accepted. I also had secured a free membership to WeWork where I hoped that I could sleep on a sofa overnight. Sadly, I learned that "hot desk" members (which is what I am) are not allowed to stay after hours. I was also having a hard time nailing down my expected costs in Dakar for the day after Madrid. I was worried that if I spent even $15 on a hostel or Airbnb in Madrid, then transportation to and from the airport in Dakar would blow my budget.
Fortunately, my buddy Julian had offered to meet me at the Megabus drop-off and ride with me on the subway to JFK. I'm sure I could have managed it myself, but it was great to be able to simply follow along. I needed that. But, that was near the end of the day. Let's go back to the beginning…
Virgin Atlantic Clubhouse (and the $20 shower)
Wednesday morning, I had woken early after a late night at the Hyatt Regency Dulles in order to make my morning flight on time. This was the first day of 40K to Far Away and I was excited to get going! I left the room without shaving because the hotel shuttle runs only every half hour and I wanted to catch the earliest one possible. It turned out that my hurrying wasn't necessary. My flight would be delayed.
At the airport I camped out in the beautiful Virgin Atlantic Clubhouse thanks to my Priority Pass card. There I ate breakfast and did some work. When I learned I had extra time I asked about using the shower (so that I could comfortably shave). "That will be $20," I was told. Ah… no. That's way above my 40K to Far Away shower budget (for the record, my shower budget = $0). Ironically, later the same day I'd have another delayed flight and another Priority Pass opportunity to shower. But, I'm getting ahead of myself…
To West Virginia and back
My flight took off 40 minutes late. I flew to Lewisburg West Virginia where I was dumped outside of security into the smallest airport I've ever seen. The gate agent inside of security (about 15 feet from me) was already announcing boarding to DC. I passed through security and re-boarded the same plane. The flight attendant and I had a nice laugh while I explained what I was doing. If you're curious why I flew to West Virginia and back, see this post: Greg's #40KFarAway Mystery Excursions.
Air France Lounge = lunch + dinner
Back at Dulles airport, I saw that the Air France lounge was just about to open at 11:30am. I waited a few minutes and entered, again thanks to Priority Pass. Yes, I could have returned to the Virgin Atlantic Clubhouse, but I wanted to try out another lounge. The Air France lounge was a good choice with good food. I succeeded on day one in eating both breakfast and lunch, for free, in nice lounges. The best part was that they had sandwiches on french bread next to a side of sliced meat. I combined the two to make a mega "to-go" sandwich which I put into two Ziploc sandwich bags. This would be my dinner later on.
Tourist time in the nation's capital
For $7.50, I took bus 5A from Dulles to L'Enfant Plaza, near the National Mall. From there, I explored the Library of Congress and took a free tour. The tour guide wasn't great, but the building was fascinating. I highly recommend it.
Megabus
Finally, I walked to Union Station where I boarded the Megabus bound for NYC. I had found a $1 fare, which really cost $4.25 after taxes. The bus ride was slow, but uneventful. I ate my Air France club sandwich for dinner. It was surprisingly delicious.
A pain in the butt mistake
At JFK I had wanted to go to a Priority Pass lounge to eat and shower before my overnight Norwegian flight, but the two Priority Pass lounges in Terminal 1 are only accessible during specific hours to Priority Pass customers. For evening passengers, one lounge is only accessible will the Priority Pass card until 8pm. And the other, the Air France lounge, is accessible beginning at 11pm. I arrived at the airport too late for the first and would likely board my Norwegian flight too early for the second.
Near the Norwegian gate, I used all of my gymnastic skills to change from shorts to long pants in a men's room stall. Somewhere in this process I noticed that my inflatable butt pillow wasn't in my backpack. I had stupidly rolled it up and carried it hanging out of a side pouch of my backpack. Somewhere between Manhattan and here, I had lost it. I really should have found a way to stuff it inside of my backpack! I looked for it and asked about it at the security line (maybe it had fallen out of my backpack in the x-ray?), but no luck.
Flight delay turns into nearly missed flight
Changing in the men's room turned out to be unnecessary. Norwegian announced that our flight would be delayed. The new boarding time would be 11:55pm. Yes! I now had time to go to the Air France lounge!
In the lounge, I asked about taking a shower, and was given a fresh towel. The lounge was packed so I was very lucky that the sole shower was available. After a long sweaty day, the hot shower was luxurious. I finally shaved and donned my next set of clothing. As planned, I tossed in the trash my sweaty threadbare underwear and t-shirt.
While most of the food in the lounge had been picked over (and they apparently had no plans to restock it for the Priority Pass crowd), I managed to scrape together a big snack. They also had bins of small packaged sweets. I put a handful in my backpack. This was a wise move that would come in handy later.
At 11:55 I hurried back to the Norwegian gate. I figured that since I was in boarding group 4 million or so, I would have plenty of time. I was wrong! I approached the gate at 11:57 to hear my name being called over the loudspeaker. "Gregory Davis-Kean: last call for boarding! Gregory Davis-Kean…" I sprinted the last 30 yards and re-introduced the sweat that I had just showered off. The sprint was unnecessary. On the jet bridge there was still a line waiting to get onto the plane.
Surprisingly nice Norwegian flight
My assigned seat was next to a very nice young couple who seemed eager for a bit of privacy. When I had a chance, I changed to another aisle seat where no one was in the middle seat. This gave me more space and left the couple with more room to cuddle. Win win. Even better, the next morning I struck up a great conversation with my row-mate who happens to be a University of Michigan graduate. I really enjoyed talking to Patrick and hope that he contacts me next time he comes to Ann Arbor (I gave him my card).
The flight itself was unexpectedly very nice too. I've never flown Norwegian before, so I expected the worst. After all, I paid only $140 (9326 Ultimate Rewards points) for this flight to Madrid. But I was delighted to find that our flight sported a clean and modern 787 with in-flight entertainment and easily as much leg room as I'd get in economy on Delta (the airline I fly most often). Our flight was further delayed due to a technical glitch, but once we got started I slept fairly well for the rest of the flight.
I awoke feeling relatively fresh and ready to take on the day. Even with no plan for how or where I'd sleep that night, I was feeling better about the challenge. The first day was all about positioning for 40K. The flights to and from West Virginia were necessary for future Excursionist flights to come. And the bus ride to Manhattan was necessary to get to JFK cheaply. Once in Madrid, though, the real travel would begin…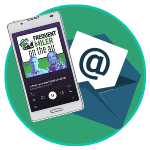 Want to learn more about miles and points?
Subscribe to email updates
 or check out 
our podcast
 on your favorite podcast platform.