This week, we brought you posts about a better way to look at your Chase strategy, strategies for earning on the purchase of a car, what happens when you've cracked your rental up, and more. Read on for this Frequent Miler week in review.
Whether you're just starting out with rewards credit cards or you're a seasoned vet, you need to have a Chase application strategy. In this post, we explore why that strategy ought to focus on the cards that are subject to 5/24 rather than the ones that aren't.
---
Are you looking to earn a lot of rewards without spending much money? Of course you are. This post is a quarterly update on ways you can still do that — and the dearly departed methods that left us in recent months. If you stepped away a bit post-holidays, consider this a refresher as to what you can and can not do in the constantly changing landscape of MS. Which ways are still safe for meeting Amex minimum spend? How can I pay rent without any credit card fee? Those answers and more.
---
Let's be real: Ben is knocking it out of the park. Six hundred thousand points in a few months and the man is still under 5/24? Talk about getting off to a running start! What were his latest apps — and what are his next steps? Read on to find out — and sound off in the comments if you think you've got a better idea.
---
Do you hate to leave miles on the table? Does it burn you when you have to make a large purchase and you can't earn miles doing it? Buying a car seems like an example of a big purchase that can't be paid for with a credit card….or can it? Having made a major purchase recently, I just couldn't accept not earning my share of miles and points. In this post, I outline three ways to make it happen.
---
Readers often ask questions about what will and won't be covered by the various insurances offered by credit cards. It's always somewhat difficult to answer — after all, I'm not going to break my leg to test the medical coverage or drive off a cliff to test the auto coverage, etc. And so it's incredibly fortunate that Stephen had the misfortune of parking in an epic hailstorm with a car rented on a Chase Sapphire Reserve card. Was it a $2,800 lesson in why he chose the right card for the rental, or did he pay $2,800 to fix a car he'll never see again? Read on to find out what happened – and to know what to do if you ever find yourself in his shoes.
---
A million miles. The number just sounds impressive. Know what's even cooler than reaching million miler status? Reaching it on the same flight together with your other half. Greg and his wife are on the verge of becoming two million milers. After reading this post, here's what I want to know: How many of those miles were earned without flying..
---
That's it for this week at Frequent Miler. Check back soon for our week in review around the web and this week's last chance deals.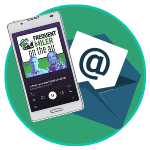 Want to learn more about miles and points?
Subscribe to email updates
 or check out 
our podcast
 on your favorite podcast platform.