While health insurance for international trips has surely long been a consideration for some travelers, it may be something that has more recently come to the top of mind for others given the pandemic. Some airlines are even offering COVID insurance of some sort with purchased tickets. While we've often written about credit card travel insurance (and in fact have a resource guide for that), Doctor of Credit features a guest post this week with some more discussion about further insurance options to consider.
I've often heard it posited that the purpose of insurance is to cover a loss that you can't afford or that would cause an undue burden. A medical emergency could easily get into that territory, which is a major part of the reason that many of us continue to purchase health insurance despite exorbitant premiums in the US (indeed, the cost of a hospital stay can quickly become even more exorbitant, a fact to which I can attest after two children born in the past 3 years). Frequent international travelers know that a hospital trip in other countries can often be much less expensive (a trip to the emergency room in Cape Town when my wife came down with double ear infections a few years back cost us just over $100, prescription included).
But emergencies can be unpredictable and more costly. A classmate of mine broke his back in a car accident in France as an exchange student after high school and spent months in the hospital there before being able to return to the US. Thus, I read the piece at Doctor of Credit with interest as my medical insurance does not cover me outside of the United States. While we do carry an Amex Platinum card or two in my household (which covers emergency medical evacuation), only a couple of cards cover any sort of emergency medical care in a foreign country (and even then only up to pretty small limits).
The Doctor of Credit post only covers a couple of options for international travel medical insurance, but it nonetheless does the base level research to get you going on this if you are interested in learning more. Again, I imagine this is a topic of discussion that will be more prevalent in traveler households in the next couple of years given what we've seen in 2020, so it's worth taking a look at the post as a jumping off point to do more research.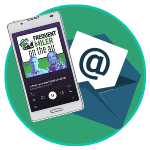 Want to learn more about miles and points?
Subscribe to email updates
 or check out 
our podcast
 on your favorite podcast platform.