Note that this post references a card that has since changed in name to the Hilton Honors Surpass card from American Express. The card was previously known as the Hilton Honors Ascend card, but that name has now expired.
In January, Amex revamped their Hilton credit card lineup and took over Citibank's Hilton credit card portfolio. Amex rolled out four cards (click the links for more info about each card):
Can we get the Ascend welcome bonus if we've had the Surpass card?
The biggest question we all had was whether or not those who have had the Hilton Surpass card in the past would qualify for the welcome bonus on the Ascend card.  Amex reps were on record saying "no", but I had a hard time believing it.  You can read my arguments here: Can you get the Hilton Ascend bonus if you've had the Surpass?  It appears that the reps were right and I was wrong.
A number of people who have had the Surpass card before applied for the Ascend card as soon as it was available.  None have reported success in getting the welcome bonus.  Lack of evidence is not proof, but I'm sure we would have heard by now if people had success.
Luckily there are a few work-arounds that may make it possible to get a bonus for the Ascend card:
Wait 7 years from the time you closed your Surpass card.  While there is no hard and fast rule about this, some data points suggest that Amex "forgets" that you've had cards after about 7 years.
Look for a targeted offer that does not include the lifetime language.  In other words, look for an offer that does not say: "Welcome bonus offer not available to applicants who have or have had this product."
Look for a targeted upgrade offer from the no-fee Hilton card to the Ascend.  When you find such an offer, make sure there is no language preventing you from getting the bonus.  In other words, make sure it does not say something like "offer not available to those who have or have had this product."
How will the transition from Citi to Amex affect 5/24?
In the post "Playing the Hilton Citi to Amex Conversion," I wrote:
It will be very interesting to see how Amex reports the Hilton cards to the credit bureaus.  Will they back-date the account open date to match the date you opened your Citi card?  If so, that would be ideal. If they report a new date then this would be a disadvantage to keeping your Citi card open.  For the record, it seems that when the Costco cards went in the other direction (Amex to Citi), Citi backdated some accounts if not all.
The reason I cared about whether or not Amex back-dated the accounts is that I was concerned that the transition would negatively affect the cardholder's 5/24 status.  If you were waiting to drop under 5/24 and suddenly had a new account with a new date show up, that could seriously mess up your plans.
Chase's 5/24 Rule: With most Chase credit cards, Chase will not approve your application if you have opened 5 or more cards with any bank in the past 24 months.

To determine your 5/24 status, see: 3 Easy Ways to Count Your 5/24 Status. The easiest option is to track all of your cards for free with Travel Freely.
Well, there's good news and bad news.  The good news is that Amex did back-date the accounts.  In my case, for example, I had originally signed up for the Citi Hilton Reserve card in June 2017.  And now, my converted Hilton Aspire account shows up on my credit report with that same date.
The bad news is that the old Citi card shows up as closed.  Chase's 5/24 rule counts all cards opened in the past 24 months even if they are now shown as closed.  That means that if you had signed up for the Citi Hilton card less than 24 months ago and you allowed it to transition to an Amex card as I did, then your 5/24 count just increased by 1.  That's what happened to me and my wife.  If you signed up for your Citi cards more than 24 months ago, then it's all good news for you.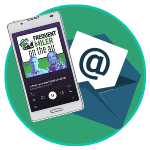 Want to learn more about miles and points?
Subscribe to email updates
 or check out 
our podcast
 on your favorite podcast platform.