This post was originally published in 2018.  Since then, I've come to rely more and more on Travel Freely for managing my family's credit cards and card bonuses.  Mostly, this free tool is set and forget: when anyone in my family signs up for a new card, I enter basic info (card name, date opened, signup bonus) into Travel Freely and then forget about it.  Travel Freely then sends email reminders as needed: don't forget to complete minimum spend requirements; a card's annual fee is coming due and so you may want to product change or cancel; now is a good time to sign up for a new card; etc.  It's simple stuff, but I find it incredibly helpful.  I especially love being able to see my Chase 5/24 status at a glance, including information about when I'll drop below 5/24.
Until recently, Travel Freely was available only on the web, but it's now available as an app too.  Personally, I still use Travel Freely on my laptop (I'm old-school when it comes to managing credit cards), but I'm sure that many will find it convenient to use the tool on their phone.  Of course, you can use both: all of your info shows up either way.  Down the road, Travel Freely may add additional features that will make it essential to have on your phone (such as helping you decide which card to use for a purchase).
Original post follows…
Travel Freely does one simple thing: it guides you through the steps involved in earning points and miles through credit card bonuses.  Travel Freely recommends cards for you based not just on the current best offers, but also based on what cards you've signed up for previously.  And it's aware of most of the known multi-card rules.  For example, it won't recommend the Chase Sapphire Preferred or Sapphire Reserve if it has been less than 48 months since you obtained a signup bonus for either one.  Once you sign up for a card (and enter it into the website), you'll get periodic emails reminding you of the due date for meeting minimum spend.  Later, Travel Freely will notify you when it's a good time to sign up for another card.  Travel Freely will also notify you when an annual fee is coming up so that you can plan to downgrade, cancel, or seek a retention offer if the card's benefits don't outweigh the fee.
You might wonder why I would want to use a tool like this.  Isn't this way too basic for me?  The truth is, if it was just me, I wouldn't.  I've long kept all of my credit card info in a Google Doc spreadsheet and I've been fine using that to track my card applications.
Update 3/10/21: Now that I've been using Travel Freely for a few years, I wouldn't go back to spreadsheets even if I was only managing my own cards.
For a novice or intermediate user, though, or for someone who doesn't have the time to track their cards and to keep up with the latest application rules, I think it's great.  In my case, I like it because I manage card applications for multiple family members.  Remembering to meet minimum spend and monitor annual fees for my own cards is easy.  Remembering this for each family member is tough.  I like that Travel Freely can do that for me.
Readers often ask whether they are eligible for various cards based on what cards they already have.  We've done our best to answer that question with application tips on each of our individual credit card pages and in our Best Credit Card Offers page, but that's not enough. It can be challenging for the average person whose life isn't dedicated to miles & points to keep track of these rules: To get a similar card again, do they need to wait 24 months from sign up, cancellation, or the day they got the sign up bonus….or does this count against 5/24 or is it subject to 5/24, etc.  Travel Freely is a tool that knows. And when something changes unexpectedly (such as when Chase suddenly changed the rule for getting a second Sapphire bonus from 24 months to 48 months after the previous bonus), this tool knows and won't recommend a Sapphire card if you've received a bonus within the past 48 months.
Travel Freely lets you manage two people's cards within one log-in.  In my case, I decided to create a separate log-in for each family member.  I already use the Google Chrome Switch Person capability (see my post about that here), so it's natural for me to sign up for Travel Freely separately within each log-in.
Travel Freely makes money primarily through credit card affiliate links. That's true for most points & miles blogs too (including Frequent Miler). But, unlike most blogs, Travel Freely has agreed to do things the Frequent Miler way: If a better public offer exists, they have promised to show that better offer even if it means getting no affiliate commission for that card.
DISCLOSURE: I like the site and find it useful. And I love that Travel Freely has been open to the idea of showing only the best public offers. So, Travel Freely and I now have a business relationship. I won't go into complete details, but suffice to say that Frequent Miler may gain financially If you use our link to sign up for Travel Freely and use the site regularly.
Here's the link to sign up: Travel Freely.  It's free.
After you try it out, please post your reactions in the comments here. Zac, the owner and founder of Travel Freely, is determined to make the site as useful as possible and is eager for feedback.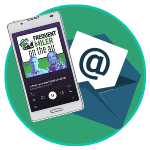 Want to learn more about miles and points?
Subscribe to email updates
 or check out 
our podcast
 on your favorite podcast platform.