Hilton Honors has announced its last promotion of the year, which will run between September 6th, 2022 and December 31st, 2022. Members who register will earn double points on all stays during the promotion period with an additional 2,000 points awarded on all stays with a Monday-Friday checkout.
There is no minumum stay or night requirement for the promotion and all Hilton properties are included.
The Deal
Hilton Honors will be awarding 2x base points on all stays that occur between September 6, 2022 and December 31, 2022. Stays with a Monday-Friday checkout will receive an additional 2,000 Hilton Points You must register for this promotion.
Key Terms
Offer valid for stays completed September 6 – December 31, 2022 at any hotel or resort within the Hilton Portfolio.
Hilton Honors™ members must first register at HiltonHonors.com/DoubleYourStay prior to completing a stay within the Promotion Period.
Registered Hilton Honors members checking in before September 6, 2022 will receive Bonus Points for their stay if the stay is completed on or after September 6, 2022 and prior to or on December 31, 2022.
"Double Points" means members will receive Bonus Points equal to the number of Base Points earned during a stay.
Registered Hilton Honors members will earn an additional 2,000 Bonus Points for stays with a check-out between Monday through Friday.
There is no limit to the total amount of Bonus Points that may be earned during the Promotion Period with this offer. However, there are restrictions on the number of Base Points that can be earned on a single stay at certain brands.
Please allow six to eight weeks from completion of your stay for Bonus Points to appear in your account.
Quick Thoughts
Hilton more or less runs non-stop promotions year-round and this one begins right as the Summer Promo ends. This will be an extremely easy promotion to use, as there's no minimum stay or night requirement: all stays will be eligible at all Hilton properties. The double base points are nice, adding another 4% in return based on current RRV's, but that's more or less the starting point for most Hilton promos these days.
The 2,000 points M-F kicker has the potential to be more lucrative, primarily for folks who might have multiple, short, midweek stays (looking at you, road warriors).
Let's say you have a one-night midweek stay during the promotion at a property that costs $150. If you're a Hilton Aspire cardholder, you'll earn:
10 points per dollar (base points)
10 points per dollar (bonus points for Diamond status)
10 points per dollar (bonus points from this promotion)
14 points per dollar (bonus points earned by paying with the Aspire card)
2,000 points for M-F checkout
Grand total: 8,600 or 57 points per dollar.
57 points represents a hefty 22.8% return.  It's worth noting that the promotion is at its most valuable on inexpensive, one-night stays with a M-F checkout. The more expensive the property gets, the more diluted the 2,000 point kicker is. For stays with a Saturday/Sunday, it's effectively a straight 10x bonus (or 4% if using RRV's).
If you are planning on staying with Hilton during the last 1/3 of the year, or even if you think there's a chance that you will, this promotion is certainly worth registering for. It's probably not enough to make me change any stays though, unless they're of the short, midweek variety.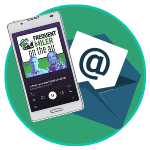 Want to learn more about miles and points?
Subscribe to email updates
 or check out 
our podcast
 on your favorite podcast platform.