Update 12/15/22: Last Bottle is currently running another Marathon Madness sale. Deals can change every few minutes or even more often at times and you get free shipping even on a single bottle. These deals can be quite good, particularly if you have any friends who also like wine since the referral program can work out really well for both sides. I've gotten some great bottles of wine at big discounts in these marathons. I strongly recommend trying their "Sleeper" brand (a Last Bottle house label) if a deal comes up, but we've seen deals on wines ranging from a few dollars up to bottles of Cristal. You never know what you'll get any time you visit or refresh, but if you're a wine-lover, this is a fun deal.
Post published for a previous deal follows.
Last Bottle Wines is at it with another wine marathon: they keep offering new bottles every so often and every order ships for free (even for a single bottle). I wrote about this type of deal back in March and it was very popular so I figured I'd note it again this time. This doesn't really have much to do with miles or points (except that I bet Last Bottle Wines might code as a small business and I intend to find out!), but I know that many frequent travelers enjoy a good bottle of wine now and then. Unlike many "wine club" situations, I got some fantastic bottles from Last Bottle for good prices through the last deal like this and the new user bonus works out really well for a couple in 2-player mode.
The Deal
Last Bottle Wins is offering "Marathon Madness" today, which is a sale where they quickly rotate various bottles / price points of wine (the bottle on offer can sell out and change every few minutes). Here's a link to the sale.
If you're new to Last Bottle, you can feel free to sign up via my referral link with my thanks and you'll get a $10 credit. Then, refer your Player 2 and you'll get a $30 credit when they buy their first bottle.
Key Terms
FREE GROUND SHIPPING on ALL ORDERS (lower 48)
First come, first served!
You must complete your purchase on each wine (no saved cart).
No $50 credit for buying the Last Bottle.
All orders placed during this marathon will be combined. Shipping begins on January 3rd, going state by state, and will require several weeks to get to all states (~2-8 weeks). I received some of my wine last time within a week of the beginning of the shipping window and some of it a couple of weeks later, but be aware that it could be as late as March.
Quick Thoughts
It's worth reading this if you like wine as you can potentially get some actually good nearly-free wine, but it requires a little explanation for those unfamiliar with Last Bottle. Do note that these take a while to ship. These bottles won't ship out for 6-8 weeks most likely.
Here's how you play this deal to end up with a bunch of nearly-free wine:
Player 1 signs up via referral link and gets a $10 credit.
Before buying anything, Player 1 refers Player 2 (Note: Do not refer a Player 2 in the same household. While that worked in the past, readers noted in the comments that terms were updated to prohibit referring someone in your own household. Find a friend or family member outside of your household to be a Player 2 for this deal). Player 2 gets a $10 credit.
Player 2 scouts out the cheapest bottle they want to buy (I've seen as cheap as $8, but at least once an hour there was something in the $12-15 range last time). After the $10 discount, out of pocket cost should be somewhere between $0.66 and $6 (you still pay tax even if your credit covers the price of the bottle).
Player 1 receives a $30 referral credit after Player 2's purchase and now has $40 in credit. Now Player 1 can use the entire $40 credit on a single bottle or split it up and buy a couple/few less expensive bottles. Out of pocket in taxes if you don't go over your credit should be less than $4.
Total out of pocket cost for 2 or more bottles of wine should be less than $10 shipped. There have been some really good options to pick up with a $40 credit.
The typical concept for Last Bottle Wines is that they sell one bottle a day at a (usually) steep discount over normal retail price until their supply is "sold out". However, during the wine marathon, they keep offering new bottles anywhere from a couple of times an hour to every few minutes and every order (even for a single bottle) ships free. You have to keep refreshing. One minute you may see a $275 bottle and the next it may be a $12 bottle. The wine descriptions during the wine marathon are brief if there is one at all (you can Google the wines though) and if you constantly pay attention you'll notice some bottles rotate back in to the supply. Last time around, this ran for a couple of days, so I expect it'll probably run at least today and tomorrow but I don't know for sure.
If you are familiar with Woot.com and the concept of a Woot-Off, that's exactly what Last Bottle's Wine Marathon is. I have wondered whether a former Woot author writes the descriptions for Last Bottle because the descriptions are cut from a similar thread as the Woot descriptions of old (though descriptions are thin or nonexistent during the marathon).
The last time Last Bottle ran this, I discovered that Frequent Miler readers either really like wine or really wanted to buy me a drink. A bunch of you used my referral link and as a result I bought a bunch of wine. I was really pleasantly surprised at how good some of it was. I bought and tried number of bottles ranging from $12 or $15 up to a bottle that was $99 and while I haven't loved every one I've been plenty happy on average.
It's worth noting that in many cases, the price you see on Last Bottle is already significantly discounted. For example, last time, they offered this Yount Ridge Napa Valley Cabernet Sauvignon that Total Wine sells for $240 for $99. If you played the referral deal as outlined above, you might get $40 off that and pay $59 + $9 in tax for a total of $68. Let me tell you, that bottle is worth sixty-eight bucks. It was excellent.
But it's not all expensive stuff. For example, last time I pounced on the first $14 bottle I saw without any idea as to quality.
After tax and with free shipping, it cost me a grand total of $5.29. At that price, if I hated it and poured it out I wouldn't have felt too badly about the gamble. Note that you do pay tax, but no shipping.
The cheapest thing I saw last time was $8. While I wouldn't have high hopes here, the tax would come to $0.66. If you're following the instructions at the top of this post and Player 2 were to pick up something like this, you would spend $0.66 and trigger the $30 referral credit for Player 1.
As soon as my wife bought a bottle, the $30 referral credit posted in my account.
Again, if you followed the directions a the top, Player 1 would have $40 in credit. That credit can be used all on one ~$40 bottle or on several cheaper bottles. Keep in mind that the wine is often discounted somewhere below retail to begin with, so a $40 bottle can be pretty nice.
Personally, I'm not a big drinker, but I do enjoy a glass of wine a few times a year (usually in business or first class on a flight or in a lounge), so this seemed like an easy win to me, particularly in 2-player mode.
Tips:
After you sign up, set up your account with a preferred shipping / billing address and payment info. That $12 bottle of Shiraz sold out because we hadn't done this.
If you're logged in at Last Bottle, you'll find a link to your referral info right at the bottom of the home page as seen here:

Enjoy!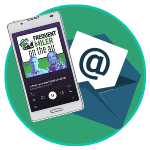 Want to learn more about miles and points?
Subscribe to email updates
 or check out 
our podcast
 on your favorite podcast platform.