Welcome to this week in review around the web, where we recap some useful reads from around the net. This week, look at some great values for staying on the cheap in Europe, when a timeshare might make sense, credit card concierge services and more.
Ric Garrido of Loyalty Traveler outlines his plans to take advantage of recent changes in a number of programs to enjoy incredibly cheap stays while traveling around Europe. I find planning travel by these kinds of sweet spots — super affordable hotels in more off-the-beaten-path destinations — intriguing, even if I don't often plan travel this way. If you're looking to maximize your hotel mileage, this is worth a look.
---
I'm excited about the current Wyndham offer and I mention in this morning's Frequent Miler week in review that I look forward to (hopefully) pick up some more Wyndham points following Stephen's lead on just saying no to a timeshare. But Dia at The Deal Mommy talks about when a timeshare might make a lot of sense — when you rent it instead of owning it. See this post for info that might be very valuable for traveling families.
---
Pizza In Motion highlights an effort going on to change some of the rules that have become helpful protections under the DOT in recent years — among them the ability to cancel within 24 hours of booking. This is one worth keeping an eye on as the changes being sought certainly don't sound customer-friendly.
---
Have you ever used a credit card concierge service? A few months ago, in prepping for a presentation, I gave a task to the Amex Platinum Concierge and Citi Prestige Concierge, expecting to compare responses. In the end, both were so unhelpful that I didn't end up including either experience. I have had some good experiences — like when I scored the kitchen table at Alinea in Chicago thanks to the Platinum concierge monitoring availability — but I'd say that neither concierge has been able to help much in most cases. This post from Joe at YourMileageMayVary.net compares the concierge services available on many of the cards in your wallet — you might have more access than you realized, but in my experience it's less valuable than it sounds.
---
As no fan of these bogus extra fees being tacked on by hotels — first "resort" fees and now "destination" fees — I liked Will's suggestion about how to take a stand against these silly fees when you find staying at a hotel that charges them unavoidable. While I don't know that this will change anytime soon, I think the tactic of enough people leaving reviews mentioning that these fees were a negative aspect of their stay is more likely to drive change than even choosing not to stay at these properties.
---
That's it for this week around the web – check back soon for this week's last chance deals.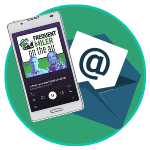 Want to learn more about miles and points?
Subscribe to email updates
 or check out 
our podcast
 on your favorite podcast platform.