Maybe I should take Mr Quinney's advice and not underestimate myself.
Having come up with the idea for the 40K To Far Away challenge, I questioned the wisdom of suggesting it to Greg and Nick. After all, my strength lies in maximizing our points for living in hotels, not maximizing miles for flying around the world.
As Greg noted when announcing the challenge, I'm the least experienced award booker of the three of us and that's him being kind. I've only traveled four legs in business class (although two of those legs were BKK-TPE-JFK on EVA Air, so I count that as a win) as I prefer to maximize our money and miles flying economy. It's also meant we've been able to use miles to bring friends with us on our travels.
That means I'll have to get creative if I want to beat Greg and Nick. I've been exploring my options and researching Membership Rewards sweet spots for the last few weeks and have come up with all kinds of potential ideas. Many of those ideas have already been discarded, so here's what I won't be doing.
1) Prague To Seoul Using Etihad Miles
While looking into sweet spots for Membership Rewards, I came across the same Prague to Seoul route on Etihad that Nick found, but considered it from a different perspective. Nick mentioned you could travel that route for 25,610 miles in business class, albeit with relatively high fuel surcharges. That's excellent value, but if we're trying to maximize our limited number of miles then that's still pretty expensive.
This route is, in theory, bookable for only 12,805 miles in economy. I searched both Etihad and KLM and had a hard time finding availability on the dates I'd need though, plus the high surcharges in the event there was availability have put me off this idea.
2) Eurail / Interrail
There's nothing that says all our travel has to be done by airplane, so I considered other options. One of those was to travel around Europe by train as you can buy passes giving unlimited travel throughout the continent for x number of days depending on which pass you buy.
These options don't come particularly cheap though. Checking the Eurail website showed three options that cost less than $400:
On a per-day basis, unlimited travel for 7 days within 1 month offers the best value. That'd leave very little for food and flight taxes though. Even the 5 day version would only leave $90 for those things which wouldn't provide much flexibility, especially seeing as I'd likely be stuck buying more expensive food on the train or at stations. Not to mention the fact that I probably wouldn't be able to shower for the duration of that time.
I wasn't particularly enamored with the cheapest option either seeing as it costs almost $80 per day. I felt like I could get better value elsewhere given the limited distance I'd be able to cover by train within 3 days.
My eyes lit up though when I read somewhere that Eurail passes for international visitors were more expensive than for Europeans. I'm from the UK and have a British passport, so I could buy a Europe rail pass from Interrail. The light in my eyes quickly disappeared when checking the prices though. That's because once you've converted the prices to USD, they're just as expensive.
Realizing that the prices might be affected by the fact that I was searching from the US, I switched my VPN to the UK, but the same prices were quoted, so no dice.
3) Megabus / Flixbus
OK, so getting an unlimited rail pass wouldn't work, but what about alternative transportation? Growing up in the UK, I didn't learn to drive until I was 26 as I could get everywhere I needed by bus or train. So how about buses?
There's a company called Megabus that began operations in the UK in 2003 and has since expanded to Europe and the US. They're notable because they offer $1/£1/€1 fares on some routes. Even though they charge a $2.50 booking fee in the US or £0.50 or £1 booking fee in the UK, that's still a whole lot of travel for $400.
When checking buses in Europe, it redirected to Flixbus. Their site made it fairly easy to discover some cheap routes. For example, Madrid to Milan could be had for only €8.99.
There's a huuuuge drawback with that option though – more than 20 hours of travel time and that's a direct bus. Multiple rides of €8.99 could get me pretty far, but not at the cost of abject misery for weeks on end.
Besides, I have something I need to be back for about 2.5 weeks after we set off on this challenge, so that kind of strategy won't work, especially when considering that this same route could be flown in less than 2.5 hours and for only $10 more.
4) Flying Blue Promo Rewards (Probably)
Flying Blue Promo Rewards can be a great way to get to Europe at a lower cost than normal. For example, you can get from Houston to Budapest for only 11,500 miles + $98.75 with June's options that are due to end soon. That's a decent cost, but I don't think it's quite decent enough to entice me to go this route. $98.75 is 1/4 of our cash component, so it would immediately eat up a large chunk of my budget.
I'm not completely ruling out Promo Rewards as I want to see what they offer when July's selection is announced, but I'm not counting on being able to rely on them as a suitable option.
5) Hotels
The $400 cash element has to cover tax, surcharges, Wi-Fi, food, drink and lodging. For that reason, I have zero intention of using any of my Membership Rewards or cash to pay for accommodation – I'm already at a severe enough disadvantage to Greg and Nick, I don't need to go wasting it on somewhere to lay my head when it could be transporting me somewhere else.
For a brief moment it was tempting to throw the game though. I could transfer 28,000 20,000 Membership Rewards to Hilton which would become 42,000 40,000 Hilton Honors points as they transfer on a 1:1.5 1:2 basis. I could then book 10 nights at a 5,000 point per night property as the 5th and 10th nights would be free.
Egypt has at least one 5k property, so I could use Virgin Atlantic or Flying Blue to get to Europe using the remaining 12,000 20,000 Membership Rewards, then the remaining cash could hopefully get me a cheap flight to Egypt. I could then laze by the pool while Greg and Nick continue their (potentially) journeys of misery.
I'm a competitive person though, so that's not going to happen, not to mention all the digital rocks you'd throw at me for doing that.
Those options are what I won't be doing, so what will I be doing for the 40K To Far Away challenge?
My Plans Are…
…going to remain a secret. At the moment I have two strategies rivaling each other for my affections. They'll both have me traveling a significant distance using 40,000 Membership Rewards and $400 and they each have their pros and cons. I'm a little wary of booking either right now in case I have a genius idea in the coming weeks or there's some kind of amazing mistake fare. However, the longer I wait, the less award availability there might be and the more expensive other transportation might become.
I'm therefore inclined to bite the bullet and book flights ASAP in case both of my options become unavailable. I'll be unable to keep myself from researching alternative options after that though, so I could end up driving myself crazy by finding better strategies after everything's booked and it's too late to cancel.
Whatever I decide, it needs to be good. In Nick's post, he called 10,534 miles very respectable. That means whatever he has planned, it probably involves traveling at least double that. A minimum of 21,000 miles is therefore my target – we'll all have to wait to see if I can get there.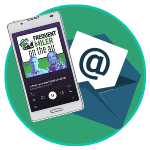 Want to learn more about miles and points?
Subscribe to email updates
 or check out 
our podcast
 on your favorite podcast platform.