Last week, Yahoo Travel published an article titled "A Million Frequent Flier Miles for $1,000? Here's How." It was a short piece that briefly covered an adventure I undertook last year. In March 2013, I challenged myself to earn a million points and miles in one month, and to keep net expenses below $1000. I named the stunt "Million Mile Madness" because I believed (and still do) that it was a crazy thing to do. I don't recommend it to others. Akin to the idea of climbing a tall mountain, it was a risky and difficult task with no real purpose other than to see if it could be done.
My understanding from speaking with the author of the Yahoo Travel article was that the original intent of the piece was to give advice about how to best to earn frequent flyer miles. Along the way, her editors found out about my million mile challenge and directed her to write more about that. The result was a bit of a mash up of the two topics which resulted in a few minor errors and, based on my reading of the hilarious comments to the article, many misunderstandings. Allow me to try to clear things up…
Earning points, not status
While I often write about shortcuts towards earning airline and hotel elite status, the Million Mile Madness challenge had nothing to do with that. My goal was to earn points and miles that could be redeemed for flights and hotel stays. This confuses some people because airline loyalty programs award people with two types of miles when they fly: redeemable miles and elite qualifying miles. The former can be redeemed for free flights. The latter is only useful for earning elite status with airlines (which can result in free upgrades and other perks). When you earn points from credit card signups, credit card spend, online shopping portals, etc. it is almost always redeemable miles that are earned, not elite qualifying miles.
I spent much more than $1000, but kept well within my goal
I never intended to limit my spend to $1000. My goal was to keep net expenses to $1000 or less. There are many ways to increase credit card spend (to earn rewards) and to get most or all of your money back (I write often about those tricks). Often, these techniques cost something. For example, it's not unusual to lose about 1% of your money due to fees. And, usually, as long as the credit card rewards are worth more than 1%, that's OK. In the case of my million mile challenge, though, I had to keep expenses to just one tenth of a cent per point earned. The best way I found to do that was to double dip through online shopping portals (buy gift cards and then use gift cards) and use that technique to buy items at the best discount I could find. Then, I sold those items to get most of my money back. For reselling, I used a service called Fulfillment by Amazon (FBA). Even though there are often hefty fees involved with FBA, it's a great service since it's a way to let Amazon handle most of the hard work involved. If you're interested in learning more about FBA, please see my post "Tips for selling on Amazon".
The final tally of my expenses and earnings for the month showed that I had lost only $278, but I also had a net gain of $835 in gift cards and various other forms of store credit. In other words, in addition to the points earned, I made a profit in the form of store credit.
The Nordstrom and Club Carlson deals were not part of the challenge
The Yahoo Travel article mentioned a few "mega bonus" deals I've taken advantage of in the past, and implied that they were part of the million mile challenge. They were not. One was a brief promotion in which Nordstrom offered 36 points per dollar for shopping through the British Airways shopping portal (see "How Amazon paid me to collect miles"). Another was when Club Carlson offered up to 50,000 bonus points for a one night stay at each of their brands (and, no, we did not actually stay at one hotel for three nights under different names – that was an error in the Yahoo article). Mega-promotions like these seemed to pop up regularly in 2012, so I felt confident that there would be something like that available to me for my Million Mile Madness challenge. I was wrong. Not a single point-earning promotion of note happened during the entire month.
The points earned are far from worthless
A common theme in the comments of the Yahoo article was the idea that airline miles are essentially worthless. This thinking probably comes from experiences many people have had when trying to use their airline miles. A common scenario is for someone to call the airline in question or to log in online and try to redeem their miles for a specific award: often, a trip to Hawaii. And, more often than not, that consumer will find that awards are either not available at all or cost many more miles than expected. This happens because airlines open up limited numbers of seats on each flight at the cheapest award levels and so, on popular routes, those award seats are often snatched up as soon as they are available. That said, there are ways to get great value from airline miles:
If possible, be flexible. If you have any leeway regarding dates and time of travel and/or destinations involved, use that flexibility to find better awards.
Keep in mind that award seats open up at different times. If you search for an award and come up empty, don't give up. Award seats may appear later on. It's common, for example, for airlines to open up award space within the two weeks prior to a flight. Once they realize that seats won't be sold, they're happy to fill those seats with mile-paying customers.
Take advantage of flexible routing rules. Many airlines allow one or more stopovers (and open-jaws) on round-trip awards for no additional fee. So, you may be able to visit multiple places instead of just one for the same price.
Partner airlines may have better award availability. Most airlines partner with many others and, in most cases, you can use your miles to book awards on those partner airlines. The tricky part is that the airlines don't always show these partners online. Its up to you to find out which partners fly the routes you are interested in, find out if they have award availability, and then call the airline who's miles you have and try to get them to book your award on partner flights.
If you've saved up hundreds of thousands of miles and want to book the perfect trip, consider using an award booking service. If you don't have the know-how or the patience to search for the best awards, it may be worth it to spend some money to get expert help. See "Award Booking Services" for more details.
In my case, I've used many of my million points for:
An extended-family trip to New York City: I used my points to book 5 rooms, mostly suites, at the Hyatt 48 Lex
A two week trip to Europe for three: We will (soon) fly Lufthansa first class to Paris where we'll stay 5 nights in a suite at the Park Hyatt Vendome. Next, we'll head over to Lucerne Switzerland for four nights at the Radisson Blue. Then we'll spend two nights in Murren (using more recently acquired points). And finally, three nights in a suite in Zurich at the Park Hyatt. We'll return in Lufthansa first class, of course.
Many domestic flights for myself and close relatives.
Credit card offers are key
There are many ways to earn frequent flyer miles cheaply or for fee. Ultimately, though, the single best and easiest way is to sign up for the best credit card offers. On the first day of my Million Mile Madness challenge, I signed up for 11 cards and was approved for 10 of them. Once I met the spend requirements for each offer, I earned over 500,000 points and miles from signup bonuses alone. I would never recommend to others to sign up for that many cards at once — I did it only for the challenge. However, the example clearly shows the power of signup bonuses. Thanks to signup bonuses, my first 500K was easy. The rest was hard – very hard.
Most people don't need a million points. By signing up for a few credit cards now and then, earning hundreds of thousands of points can be easy. Then, a year after signing up for each card, decide whether the card is worth the annual fee. If not, consider canceling the card or downgrading it to a no-fee version.
As the Yahoo article correctly pointed out, it is essential to pay off credit card bills in full every month. Otherwise, your loss in the form of interest payments will far outweigh the benefit of points earned.
Finding the best signup offers takes some research. I do my best to keep the best public offers listed on my Best Credit Card Offers page, but sometimes the best offers are not public. Watch your mail because you may receive targeted offers that are better than any available on the internet.
My credit score is still excellent
A common misconception about credit cards is that having too many open cards hurts your credit score. It is true that each new credit application can decrease your score (due to the credit inquiries and the shortened average length of credit history), but scores usually rebound in a few months if you're careful about paying your bills. This happens because a key component of your credit score is your credit utilization ratio. The smaller the percent of your available credit you use, the better your score. So, since new credit cards usually mean higher overall credit availability, your credit score should eventually improve a bit unless you've also increased spending. In my case, my score dropped about 20 points after signing up for 10 cards, but it rebounded to a higher score a few months later.
Wrap up
I would never recommend to anyone to try to earn a million points in a month. It's a ridiculous and unnecessary goal. However, it is possible to earn hundreds of thousands of points quickly and easily and to get great value from those points if you take the time to learn the strategies and be responsible with your finances. If you're new to this, consider signing up for my weekly e-newsletter called "Free Trips and Tricks". While my daily blog is really written for people already well versed in this miles and points game, my newsletter is a step by step guide for newcomers. In the newsletter I'll teach you the best tricks I know for traveling free (or at least cheaply), and in style. Signup here. When you get sick of the newsletter, you can always unsubscribe.
If you're interested in reading more about my Million Mile Madness challenge, you can view all of the old blog posts on the subject (in reverse chronological order) by clicking here.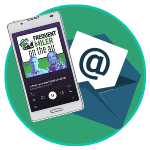 Want to learn more about miles and points?
Subscribe to email updates
 or check out 
our podcast
 on your favorite podcast platform.