One great way to increase credit card rewards is to maximize your use of category bonuses.  Many credit cards offer bonus points for shopping in certain locations or with certain types of vendors.  These bonuses are called category bonuses.
A list of the best category bonuses has long been available on the Frequent Miler site.  Simply select "Best Category Bonuses" from the "Credit Cards" menu.  That said, the page was long and unwieldy, and it was missing a few key cards such as the new Diner's Club card, the revamped Citi Prestige card, and more.
In the past week or so, I've completely overhauled the Best Category Bonuses page.  In addition to adding the missing cards, I added a navigation layer to make it easy to find the category you're most interested in.  A table of contents at the top lets you jump instantly to the information you're interested in.  And, you'll find "jump to" sections after each table to help you jump from one category of interest to the next.
But wait, that's not all!  I also added links to the Visa Supplier Locator web page along with example merchant codes within each category.  These can help you find stores in your area that may trigger the category bonuses you're interested in (Note, however, that American Express often codes merchants differently than Visa).
For example, suppose you're interested in finding out if your local Target store codes as a grocery store.  You'll see under the Grocery Stores the following:
Example Visa merchant code: 5411 – GROCERY STORES/SUPERMARKETS
Click the link titled "Example Visa merchant code" and you'll be taken to the Visa Supplier Locator web app.  Enter in your zip code and either select the merchant category of interest or enter in the name of the supplier (e.g. "Target"), then click Search.
On the next page you'll see a map of results.  I find it easier to look at a list, so I recommend clicking "Show Full List" at the bottom of the screen.  Then, sort by distance, and you'll see something like this:
If you're lucky, you'll find a nearby Target that codes as a grocery, like the second one shown above.  Caution: some stores have multiple codes (sometimes depending upon which register you check out from).  Also, American Express often codes differently than Visa.  So, before assuming that results like these will lead to big category bonuses, I recommend testing with a small purchase or transaction at your local store to see what happens.
And, please checkout the latest version of the Best Category Bonuses page.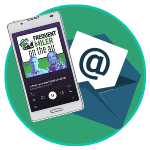 Want to learn more about miles and points?
Subscribe to email updates
 or check out 
our podcast
 on your favorite podcast platform.