Every 3 months, Chase offers new categories with which Freedom cardholders can earn 5 points per dollar (up to $1500 in spend). This quarter, the bonus categories are Amazon.com and "Select department stores."
Let's look at ways to maximize this quarter's bonus categories…
Amazon.com purchases and gift cards
If you shop often at Amazon.com, the simplest solution is to use your Freedom card to pay for Amazon purchases. Getting 5 points per dollar from Amazon.com this quarter is best for those without Chase Ink cards. If you have a Chase Ink card, you can always get 5 points per dollar at Amazon by buying Amazon gift cards at office supply stores.
Amazon.com third party gift cards
Through Amazon.com you can shop for non-Amazon gift cards such as The Home Depot, Marriott, Nordstrom, etc. Unfortunately, most of these include a $2.99 shipping charge. Unless you can find very high value gift cards, I wouldn't recommend this route since the shipping charge will wipe out most of your 5X gains.
Department store purchases and gift cards
Obviously, you can earn 5 points per dollar by buying merchandise at listed department stores (see Chase's list here). Here is the full list, sorted alphabetically:
BASKINS®, BEALLS, BEITER'S, BELK, Bergner's®, bloomingdale's, Bon-Ton®, Boscov's, Boston Store®, Bradley's, burke's®, Carson's®, Cayman's®, Cee & Cee Department Store, CHARLES, christensen's, CONWAY, Cook Brothers, Dillard's, Elder-Beerman®, FLEMINGTON DEPARTMENT STORE, Getz's®, Herbergers®, HUDSON'S, JCPenney®, JC'S 5 Star, Jeffery, JOE BRAND, Kohl's®, LOEHMANN'S, Lord & Taylor, Macy's®, Magic Mart, MAX & JILL, Neiman Marcus, NORDSTROM, PARISIAN, RAINS, RH Renny, Saks Fifth Ave and Off 5th, SAM MOON, Sears®, STANLEY KORSHAK, The Big Store, UHAN'S Department Store, UNIWAY®, VON MAUR®, WEAVER'S STORE, Younkers®
I don't think any of the above stores sell 3rd party gift cards online, but I'm sure that some sell them in-store. For example, both Kohl's and Sears are known to sell them. If you can find the secret gift card rack at Sears, your best bet may be to buy gas station gift cards. I've never seen any gift cards worth buying at Kohl's, but you may be more fortunate.
Unlisted department store purchases
Chase's web page showing included department stores lists "Top Selected Department Stores," where they list 5 stores; and "You'll earn 5% Cash Back at hundreds of other Select Department stores, including these," where they list 44 more stores. Since they explicitly say that there are "hundreds of other Select Department stores", it's clear that the list they present is not complete. So, what other stores count?
Chase gives a hint in the "Common Questions" section:
Q. What determines whether a merchant falls within a particular rewards category?
A. Merchants who accept Visa/MasterCard credit cards are assigned a merchant code based on the kinds of products and services they sell. Chase groups similar merchant codes into categories for purposes of making rewards offers to you. Chase makes every effort to include all relevant merchant codes in its listed categories. However, even though a merchant or the items that it sells may appear to fit within a listed category, the merchant may not have a merchant code that falls within that category. Therefore, purchases with that merchant will not qualify for the stated rewards offer on category purchases.
Not surprisingly, Chase decides which merchants qualify by looking at their merchant code. In order to accept Visa and MasterCard credit cards, every merchant is classified with a merchant code which is passed along to Chase when you pay with your credit card.
To find out which merchant code Chase will be looking for, I used the Visa Supplier Locator web site. I searched for the stores that Chase listed as the "Top Selected Department Stores" to see how they were classified. All were classified with the following merchant code: DEPARTMENT STORES – 5311.
I then used the same site to search my area for stores with the 5311 merchant code. I was pleasantly surprised to find Kmart on the list. Kmart offers a nice selection of third party gift cards, so it could be an excellent option for 5X spend. Some retailers have multiple merchant codes registered, though, so you'll earn 5X only if they process your payment through the 5311 code. I checked my local Kmart stores to see if they had any other codes registered. Sure enough, some Kmart stores registered 5311, but others registered other codes, such as discount stores (code 5310), and some registered multiple codes. So, be sure to check the Visa Supplier Locator before proceeding!
For those hoping to buy MoneyPak's at Kmart: unfortunately, Kmart cash registers do not allow payment by credit card for these.
Earning more
An easy way to earn more than 5X for your purchases is to begin your shopping online in a shopping portal. The Ultimate Rewards Mall is often a great choice, but others my be better for certain merchants. Check current rates via CashBackMonitor to see which is best for the store where you want to shop.
And even more
In my post "Plinking Sears", I showed how one could get more points from Sears by shopping through an online portal and paying with a credit card registered to Plink. With the current 5X offer, you could do the same, but would earn triple rewards:
5X from the Freedom card category bonus.
Up to 6% in Plink points from Plink.
5X or more from an online portal.
Sears' Gift Cards
You may be tempted to maximize point earnings by buying Sears physical gift cards online, but I do not think this will work. Sears' physical gift cards bought online are processed by Kmart (even when you buy from Sears.com), so you'll only earn 5X on your Freedom card if Kmart uses merchant code 5311 to process the payment. To test this, I ordered a gift card from Sears to see how Chase would classify the purchase. As expected, Chase listed this transaction on my account as being from Kmart.com. So, I then checked Chase's Blueprint feature and found that the $50 purchase was classified as "Department and Clothing Stores/Catalogs." That was good news, but still not conclusive since the merchant code wasn't listed. I then went to the Customer Center page and selected "Dispute a Charge" to see more detail about how it was processed. There I found the merchant category listed as:
DIRECT MARKETING/MARKETERS – NOT ELSEWHERE CLASSIFIED. Ouch, bad news. I believe this means that purchasing Sears gift cards online will not result in Freedom 5X earnings.. No, I didn't file the dispute. It is simply a handy way to see how Chase classifies your purchases.
Summary
Here is a quick summary of my findings and suggestions for maximizing Freedom's fourth quarter 5X earnings:
Shop Amazon.com for merchandise or gift cards.
Shop any department store on Chase's list.
Shop any department store that has merchant code 5311 as found in the Visa Supplier Locator web site. Make sure the store you want to shop does not have multiple merchant codes because you can't predict ahead of time which code will be used to process your payment. Check the codes for your local Kmart since they tend to have a reasonably good gift card selection.
Double dip at almost any department store by shopping through an online portal.
Double dip at Sears and Kmart by registering your Freedom card with your Plink account. And, make sure that Sears and Kmart are in your Plink wallet.
Buy gift cards in-person at any qualifying department store.
Do not buy Sears gift cards online if you're hoping to get 5X from the Freedom card. Based upon the evidence shown above, I do not think that it will not work.
Don't forget to register your Freedom card for the fourth quarter category bonus.
Reader suggestions
Did I miss any good opportunities here? Please comment below.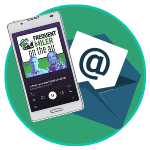 Want to learn more about miles and points?
Subscribe to email updates
 or check out 
our podcast
 on your favorite podcast platform.