Note: On January 8, 2016 American Express sent out a notice to a large number of Bluebird & Serve cardholders informing them that loading capabilities on their accounts had been terminated. For more information, see: Amex kills Bluebird and Serve for manufactured spend
Earlier today, each Amex Bluebird account holder received an email titled "Another no-fee way to add funds to your Bluebird Account."  The email read as follows:
Hello Frequent Miler,

Adding funds to your Bluebird Account is easy. Now, Bluebird is adding another no-fee way to add funds online to your Account.

Effective immediately, you can add funds to your Account from your debit card for no fee (previously $2.00 per transaction). Click here to learn more about adding funds with a debit card.

You can review the updated fee chart by clicking here.

Should you have any questions about this change, please visit Bluebird.com or call 1-877-486-5990.

Thank you for your Membership,
The Bluebird Team

P.S. We love your blog.
Amex used to charge $2 per online debit load, but now it is free.  As far as I can tell, all other fees and limits are the same.  For example, debit loads are still limited to $100 per day and $1K per month.  Walmart swipe reloads are still free and are still limited to $1K per day and $5K per month.
Potential Opportunities…
$6K load limit?
It's worth checking whether the $1K per month limit is in addition to the $5K per month limit of loading via Walmart and/or Vanilla reload cards.  If so, this would mean that you could load up to $6K per month to Bluebird altogether.  That's not a huge difference, but it's better than nothing.
Rewards debit cards
If you have a debit card that earns miles or cash back then you should be able to earn rewards when loading Bluebird online.  Unfortunately, even with a card that earns 1 mile per dollar, you can only earn up to 12,000 miles per year and, thanks to the $100 per day limit, you'll have to load Bluebird 120 times to do so.  Also note that Bluebird does not allow the same debit card to be linked to multiple Bluebird accounts.
Gift cards
This could be a nice easy way to drain up to $1K per month of Visa/MasterCard gift cards except for two important considerations.  First, I've heard stories from people who have used Bluebird this way (even with the old $2 per transaction fee), but were shut down or warned to stop.  It's easy for Amex to notice if you repeatedly change your registered debit cards.  Second, according to a couple of readers, initial attempts to load from gift cards have failed.  I wonder if Amex has found a way to deny gift cards?
Conclusion
It's nice to see fees going away, but I think that opportunities here are pretty limited.  Also, be very careful about loading from gift cards unless you're willing to risk getting shut down.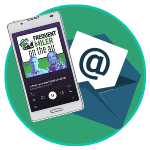 Want to learn more about miles and points?
Subscribe to email updates
 or check out 
our podcast
 on your favorite podcast platform.