Several years ago I started receiving targeted offers, by mail, from Amex for their Business cards.  Specifically, every month or two I received an offer for 100,000 Membership Rewards points after $10K spend for signing up for the Business Platinum card.  The interesting thing about these offers was that it was pretty clear how Amex got my "business" name.  The offers were addressed, not to me, but to a domain name that I had registered approximately 6 months earlier.  At the time, I was pretty sure (but not positive) that I hadn't used that name anywhere else.  So, I thought that Amex had pulled my info from the domain registration, but I wasn't completely sure.
Fast forward to this past year: my 15 year old son registered a new domain in August of 2014.  Then, a couple of weeks ago, he received his first ever credit card offer: the Business Gold Rewards card from Amex.  The offer was only for 50,000 points, but that's not the important thing.  The important thing was that the offer came by mail and was addressed to his domain name.  Clearly Amex found his info there and used it for this targeted offer.  Note too that my son never even created a website for his domain.  The only thing he has done with it is register the name.
Amex most likely scrapes business information from WHOIS data.  Domain registry information is publicly available through site's like this: whois.icann.org/en/lookup.  Here's an example of a search for BoardingArea.com:
The search returns the name and address of the business behind Boarding Area (RAN Decisions, Inc.).  I bet that RAN Decisions frequently receives great offers from Amex.
Getting targeted Amex business card offers
My assumption, based on the experiences described above, is that anyone can get targeted Amex business card offers simply by registering a new domain name, or by editing the contact info for an existing domain name.  Make sure to enter an Organization name and a valid address.  And, based on my son's experience, I don' t think it is even necessary to do anything with the domain name once you have it.  Simply registering it so that it is publicly available for lookup should be enough.
Keep in mind that 6 to 9 months are likely to elapse before you receive any offers.
For those wondering: No, my son won't apply for the Business Gold card.  Once he's 18 we'll get him started with the basics such as the Chase Freedom card and maybe a Discover card.  Then, once he builds up his credit profile a bit, he'll be ready to start earning real rewards.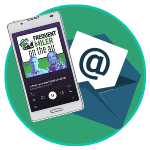 Want to learn more about miles and points?
Subscribe to email updates
 or check out 
our podcast
 on your favorite podcast platform.