Why is it that so many people in the loyalty maximization game sing Hyatt's praises? How do they kick so much butt with a smaller footprint than their competitors? There is no doubt that Hyatt punches above its weight-class and this week we talked about all the reasons why: from more consistent (and generous) benefits to a reliable Twitter team that gets stuff done and many reasons in between, Hyatt is just leaps and bounds beyond Marriott. I think it is significant that this conversation is coming from two people with Marriott Titanium status (that we each originally earned with 75 nights back in 2019). That is to say that we aren't just unwilling to give Marriott a fair shot and we aren't unfamiliar with Marriott's strong points. Quite the contrary, we know the good and bad well and there is just a lot more to love about Hyatt. Hopefully Marriott can step up its game — and hopefully Hyatt continues to beat them to the punch.
Subscribe to our podcast

We publish Frequent Miler on the Air each week in both video form (above) and as an audio podcast.  People love listening to the podcast while driving, working-out, etc.  Please check it out and subscribe (if we get enough people to subscribe, we might be able to earn some income from this someday. So far, the podcast is just a labor of love).
Our podcast is available on all popular podcast platforms, including:
You can also listen here in the browser:
This week at Frequent Miler
The Platinum 100K + 10x offer is bananas. It's available to anyone (we keep a link to it on our Best Offers page) and it now also comes with a $200 credit toward places like Lowe's or Home Depot. If you can float the $550 annual fee up front, you'll get far more back in credits in the first year on top of a huge 100K welcome bonus and 10x at US gas stations and US Supermarkets for 6 months on up to $15K spend. I just can't see a better offer out there nor could I imagine what one is waiting for if not taking this one while you can. Greg explains the many reasons to go for this now in more detail in this post.
With the large increased offer currently available on the Delta Gold card, some readers have surely considered either the consumer or business version of this card. The truth is that if you fly Delta and ordinarily pay for bags a couple times a year, but don't fly Delta often enough to justify one of the higher-end Delta cards, the Gold can be a good fit. See this complete guide for more about who should consider getting it and whether it is worth keeping.
Looking to fly up front within the United States and wondering what your best options are? We made some updates this week to add Alaska Airlines, adjust Aeroplan rates, and say goodbye to the best deals for Delta via Virgin Atlantic (which devalued its chart for Delta). There are still plenty of great ways to fly first class for less – see this post for your best options.
Remember that current Marriott promotion that doubles your elite nights if at least one night of your stay is a paid night? Remember how we published a post to remind you of how to book a single stay with a mix of at least one paid with award nights? Well, it turns out that Marriott's IT is hard at work at the business of making no sense at all: many people who had at least one paid night have only seen the paid night double automatically (Marriott seems to be fixing this for those who submit a ticket at least 14 days after checkout). Meanwhile, Stephen Pepper had a 12-night award stay with 0 paid nights that automatically got double elite night credit (and while I don't think that is happening universally on complete award stays, Stephen isn't the only one who has seen that result).
This post is awesome. If you have Membership Rewards points or if you thought you preferred Ultimate Rewards points, take a moment and look at just how Greg is looking at flying most of the way around the world in business class with stops in several cities for about what you could easily earn with just the Platinum card bonus referenced a few posts above this (and about $230). Sure, his final route will include filling some gaps with other points he has on hand, but the fact that he was able to confirm how a couple of great hacks can make this trip happen for fewer total miles just makes me more excited to try this out when I get back to traveling like "the old days".
In the comments on this post, a reader said that "For flexibility and reduced devaluation risk, cash > transferable points > airline specific points. For outsized value and aspirational travel potential, transferable points > airline specific points > cash.". That much is absolutely true. The question on my mind was at what point is that outsized value and aspirational travel potential worth more than cash? I think with the need to buy 3 tickets (and eventually 4), the cash cost of redeeming points for luxury travel has been on my mind more than before. I know that I enjoy this hobby too much to give up premium cabins and fancy hotels altogether, but the recent Air Canada points sale had me thinking about just how much I enjoy those things and at what point I'm willing to trade money – whether cash out of the bank or the locked-up value of points that can be converted to cash – for that enjoyment.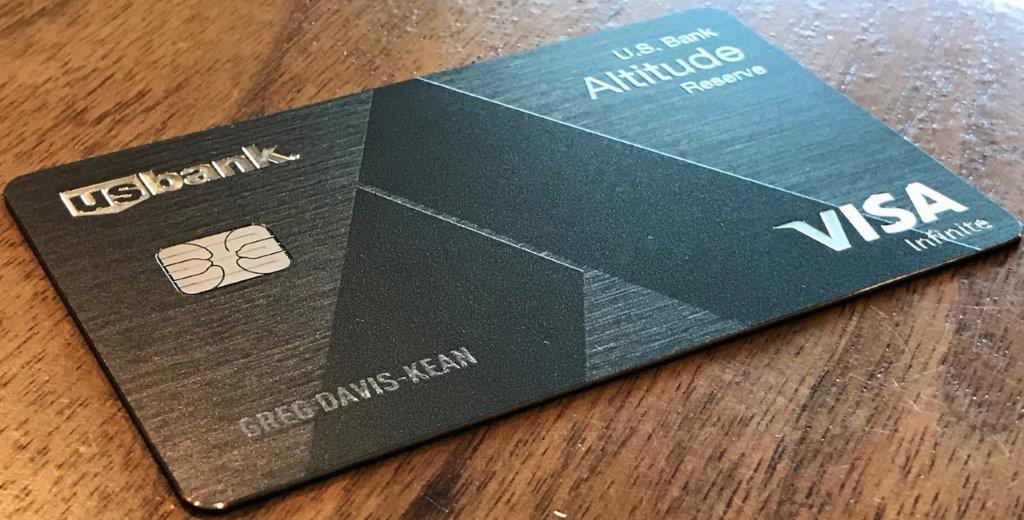 If you spend a lot of money in person, the US Bank Altitude Reserve should undoubtedly be on your radar. Whether you're buying gas or groceries or paying for home improvement supplies or filling your emergency prepper bunker with a Costco run, the US Bank Altitude Reserve is the card to have on hand for in-person purchases. This complete guide has everything you need to know about what could be one of the best and yet least-discussed cards on the market.
Did you know that Flying Blue miles can indeed be extended by transferring in points from Membership Rewards or Ultimate Rewards in some circumstances? If you didn't know that, you're not alone. The key here is to never credit a flight to Flying Blue. This really makes no sense at all, but if you have Flying Blue miles and they only came from point transfers and you thought you had to use them or lose them (or get the credit card) in the near future, it may be easier to keep them alive than you thought. See the post for more detail.
The Deal of the Week
Do you ever pay for wine? If the answer is yes, hear me out on this deal that you shouldn't miss because it can be even better than I'd originally written: a couple playing in 2 player mode can get a $40 credit for Player 1 and a $10 credit for Player 2 and end up with a cheap bottle of wine and a pretty nice bottle of wine or two for a total of less than ten bucks shipped (maybe just two or three bucks depending on what you choose). Here's how it works: you sign up for Last Bottle Wines through a referral link, which puts a $10 credit in your account. Then, before you buy anything, you refer Player 2. Player 2 gets a $10 credit in their account. Then Player 2 scouts out a cheap bottle in the current Marathon Sale (which I didn't realize would still be going 3 days after I published it!). The bottles change several times an hour; have Player 2 jump on a bottle that costs anywhere from $8-$15 and your net cost will be somewhere between $0.66 to about six bucks (you pay a little tax even if your credit covers the cost of the wine). Shipping is free. Then, Player 1 will have received a $30 referral credit plus the initial $10 sign-up credit, meaning that Player 1 will have $40 to spend. Since bottles are already discounted in the sale, $40 can get you a pretty nice-looking bottle of wine (or a couple of $20 bottles which may ordinarily sell for $30 or more depending on what you buy) – and once again, you'll just pay a couple dollars in tax, shipping is currently free even on a single bottle in the marathon sale at the time of writing. Your grand total for 2 or 3 bottles of wine should be less than the cost of two drinks at Starbucks. See the post for more detail.