Quokkas.
My wife has had her heart set on visiting Rottnest Island off the coast of Australia for years in order to meet the cute, always smiling, little marsupials.
The opportunity to see them presented itself last year. United temporarily had amazing award availability to Australia, New Zealand, the Maldives and more. We jumped on flights to Perth, adding on a trip to South Africa afterwards to do a self-drive safari at Kruger National Park.
Fast forward a few months and Alaska Airlines had some great availability to Australia for only 55,000 Mileage Plan miles one-way. The routing was significantly better than we'd booked with United, so we booked with Alaska instead and cancelled our original flights.
We've been looking forward to this trip for the last 9 months or so and had everything organized.
Week-long stay at the Hyatt Regency Perth for only 8,000 points per night and a suite upgrade award applied? Check.
An overnight stay booked on Rottnest Island to spend even more time with the quokkas? Check.
A 4 day side trip up to the Ningaloo Coast to go snorkeling with all kinds of marine life? Check.
There was sadly something that hadn't been done though. Something we didn't realize until we got to the airport to check in.
Do You Have Your ETA?
When checking in at the Qantas counter, the very friendly agent asked if we had our ETAs. Not Estimated Time of Arrivals, but our Electronic Travel Authority confirmations – visas needed to visit Australia.
I searched my emails and couldn't find anything. I thought I'd applied for our visas, but apparently I'd neglected to do that. The agent assured us it was quick and easy to get them. All we needed to do was download the Australia ETA app and apply for them through that. We should then get our email confirmations almost immediately.
She was 50% right.
Shae downloaded the app on her phone and started completing all the information. It was taking a little while because she had to get NFC activated on her phone so that she could wave her phone around her passport looking for the chip. Seeing as that was taking a few minutes, I downloaded the app to my phone to complete my details rather than doing both of ours on her phone.
We completed our applications about the same time. In less than a minute I received an email saying that I was approved. Shae received an email about the same time, but there was an issue – they needed more information.
OK, no panic. She followed the link in the email, then mild panic set in. They wanted a copy of our marriage certificate. We've been married almost 20 years and it's not something we carry with us when traveling and sadly didn't have a copy of it saved on Dropbox.
The form did have a box where you could provide details or a further explanation, so she explained that we didn't have it with us. The form ended up being a hassle to complete on her phone, but she eventually got it done and uploaded. There wasn't any indication as to how long it would take to be processed though and our flight was due to leave in about 2 hours by that stage.
Hoping she might be able to help, we went back to the check-in agent and explained the situation. How it was weird that Shae hadn't been immediately approved seeing as we've visited Australia twice in the last decade and both times got our visas without any issues. The agent made a phone call to find out what was going on, at which point things got worse.
You Said You Have A Criminal Record
When filling out the form, there were three questions asking if you have a criminal record in one way or another. Apparently my wife had answered yes to one of them by accident.
That seemed weird, but she figured she might've accidentally knocked the 'Yes' radio button on the application when putting her phone case back on after scanning for the chip in her passport. The person on the other end of the phone said she should Google the phone number for Australia immigration officials and she could call and get them to look at her application and fix that answer.
That doesn't seem to be true.
We searched for some kind of number to call and found something, but they advised they couldn't help. We then found another form to complete to correct errors on Visa applications, so she completed that and uploaded it. The website said her form would be processed in anything from 0 to 85 days. Marvelous.
There was one outside chance of success though. We could apply for another visa for her, this time providing correct details – that she's not on the Interpol wanted list.
We completed that form as quickly as we could while ensuring we selected 'No' to all the questions relating to if we'd fit in on an island where convicts used to be sent. Understandably, Australia must have safeguards in place for people reapplying and changing their answers because she got the same 'We need more information' reply.
Farewell Quokkas
At this point we had a decision to make. It was only 90 minutes or so until our flight was due to depart and it seemed almost certain we wouldn't get an approval in time for our flight. We also had no clue how soon they'd process her uploaded forms and, even if they did process them quickly, finding award availability to Australia at the last minute would likely prove nigh-on impossible.
As a result, we had to make the sad decision to cancel our Australia flights. I managed to speak to a Mileage Plan representative about 30 minutes before our flight was due to depart and so was able to get our 110,000 Mileage Plan miles refunded. Small mercies.
What were we going to do next though? We still wanted to visit South Africa; not just for us, but because Shae's mom and stepdad are joining us for that part of the trip. That gave a dilemma – where would we kill time for 2.5 weeks which would also allow us to get to Johannesburg airport near the end of January?
It Was Time To Pivot
We were both bummed out at this point – particularly Shae – and we didn't have anywhere to stay that night. Thankfully we were at Dallas Fort-Worth airport and there's a category 2 Hyatt Regency right there which we'd stayed at the night before. I booked us another stay there for 8,000 points and we made our way over. We needed to make some decisions, but Shae said she wasn't going to do anything until she had pizza and wine in hand.
After room service arrived, we started going through options, but nothing sounded good. It's a big wide world out there, but after having our hearts set on quokkas and snorkeling and beaches and sun, other options that would ordinarily sound great seemed kinda mediocre.
A Thai island could be a good option, but that would require multiple flights there and then multiple flights down to Johannesburg. My wife hates flying but sucks it up because she loves traveling and exploring, so minimizing how many flights we had to take – especially given the current situation – was a must.
We looked at the many new Hyatt all-inclusive options in places like Mexico and the Dominican Republic, but she couldn't get excited about any of them.
I found Etihad business class availability to Abu Dhabi for the following day, but having spent 3 weeks in the Middle East a couple of years ago, we weren't excited about going back there so soon, even if we were to tack on a trip to Oman to swim with whale sharks courtesy of inspiration from Nick.
Figuring that some rest might help, she went to bed.
Searching After Dark
While she slept, I tried finding some more inspiration. She loves Montego Bay, Jamaica; we stayed at the Hilton Rose Hall there several years ago and enjoyed it so much that she went back there for a girlie weekend a year or two later with a friend. American Airlines had nonstop flights from DFW to Montego Bay at 11:15am the next morning which sounded perfect.
Finding accommodation was tricky. The Hilton Rose Hall didn't have award availability. Some of the Hyatt all-inclusives had a day here and there, but nothing in a block until I found a six day stretch of availability at the Zoetry. That looked awesome, but that stay wouldn't start for four days.
Any time that I need to find award availability for four days, my first port of call is IHG thanks to their 4th night free benefit for IHG Premier and Traveler cardholders. Sure enough, there was an all-inclusive Holiday Inn Resort available for four nights; while the reviews of the property aren't stellar, unlimited food, drink and sun would hopefully overcome any of the hotel's shortcomings.
I was all ready to book this when I saw a notification on our internal Frequent Miler Slack channel.
Nick To The Rescue
There was just one word.
Mauritius?
He followed this up with more details:
No idea cost of accommodation or if it's feasible to combo with something else to kill two weeks

But it's a 4.5hr non-stop flight from JNB

And it's beachy and 80°

And you can see the flying fox

Which isn't quite a Quokka, but I'm no miracle worker
Something that I should mention at this point is that Shae absolutely adores animal experiences. One of our first vacations included hiking to see the Susa group of mountain gorillas in Rwanda.
Animal experiences are so important to her that she has pawprint tattoos on her leg for all the animals she's had some kind of meaningful experience with.
That's why Nick mentioned the opportunity to see a flying fox. I wasn't sure exactly what they looked like and it turns out they're bats. That's great, but the last experience she had with a bat was when we lived in England and one peed on her at a zoo.
After a bit of back and forth about possible flight options, Nick struck gold.
Hey on Instagram

Pull up Caroline Lupini

Check out her two most recent posts
The first of those posts was a short video of her flying over Mauritius. It was the second of those Mauritius posts that made my eyes bulge on Shae's behalf.
View this post on Instagram
Scroll through to the third of those photos to see why I was so excited – for both of us! Swimming with whales that close would be an incredible experience.
Not wanting to get my hopes up too much, I pulled up Point.me to search for award availability to Mauritius. There were several options available in business class leaving the next day. When exploring those options even further, I noticed that I could book Dallas to Mauritius via Frankfurt, adding a stopover in Mauritius before continuing on to Johannesburg, getting us there when we needed to arrive based on our previous plans. The cost? 115,000 Aeroplan points per person one-way thanks to the ability to add the stopover for only 5,000 points.
Those were our potential flights sorted, but what about accommodation? These revised plans would have us staying in Mauritius for 15 nights. I was apprehensive when checking paid rates on Hotels.com and most options were several hundred bucks per night.
We've burned most of our Marriott points in anticipation of a bloodbath devaluation in March, so the JW Marriott, Westin and Le Meridien were out for any kind of extended stay. There was an SLH property bookable with Hyatt points, but pretty much no award availability for any days during our time there.
Luck was on our side though. There's a Hilton Resort that had five nights of award availability at the start of our potential stay which meant we could take advantage of the 5th night free. That left 10 nights though.
I then checked IHG's website. Imagine my surprise when it turned out that they not only had two properties with award availability on the island, but the Holiday Inn was bookable for fewer than 20,000 points per night! Granted, that takes into account the 4th night free benefit, but still – that's an incredibly low price considering we bought the points for 0.5cpp and so each night would effectively only cost $90.63. In fact, it would be even less than that as I also have the IHG Select card which gives a 10% points rebate on award stays. That makes the net points cost 16,313 per night or only $81.56 per night.
The InterContinental was also bookable for a reasonable number of points. While it was too expensive for us to stay the entire time there, a couple of nights would be nice, especially seeing as we had a couple of free night certificates to use up and the number of top-up points needed in excess of the 40,000 from the certificates were minimal thanks to the 20% award sale running at the time.
Those were our original plans – 5 nights at the Hilton (booked with points with 5th night free), 2 nights at the InterContinental (certificates and topped up with points & 10% points rebate) and then 8 nights at the Holiday Inn (booked with points with 4th & 8th nights free & 10% points rebate). That's not what we ultimately ended up with though.
When taking a taxi from the airport to the Hilton, the driver mentioned that the Holiday Inn was more of a business hotel, plus we knew it wasn't walkable to the beach which wasn't ideal. I later remembered that we had a handful of Marriott free night certificates sitting on our accounts, so I rechecked the award pricing for the three Marriott properties on the island and got lucky. The Le Meridien was available for only 34,000 or 35,000 points per night depending on our dates which was perfect as it meant we wouldn't need to top up our certificates with points. I therefore cancelled our 8 night stay at the Holiday Inn and rebooked it as a four night stay at the end of our trip; that way we'll be right by the airport plus we can rent a car during those few days to explore other parts of the island. That gave us one more night to cover, so we decided to extend our Hilton stay by redeeming a free night certificate rather than using 70,000 points.
That means our final accommodation bookings were 6 nights at the Hilton (5 nights using points & 1 night with a certificate), 5 nights at the Le Meridien (booked with 4x 35k & 1x 40k certificates) and 4 nights at the Holiday Inn (booked with points with 4th night free & 10% points rebate).
Decision Time
It was 2am by that point and we had two great options that we'd both enjoy – Montego Bay and Mauritius. Knowing we'd need to book them ASAP seeing as the flights would leave the next day, I woke up Shae to find out what she'd prefer to do.
As much as she loves Jamaica, her preference was Mauritius which was my first choice too. Decision made. I got our flights and hotels booked, finally getting to bed at 3am but which felt even later after the stress of the day.
Thankfully the next day went without any issues. We flew Lufthansa business class to Frankfurt, relaxed in a couple of lounges there for several hours and then boarded our Eurowings Discover flight to Mauritius where we landed the next morning. Mauritius has a surprising amount of rush hour traffic in the morning, so we didn't get to the Hilton until 10am. They gave us a lovely welcome and checked us in immediately despite arriving much earlier than the official check-in time.
Despite being disappointed about missing out on the quokkas in Australia, we're really fortunate that the points and miles game enabled us to change plans so quickly, easily and cheaply. It wasn't without stress, but it sure beats what would've happened if we paid for all our travel with cash.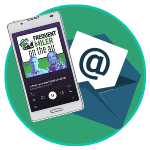 Want to learn more about miles and points?
Subscribe to email updates
 or check out 
our podcast
 on your favorite podcast platform.