In the last couple of days, IHG introduced more widespread dynamic pricing for award bookings. While this would likely be bad news normally, there are currently opportunities to book reward nights at lower rates than you might expect, even during what would normally be peak travel times. Not only that, but award availability is more wide open than you might expect too.
First off, please don't take any of the following examples as suggestions of travel that you should book. Many of these are usually peak travel times due to there being some kind of event which is a big tourist draw. COVID-19 will likely have an ongoing impact on these events which could result in them being canceled. Even if they're not canceled, it still might not be a great idea attending them; these are simply examples to show how IHG's dynamic pricing is – for now – working out quite nicely if you're looking to book awards.
For starters, here are some hotels in Times Square for New Year's Eve (like I said, this isn't a recommendation of something you should book). From what I can remember of searches I'd done for NYC in the past, award prices would normally be higher, plus there wouldn't be award availability for many of these properties for those dates this late in the year.
With states starting to open up, some people might be looking for some sun this summer. Those on the east coast might be interested in taking a road trip to Virginia Beach and IHG has great award availability for their oceanfront properties at reasonable redemption levels (the screenshot below is for a few days mid-August). The Holiday Inn Express in particular is notable due to its 40,000 per night cost because that means you can redeem your anniversary night certificates from the IHG Premier and IHG Select credit cards.
I've stayed at that Holiday Inn Express VA Beach in the past and every room has an oceanfront view, so open award availability at 40,000 points per night in the height of summer isn't something you usually see.
August in Chicago has some incredible redemption levels, including the InterContinental for 22,500 points per night and a Kimpton for 20,000 points per night.
If you're uneasy about traveling this year, there are other options for 2021 that might be of interest if it's safer to travel overseas at that point. For example, if you'd like to spend Valentine's Day weekend in Paris, that needn't be costly if you have IHG Rewards Club points. If you have 40,000 point anniversary night certificates, a couple of the properties shown below would be eligible.
St Patrick's Day in Dublin has open award availability at reasonable prices too. Again, this isn't a recommendation that anyone should be attending a parade during a pandemic, it's simply being given as an example of what's available seeing as IHG would normally only have paid rates available during what would normally be peak times such as this.
Amsterdam canceled their Flower Parade this year seeing as it was due to be held in April. If that was to go ahead in 2021, the Kimpton De Witt is available during that time for only 35,000 points per night.
What's particularly interesting is that the point levels don't seem to correspond too closely to the cash rates for the hotels. Using the Amsterdam properties above as an example, the Kimpton De Witt only costs 5,000 points per night more than the Holiday Inn Express, despite costing more than $100 more when paying cash.
At 35,000 points per night versus $349.22 per night, it also means you'd be getting 1cpp of value from your IHG Rewards Club points which is very good value. That's even before taking into account the fourth night free benefit on award stays for IHG Premier credit cardholders and/or the 10% points rebate for IHG Select credit cardholders.
I'm not overly familiar with how much awards normally cost for the properties listed above, so I thought I'd also look at other IHG properties where I have data points for past redemptions.
We stayed a couple of nights at the Kimpton Cardinal in Winston-Salem last year on our way from Virginia to Tennessee. They were charging 40,000 points per night, so my wife and I each redeemed one of our anniversary night certificates.
Interesting fact – the Reynolds Building (which the Kimpton Cardinal is in) was the design inspiration for the Empire State Building, so the Empire State Building sends the Reynolds Building a Father's Day card each year.
What cost 40,000 points per night only 6 months ago now costs 31,250 points per night on some random dates in November.
Unfortunately that's pretty much the extent of my data points because it looks like our other award redemptions in the last 2.5 years were either at the 10,000 point level or were booked during a PointsBreaks promotion, so none of those prices were lower (none were higher either from what I saw).
Overall, IHG's dynamic pricing is a positive development that makes award redemptions potentially much better value than they were. It'll be interesting to see how IHG changes their dynamic pricing once travel is somewhat back to normal post-COVID-19, whenever that might be.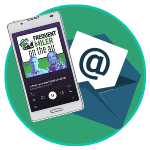 Want to learn more about miles and points?
Subscribe to email updates
 or check out 
our podcast
 on your favorite podcast platform.