ITA Airways – the airline that's replaced Alitalia as Italy's national airline – is offering to status match customers from many other airline loyalty programs to their new Volare program.
This offer was due to expire a couple of weeks ago, but it's been extended through the end of the year and so you still have a chance to take advantage of this promotion if you missed out originally. (h/t Lord Dima in the comments for the heads up about this being extended.) The post below has therefore been updated to include those new dates, along with a little more information about my experience when status matching.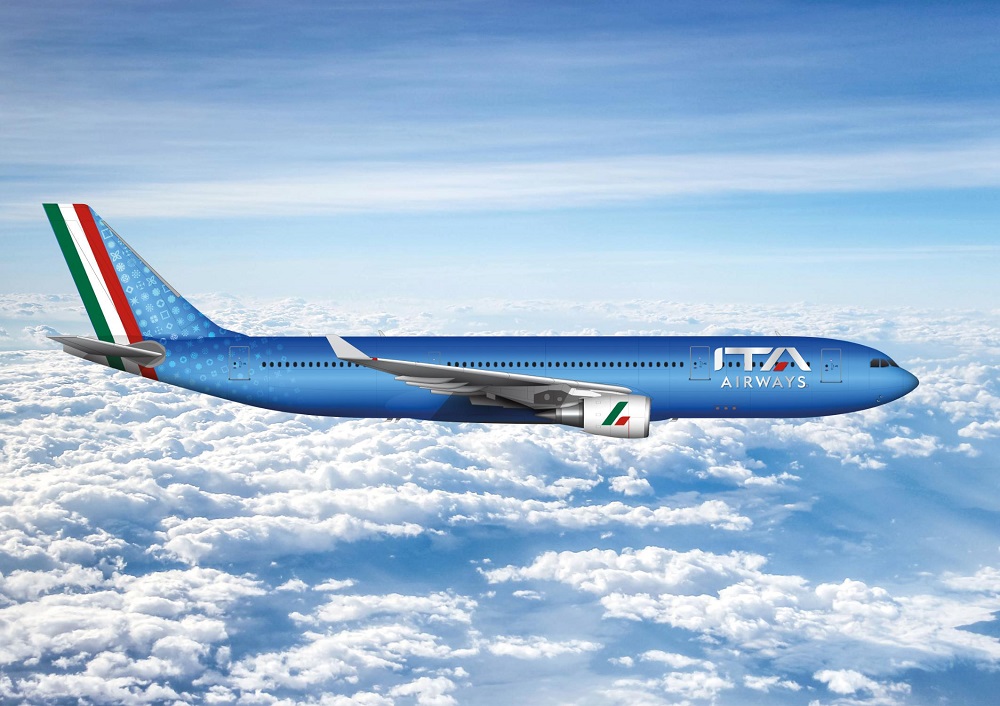 The Deal
Status match from many airline programs to ITA Airways Volare by sending an email to statusmatch@itaspa.com with the following information:

Email subject: "program of origin" – "status of origin" (e.g. American Airlines AAdvantage – Platinum Pro)
Body text: Name; Surname; "program of origin"; "status of origin" (e.g. John; Smith; American Airlines AAdvantage; Platinum Pro)
Attach a legible copy of your current valid Frequent Flyer Card (digital or physical) and a copy of your ID card1 (pdf format, jpg)
Key Terms
Status match available from the following programs (the many typos are courtesy of ITA Airways 😉 )

Aeroflot – Aeroflot Bonus
Aerolíneas Argentinas – Aerolíneas Plus
Air Europa – Suma
Alitalia – Millemiglia
Air France/KLM – Flying Blu
American Airlines – Aadvantage
ANA – Mileage club
British Airways – Executive Club
Czech Airlines – OK Plus
Delta Airlines – SkyMiles
EL Al – Matmid
Emirates – Skywards
Iberia – Iberia Plus
Korean Air – SKYPASS
Lufthansa – Miles and More
Middle East Airlines – Cedar Miles
Qatar Airlines – Privilege Club
Royal Jordanian – Royal Club
Saudia – Alfursan
Singapore Airlines – KrisFlyer
Swiss Air – Miles & More
TAP – Miles & Go
Tarom – Sky Team
Turkish Airways – Miles & Smile
United Airlines – Mileage plus

From 15 October to 31 December 2021, Members can participate in the status match campaign by registering for the program Volare (if they are not already Members) and request for us to match their current status within another loyalty program so they can access one of our exclusive clubs.
The status match campaign can only be joined by Members belonging to premium tiers (tiers not accessible simply by signing up to the program, e.g. Ulisse, Freccia Alata, Freccia Alata Plus, Silver, Gold, Platinum, Frequent Traveller, Senator, HON Circle).
The new status will be recognized in the ITA systems as soon as the matching process is completed. Members will receive a communication by email confirming the recognition by December 31, 2021.
If the status is not matched, you will receive an email of negative result no later than January 1, 2022 in which it will be specified which guidelines indicated in the regulation have not been followed.
The new status will be available and visible to Members starting from December 31, 2021, as soon as the matching process is completed.
The digital card and any physical cards will be available from December 31, 2021.
Membership of the exclusive Club recognized under the status match campaign will be valid for one year, starting from December 31, 2021.
Any requests that do not include all the requested data or that are accompanied by illegible documentation will not be processed.
Quick Thoughts
I doubt many readers have been itching to fly on ITA Airways which only started flying two days ago. However, even if you're not planning on flying with them by the end of next year (which is how long the status lasts for), taking advantage of this status match promotion could still make sense, especially if you currently have airline status due to expire at the end of this year.
The reason for that is that it could extend your ability to status match to other programs after your current airline status has expired. For example, let's say you currently have status with American Airlines but don't want to spend $15,000 on one of their credit cards or earn $2,000 of Elite Qualifying Dollars in order to maintain that status next year. You could match your AAdvantage status to status in ITA Airways' new Volare program. That might then provide you with the opportunity to status match from ITA Airways to a different airline next year.
I say that it might provide that opportunity because we don't know yet whether or not any other airlines will add ITA Airways as an eligible airline from which you can match. I certainly wouldn't count on the ability to do that, but if you were definitely going to be giving up status at the end of this year anyway, you might as well go for this status match to at least have the possibility of leveraging it during 2022.
Note that the Volare status doesn't start until December 31, 2021, so if you did happen to have any flights with ITA Airways booked before the end of this year, your matched status presumably won't help you. On the off-chance that you are planning on booking an ITA Airways flight before the end of 2021, be sure to register for this promotion that offers 10,000 points when buying an ITA ticket from October 15 and flying by December 31, 2021.
Since writing this post originally, ITA Airways has joined SkyTeam and so hopefully status with ITA will help you receive benefits when flying with other SkyTeam airlines once they're fully integrated with the program. That makes this status match opportunity potentially more worthwhile than it was when it launched a couple of months ago.
Another minor change to the status match opportunity is that El Al's loyalty program has been added as a program from which you can match.
My Experience Status Matching To ITA Airways
I took advantage of this status match promotion at the end of October 2021. I still have American Airlines Executive Platinum status courtesy of a Hyatt Globalist promotion a couple of years ago, so I submitted those details.
I don't have an Executive Platinum card right now, so for evidence of that status I submitted a screenshot of my status when logging in to my AAdvantage account. That seems to have been sufficient because about a week after submitting proof of that status I received confirmation from ITA that I'd been matched to their Premium status.
ITA's Volare program will apparently have four status levels – Smart, Plus, Premium and Executive – so even top-tier American Airlines status (well, ignoring AA's invite-only Concierge Key status) doesn't get you top tier elite status with ITA. There's no information on ITA's website about what benefits you receive at each status level, so the benefits extended to Executive members of their Volare program must truly be something to behold if AA Executive Platinum members aren't worthy of their top tier 😉
I submitted my status match request on October 30 and received the email confirming my status match on November 5. That email advised that details of the Volare program would be announced in the coming weeks, but that in the meantime I can take advantage of the following SKYPRIORITY services:
Check-in at the Business Class desks
Fast Track at the security gates in Rome Fiumicino and Milan Linate
Priority boarding
Priority baggage drop-off