Update: This no longer works as per this comment from reader Aloha808.
In a presentation I've done at conferences about tools to be used to find great deals, one of the things I always suggest is to read the comments on blog posts. People often share their findings and experience with various deals and angles. Sometimes, through the collective experience of the Internet, you'll stumble on great ideas you hadn't considered. Just last week I stumbled on such a gem regarding the rebates on the JetBlue Plus and JetBlue Business credit cards. Each card comes with the benefit of 10% of your points back on award redemptions, and you might have known that….but did you know they stack? According to a couple of reports, they do — and that could be awesome for those who collect TrueBlue points or even a good deal for transfers from Ultimate Rewards in the right circumstances.
JetBlue has a family of three credit cards. The no-fee JetBlue card does not offer a rebate on award flights. However, the JetBlue Plus card and JetBlue Business card each offer a 10% rebate on award flights. Here are key details on both cards (click either card name to go to a page with more information on the current welcome bonus offers):
Card Name w Details & Review (no offer)
FM Mini Review: Frequent JetBlue travelers should seriously consider this card for its terrific perks. The combination of the 10% rebate on awards and the annual 5,000 point bonus make this card a keeper.
---
$99 Annual Fee
Earning rate: 2X restaurants and grocery ⚬ 6X JetBlue ⚬ 1X everywhere else
Card Type: Mastercard World Elite
Big spend bonus: Earn 1 tile for every $1,000 in purchases.
Noteworthy perks: ⚬ Free checked bag ⚬ 5000 bonus points every anniversary ⚬ 10% point rebate on awards ⚬ $100 statement credit w/ purchase of travel package ⚬ 50% savings on in-flight purchases
Card Name w Details & Review (no offer)
FM Mini Review: This card is almost identical to the JetBlue Plus card except that this one earns 2X at office supply stores rather than grocery stores. Both cards are great choices for JetBlue flyers.
---
$99 Annual Fee
Earning rate: ⚬ 2X restaurants and office supply stores ⚬ 6X JetBlue ⚬ 1X everywhere else
Card Type: Mastercard
Big spend bonus: Earn 1 tile for every $1,000 in purchases.
Noteworthy perks: ⚬ Free checked bag ⚬ 5000 bonus points every anniversary ⚬ 10% point rebate on awards ⚬ $100 statement credit w/ purchase of travel package ⚬ 50% savings on in-flight purchases
As you can see, both are pretty good cards for JetBlue flyers. Each carries an annual fee of $99, but you get a free checked back, 5K points every anniversary, and a 10% point rebate on awards. Between the anniversary points and the 10% rebate, you don't need to redeem many points to break even or come out ahead over the annual fee.
Applying for Business Credit Cards

Yes, you have a business: In order to sign up for a business credit card, you must have a business. That said, it's common for people to have businesses without realizing it. If you sell items at a yard sale, or on eBay, for example, then you have a business. Similar examples include: consulting, writing (e.g. blog authorship, planning your first novel, etc.), handyman services, owning rental property, renting on airbnb, driving for Uber or Lyft, etc. In any of these cases, your business is considered a Sole Proprietorship unless you form a corporation of some sort.

When you apply for a business credit card as a sole proprietor, you can use your own name as your business name, use your own address and phone as the business' address and phone, and your social security number as the business' Tax ID / EIN. Alternatively, you can get a proper Tax ID / EIN from the IRS for free, in about a minute, through this website.

Is it OK to use business cards for personal expenses? Anecdotally, almost everyone I know uses business cards for personal expenses. That said, the terms in most business card applications state that you should use the card only for business use. Also, some consumer credit card protections do not apply to business cards. My advice: don't use the card for personal expenses if you're not comfortable doing so.
Last week, JetBlue offered a discount of 20% off award flights (See: (EXPIRED) Save 20% On JetBlue Award Flights From Sep 17-Nov 6 – Book By Aug 29) that could be stacked with this 10% rebate for around 27-28% off of a normal award (JetBlue's revenue-based system doesn't always yield a precise value).
However, that same deal could have gotten even better. In the comments of a separate Doctor of Credit post about JetBlue last week, I found this gem:
My first thought was, "Hold up…you can get a 20% rebate on JetBlue points all the time? That can't be right." That led into looking for additional data points. I came across this data point posted on reddit from 1 year ago claiming the same:
Posted byu/IvanXQZ NYC1 year ago
20% redemption rebate on JetBlue if you have both Plus and Biz cards
One of the advertised features of the JetBlue Plus and Biz cards is that you get a 10% points rebate on redemptions. I just traveled on award tickets (two round trips, one me and one for companion), and I got a 20% rebate on both, and I think it's because I have both cards.

If that's right, considering that each card gives 5,000 points annually, and costs $99 per year, it's more like you're getting 12,000 points annually when you use those 10,000 points. If you go by the common wisdom of each point being worth 1.4 cents, that's worth $168, meaning the total bottom line to keep both cards is $30 ($198 – $168).
You can see that link to reddit for further comments and discussion. It certainly sounds like he did in fact receive 20% back from having both cards. I don't totally agree with his math on the anniversary points — receiving 20% of points back after redemption isn't exactly the same as getting 12K points each year. Still, the point stands that all of your JetBlue points become more valuable if you are able to successfully stack the rebates.
How valuable do they become? Since JetBlue's pricing is variable, it depends — but getting 2 cents per point in value wouldn't be impossible if this stack is indeed possible. For example, under the current fare sale, flights from Atlanta to Orlando are available for as little as $54 one way.
If you're booking with JetBlue's TrueBlue points, those $54 flights come to a total of 2,900 TrueBlue points plus $5.60.
That comes out to a value of 1.67 cents per point ($54 – $5.60 = $48.40 / 2,900 = 1.668). If you also got back 20% of your points, the end value for TrueBlue points climbs to over 2 cents per point: $54 – $5.60 = $48.40 / 2320 = 2.08 cents per point. Compared to our Reasonable Redemption Value of 1.46 cents each for JetBlue points, that's terrific.
Had this redemption happened last week during the JetBlue award sale, it would have gotten even better. In Lucky's post at One Mile at a Time, he showed how a $98 one-way flight from New York to Tampa with a regular cost of 6,200 points one-way came down to 5,000 points and $5.60 with the award sale. If you were also able to get 1,000 points back via the two credit card trick, your net value would be $98 – 5.60 = $92.40 / 4,000 = 2.31 cents per point! That would be an amazing value for JetBlue points. Heck, that's a solid value for any airline's points on a domestic flight.
Not all routes yield quite as much value. For example, New York to Seattle prices on October 11th start at $149.
In terms of points, the $149 fare rings in at 10K points even. That's a value of 1.43 cents per point before a 20% rebate from the credit cards or 1.79 cents each after rebate.
Perhaps more interesting there is the Mint fare on flight 263. While it won't yield quite as much value per point as other options, it would come down to a net 33,120 points one-way to fly Mint from New York to Seattle. That's only yielding about 1.64 cents per point in the above example, but it's not a bad deal for what might be the best transcontinental flight experience. At times, we see Mint fares as low as $399 one-way, which could work out even better than traditional saver-level business awards on the legacy carriers.
Reader experiences?
When I first saw the comment at Doctor of Credit, I was a little skeptical. Neither Greg nor I had heard about this stacking opportunity before. However, the reddit thread's age and lack of contrary data points leads me to believe that this might be an opportunity people have missed simply because the market for people looking to hold two JetBlue credit cards is fairly niche. Still, with one card earning 2x at grocery stores and the other earning 2x at office supply stores (and the new addition of TrueBlue as a Chase transfer partner), this could be valuable for those who frequent JetBlue if it does indeed work. If any readers hold both cards, we'd love to hear about your experiences with the rebates in the comments.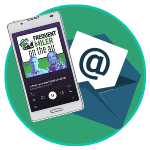 Want to learn more about miles and points?
Subscribe to email updates
 or check out 
our podcast
 on your favorite podcast platform.