Capital One Shopping, the often-misunderstood shopping portal that has nothing to do with Capital One apart from the name, has cooled considerably from the myriad of incredibly high cash back offers we saw during last year's holiday shopping season. However, I have recently once again been getting some very good targeted offers via email that are actually moving the needle in terms of getting me to make purchases or double-check booking prices for upcoming travel. Not everyone will get these offers, but it's worth keeping your eye on your email because we sometimes see these offers targeted to many people — and perhaps more importantly, they can get buried in an email with a seemingly irrelevant subject line.
Great targeted offers, poorly-drafted subject line
I wanted to write this post because of a situation today that reminded me of the importance of opening emails from Capital One Shopping.
An email popped in my inbox this morning with the following subject and preview. I saw it on my phone, where less than half of the preview here was visible.
If you can't see that well, the subject line reads "Well deserved: You've got this offer from StubHub – Up to 20% back on your favorite brands . . . .". That's more than I could see in the subject line on my phone.
Having just recently purchased tickets to an event, I clicked on this email wondering whether I should kick myself for not having waited a few more days since 20% back via StubHub would have been fabulous.
However, I was reminded that the subject line and preview of a Capital One Shopping email is often misleading. The rate at StubHub was only 12% (which is still good, but less relevant to the subject line).
However, the reason I'm writing this post is because the body of the email was filled with offers that had nothing to do with StubHub and everything to do with travel.
As you can see, I had offers including:
20% back at Viator
19.5% back at Best Western
18% back at Hertz
15% back at IHG
7.5% back at Marriott
Up to 15% back at Priceline
Those rates are all excellent. Given that Capital One Shopping is just a portal, you can use this to click through and book the same postpaid rates that you ordinarily would and take advantage of elite benefits and get elite credits when booking.
Anyway, I thought it worth a shout out to actually click to open the emails they send. I could imagine a time when I wasn't looking for tickets to anything when I may have ignored today's email and missed the chance to save quite a bit on car rentals and hotels.
Note that if you click through the email where you have the Capital One Shopping extension installed, you should get a pop-up during checkout confirming the rate you saw from the email. That almost always works properly for me. I should add that I do not see these increased rates on the Capital One Shopping website or in the Capital One Shopping app, though it is always worth comparing because you will sometimes see different rates in those places.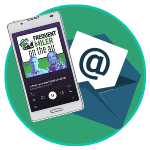 Want to learn more about miles and points?
Subscribe to email updates
 or check out 
our podcast
 on your favorite podcast platform.