It's been a year since Chase unveiled their blockbuster new credit card: Chase Sapphire Reserve.  Chase originally launched the card with an eye popping signup bonus: 100,000 points after $4K spend (the offer has since dropped to 50,000 points).  Even though the card has a $550 annual fee, the combination of the giant signup bonus and card perks make it a no-brainer and a huge number of people signed up for the card.
Now, many early adopters will soon see their second $450 (Update: the annual fee has increased to $550 as of January 2020) annual fee and will have to decide whether it's worth paying.
As a reminder, here are a few key benefits of the card:
3X points on dining and travel.
$300 statement credit towards purchases in the travel category each calendar year.
Points transfer 1:1 to travel partners.
Points are worth 1.5 cents each when booking travel through Ultimate Rewards.
Up to $100 Global Entry/Precheck fee credit every 4 years.
Priority Pass Select membership with free guests.
Travel Insurance:

Primary rental insurance
Free Roadside Assistance
6 hour Trip Delay reimbursement
Emergency Evacuation and Transportation
Emergency Medical and Dental coverage
Trip Cancellation and Trip Interruption insurance
Lost Luggage, Baggage Delay reimbursement
Travel Accident Insurance
For more information on this card and its benefits, see: Chase Sapphire Reserve Complete Guide.
The real question: Keep or product change
If you decide that the card's annual fee isn't worth paying, I recommend product changing to a no fee card instead of cancelling it.  That way you'll keep alive any points you've earned and not yet spent, you may get a valuable card worth keeping, and you may be able to product change back to the Sapphire Reserve in the future if you ever change your mind.  Product changes are free and do not impact your credit.
Chase has a mysterious formula that determines which cards they allow an individual to switch to, but it is almost certainly the case that they'll allow a product change to the no-fee Sapphire card (not to be confused with the Sapphire Preferred or Sapphire Reserve).
Once you have changed to the no-fee Sapphire card, you should then be free to change again to either of these no-fee cards which also earn Ultimate Rewards points:
Both cards are useful for earning Ultimate Rewards points.  On their own, the points are worth only 1 cent each, but if you or someone in your household has a premium Chase Ultimate Rewards card (Sapphire Reserve, Sapphire Preferred, Ink Business Preferred), you can freely move those points to that account and then get better value when redeeming those points.
If you already have a Freedom Unlimited card, there's no reason to get a second.  With the regular Freedom card, though, you may want a second one as a way of exceeding the $1500 per quarter 5X cap.
Is the Sapphire Reserve worth the annual fee?
The Sapphire Reserve has a number of valuable perks, but the value to you depends upon how much you use those perks and whether you can get those same perks more cheaply elsewhere.
Here is how I personally value each of the primary perks:
$300 travel statement credit: $300.
I value this at its full face value because I routinely travel often enough to get this credit without even thinking about it.  I routinely use my Sapphire Reserve card to pay for travel (thanks to its 3X rewards), so I automatically earn $300 back every year.
3X points on dining and travel: $190
My Rewards Dashboard shows my year-to-date point earnings for dining and travel (see above).  Other cards offer 3X rewards for travel (the $95 Citi Premier, for example), so let's say that the 3X travel benefit is worth $95.  As for dining, with 8 months out of 12 accounted for this year, I earned over 24,000 points.  Compared to cards that offer 2X for dining, the 3X dining benefit is worth over 8,000 points to me.  Let's conservatively call that a $95 benefit as well.  So, together, the 3X travel + 3X dining benefits total to $190 in value to me.
Points transfer 1:1 to travel partners: $0
I can get this same benefit from the $95 per year Sapphire Preferred, or a similar benefit with the $95 Citi Premier.  The costs for these alternative cards were accounted for in the valuation for 3X points on dining and travel, above.
Points worth 1.5 cents each for travel: $0
I usually transfer my points to Hyatt or to various airline programs in order to cherry pick the best value rewards.  So, the ability to pay with points for travel at a value of 1.5 cents per point is nice to have, but not something I routinely use.  I know that many readers use this feature regularly and so should compute their own value for this benefit.  For example, suppose you use points to purchase $900 worth of travel.  With the Sapphire Reserve, you would be charged 60,000 points, but with the cheaper Sapphire Preferred (where points are worth 1.25 cents each towards travel), you would be charged 72,000 points.  In that example, this Sapphire Reserve benefit is worth 12,000 points in savings.  You can then value those saved points either at the cash-out price of $120 or at the 1.5 cents per point value: $180.
Up to $100 Global Entry/Precheck fee credit every 4 years: $0
I have a bunch of premium cards that offer this benefit so there is no incremental benefit here for me.
Priority Pass Select membership with free guests: $0
I have other cards that offer this benefit so there is no incremental benefit here for me.  The value you assign to it should be based on how often you expect to use the benefit and whether or not you already have a similar benefit from another card.
Travel Insurance: $75
Yes, I can get many of the travel insurance benefits from other cards, but I prefer to get them from a card like this one that earns 3X for travel.  Plus, few other cards offer emergency evacuation and transportation, emergency medical and dental reimbursement, and free roadside assistance.
Total annual value to me: $565.
Total cost: $550 (if you add an authorized user for $75, the total cost goes up to $625).
In my case, based on a conservative look at the value of the card, I gain more than I pay.  So, I'll keep my card and evaluate it again next year.
Sapphire Reserve keep or downgrade cheat sheet
I realize that most readers won't want to do the work of assigning value feature by feature, so here's quick cheat sheet that may help:
Keep the card if:
You travel extensively and eat out a lot; or
You travel enough to earn the annual $300 travel credit, and you regularly pay with points for travel
Downgrade the card if:
You rarely travel
You travel, but get most of the Sapphire Reserve travel perks from other cards that you plan to keep
What about your spouse?
In many cases, couples each signed up for their own Sapphire Reserve cards in order to each get their own signup bonus.  That was great, but with annual fees coming due it doesn't make sense to keep both cards.
I'm in exactly that situation.  My wife and I both signed up for the Sapphire Reserve last year and will soon be forced to figure out what to do about it.  I previously described the problem in the post "The Sapphire Reserve Couple Conundrum".  In that post, I said that my plan was to "punt".  I would wait until the annual fees came due to decide what to do.  That time is coming soon.
There's no doubt it my mind that one of us should downgrade their card.  Since we combine our finances and manage our points together, there is literally no advantage to having two separate Sapphire Reserve accounts as far as I can tell.  However, there may be an advantage for one of us to get a $75 annual fee authorized user card so that we both carry a Sapphire Reserve.
I'll follow up soon with more about the couple conundrum and my final decision.  Stay tuned.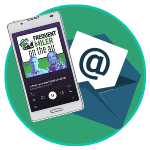 Want to learn more about miles and points?
Subscribe to email updates
 or check out 
our podcast
 on your favorite podcast platform.